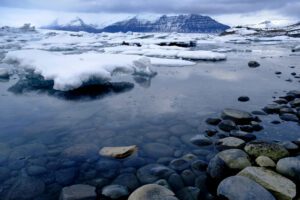 Photo Spot Summary
Country: Iceland
Category: Landscape
GPS Latitude: 64.045563
GPS Longitude: -16.180084
Directions
To get to Glacier Lagoon from Reykjavik one should drive on south coast of Iceland with road no. 1 towards east. Since it is one the most prominent highlights on Iceland, there are many signs indicating on Jökulsárlón - Glacier River Lagoon.
Photo Spot Details
Glacier Lagoon is one the most spectacular glacier-containing regions in the world. What you see in there, besides lagoon or lake of pure, transparent water, are floating fragments of glaciers and mountains in the backdrop.
As usual, for landscape photoshooters there are moments during the day for optimal lighting – dusk and dawn. On Iceland it is however a bit vague, when these moments are, because of the polar nights and days. Best idea is to travel there in spring, e.g. end of April or beginning of May. Then sun sets around 10-11 pm and rises around 2-3 am. On the other hand, if you get there in February, you have a great chances to observe Northern Lights that make Glacier Lagoon experience truly magical.
Be aware of perishing coldness. Although, absolute temperatures are not dramatic, high humidity and stron arctic winds of speed of 20 m/s make your experience unforgetable.
Due to strong wind you need to get a heavy tripod if you plan to shoot long exposures. It is also a good idea to go for a boat or amphibious vehicle trip, so that you can see seals. Most importantly, because of the coldness, the air is extremely transparent and you can get very clean pictures in there.