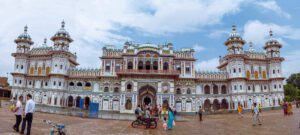 Photo Spot Summary
Country: Nepal
Category: Architecture
City: Janakpur
GPS Latitude: 26.730810
GPS Longitude: 85.926506
Directions
On the east-west highway, take south from Dhalkebar and continue for about 25 kms. Once you reach the Janakpur city, you can easily locate the temple in the middle of the town.
Photo Spot Details
The temple is dedicated to Janaki, the wife of Lord Rama. A wide angle lens is must. You can also try some panorama shots. Early morning trip could avoid the rush of devotees in the temple. You can visit round the year unless you are afraid of the scorching heat of the summer in the months April to July.
The temple is also called "Naulakha Temple" which means temple built with a cost of nine hundred thousand rupees at the time of its construction. Apart from the architecture of the temple, you will also get some portrait photo opportunities of the saints and holy men from the temple.