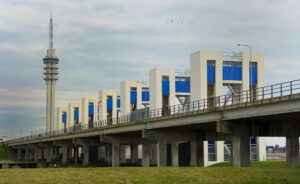 Photo Spot Summary
Country: The Netherlands
Category: Industrial
City: Lelystad
GPS Latitude: 52.527481
GPS Longitude: 5.428306
Directions
You will cross the Houtribsluizen when you take the N302 motorway from Lelystad to Enkhuizen. This road, the Houtribdijk, is a 26 km dam in the Netherlands largest lake, which was built from 1963 until 1976. The Houtribsluizen are located directly offshore from Lelystad.
Photo Spot Details
The Dutch and the sea, an never ending struggle. One place where this becomes visible is at the Houtribsluizen which happen to be an interesting photo location. One can argue whether or not constructions made of concrete and steel are beautiful or not. I guess it's taste. On the other hand, The Houtribsluizen are there and they are just begging for a good photo shoot. So here's my attempt.
What are the Houtribsluizen? In short, it is a wonderful piece of engineering, finished in 1975. It consist of two locks that can hold vessels up to 5000 tonnes to accommodate for the difference in water levels between the southern lake (Markermeer) and the northern lake (IJsselmeer).
However, it also contains six retractable water barriers. When open they will pass 630 cubic meter of water per second. That's the volume of an average house…every single second. They also are a set of bridges that shortens the travel time from one side of the lake to the other by an hour or so. And finally they contain a nuclear shelter allowing the complex is still in operation after the Russians throw the big one.
What I like about the spot is that you can view it from every angle. The white concrete and the blue steel give a great contrast. The rhythm of the structural elements give nice perspectives. But most of all I like the fact that nothing that you see was there let's say 75 years ago. Except from the water. One of the places where one cannot only see but also feel how land was made from water.
Don't worry too much about the photo gear to use for this location. You can get as close or as far away as you want. There is always a perspective or an angle that you will like. I mostly used the Nikon 24-70mm lens, although a 70-200mm or very wide zoom such as the 12-24mm might come in handy as well. You might bring a polarizing filter as there can be much reflection from the water.
The complex is best viewed from the south side (sun in the back) and at the end of the day, when the white concrete will be in warm sunlight. However, on stormy days this location must be spectacular too. I haven't been yet brave enough, so I can't show you that.