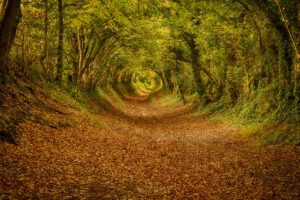 Photo Spot Summary
Country: United Kingdom
Category: Landscape
City: Chichester
GPS Latitude: 50.874020
GPS Longitude: -0.692833
Directions
Near Chichester in West Sussex, England Halnaker. From the A285 walk out of the town on Denge Ln and immediately turn right (East-northeast) onto the path that leads up to the old windmill. You will walk right through the tunnel. At the point where you go through a gate and make a left turn up the hill to the windmill, you are at the best spot to get a great picture of this tunnel.
Photo Spot Details
I took my picture of this tunnel in the fall/autumn and I suspect it is the best time of the year to get the picture because the colors are the richest and warmest. In fact I took this picture in early November. I photographed in the morning, and a bit of sun provided the look I liked. However, I have seen other more moody pictures that may have been taken on a gray day. I would like to go back in other conditions and experiment.
I used a tripod to take the picture and a Nikon D600 using 24-120mm lens at 75mm a f/14 as I wanted a reasonable depth of field. While here, continue up the trail to the windmill which dates back to the 16th century. It is worth exploring and provides great additional photography opportunities too.