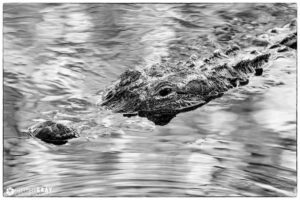 Photo Spot Summary
Country: United States
Category: Wildlife
State: Mississippi
City: Ocean Springs
GPS Latitude: 30.397877
GPS Longitude: -88.790100
Directions
From Interstate 10 in Ocean Springs, Mississippi, take exit 57 toward Vancleave/Gautier and head south onto MS-57. After 0.1 miles, turn right at the 1st cross street onto Ocean Springs Rd. Follow the road for 4.3 miles and then continue straight onto Gulf Island National Seashore Pkwy. Continue onto Park Rd for 1.7 miles. Turn right onto Robert McGhee Rd. You will find the 'gator pond' 0.3 miles down the road on your right. There is a small pull out to your left where you can park. The park is open daily from 6:00 a.m. to 10:00 p.m
Photo Spot Details
The Gulf Island National Seashore in Ocean Springs, Mississippi is located on Davis Bayou, and encompasses over 400 acres. Located near the campground, the 'gator pond', as it is know by locals, is a great area to spot all kinds of bayou wildlife, including alligators! Besides alligators, keep your eyes open for armadillo, nutria, raccoons, squirrels, opossums, and river otters.
A large variety of birds can be found around the pond as well. These include: great blue and green herons; snowy and great egrets; osprey; bald eagles; red-bellied, red-headed and pileated woodpeckers; red-winged blackbirds; and if you are lucky, you may see a clapper rail. During spring migration, the area is full of warblers and other songbirds.
You can find many reptiles along the edge of the pond. Look for salt marsh snakes, turtles, frogs and lizards. If you want your best chance to see alligators, come when the weather is warmer. This is when the gators sun themselves on the muddy bank of the pond. In the cooler months they are much harder to find since they submerge themselves in the pond to stay warm.
In the spring, you can often find herons roosting in trees surrounding the pond. Salt marsh snakes are very active at this time of year too. Depending on the weather, there can also be lots of mosquitos around the pond! Bring lots of insect repellent with you if you want to avoid being bothered by the bugs!
The pond is not very big so you're not likely to need a super-telephoto lens unless you are photographing birds. I like a 70-200mm at the pond. I will reach for my 200-400mm when the herons are nesting though. A tripod can be useful, but there is also a very convenient wide handrail at the viewpoint, which you can rest heavier lenses on.
Photo Tips
Try to get down low to get eye-level with your subjects. However, do this from the viewpoint overlook, and not the edge of the pond. You don't want to be surprised by a gator or snake! I often lie on the overlook, with my lens sticking out between the wooden rails. This may look funny, but you will get some great shots.