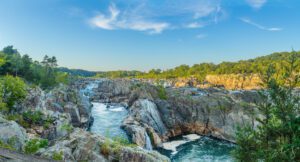 Photo Spot Summary
Country: United States
Category: Landscape
State: Virginia
City: Great Falls
GPS Latitude: 38.998165
GPS Longitude: -77.288315
Directions
The Virginia side is accessible through McLean, VA on either Georgetown Pike or Old Dominion Drive. You will pass through some of the most beautiful mansions on the way to the entrance of the park.
Photo Spot Details
This is a very popular location for visitors from all over the world. Consequently, it is extremely crowded. On weekends, the wait to get into the parking lot may be an hour or so. If you must visit on a weekend, I think the best time to visit is around 6:00 PM, right in the middle of the golden hour. By that time the crowd has thinned out a bit so you can do some peaceful shooting without getting scorns from other people for hogging the most photogenic spot.
Tripods are allowed and encouraged. I found that getting the right exposure for both the sky and the shaded fall was a bit tricky so I just stuck with panoramas and stitched two different exposures: one for the falls and one for the sky. I really think this place deserves a panorama. You can't really capture the grandeur with a single snap.
Overlook 1 is the most photogenic. There is also a way to get down closer to the waters. There are plenty of people down there so you don't have to worry about being that one photographer who breaks park rules. I saw a man fishing down there, so you taking pictures would be the least of worries for the rangers.
This is also and excellent hiking spot so when you're done taking photos of the falls, take some time and explore the trails.