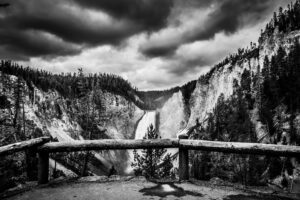 Photo Spot Summary
Country: United States
Category: Landscape
State: Wyoming
City: Yellowstone National Park
GPS Latitude: 44.720905
GPS Longitude: -110.488571
Directions
Drive south on Grand loop rd from Canyon Junction and take North Rim Drive. This place is called Lookout Point right before Grand View. You can do a short hike down which is where the featured image was taken.
Photo Spot Details
This is one of the popular destinations to photograph the lower falls and its colorful rock formations. Best time to photograph is sunrise as you get the rainbow from the falls. Yellowstone has abundant wildlife, be careful of your surroundings if you are alone, always carry bear spray with you its life saver when things get hairy. You can also use the spikes on your Gitzo tripod to shoo away wildlife but don't expect it to work on Bison or huge Grizzly.
This North rim drive is the section mostly used to photograph along the falls as it gives a nice composition of the entire falls and the rock formation colors. You get lot of opportunities here to get panoramic images of the entire fall along with canyon. Use PL articles on how to shoot waterfalls to get the settings right.
Photography Tips
1) Sunrise is good time to visit to get rainbow arch from falls
2) Tripod, CPL and ND filters are must
3) Bring rain cover for camera, backpack and rain jacket for yourself
4) Warm clothing if you are an early riser or staying late for sunset during summer too
5) Fast moving clouds at this altitude so wait a little to get the best possible composition
6) Bear spray or your Gitzo Tripod legs with spikes :D
7) Above all enjoy nature at its best through your eyes and lens.