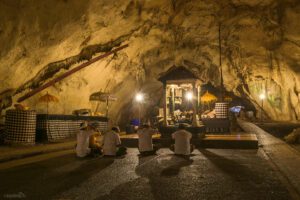 Photo Spot Summary
Country: Indonesia
Category: Architecture
City: Klungkung
GPS Latitude: -8.708541
GPS Longitude: 115.586105
Directions
This place located in Nusa Penida island. It is in the Klungkung area, Bali. We have to use ferry or fast boat to reach this island. There is almost no public transportation in Nusa Penida, so better to rent car or motorcycle right after you arrive at the harbour. It will take around 30 minutes from Buyuk harbour or one hour from Toya Pakeh harbour. It is easy to find this place by looking at the street signs.
Photo Spot Details
On this island, Giri Putri cave has the Hindunese temple inside it. The cave is very wide inside but the entrance is very narrow. We have to crawl in to pass the entrance.
Travel Tips:
Obey the local rules since this is a sacred place for local people.
Photo Tips:
Use fast wide lens because there is lack of light availability inside it. Bring tripod if needed.