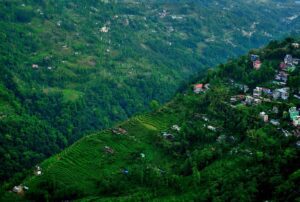 Photo Spot Summary
Country: India
Category: Travel
City: Gangtok
GPS Latitude: 27.338936
GPS Longitude: 88.606506
Directions
Take a flight to reach BagDogra Military Airport, Darjeeling District, in the norther part of the state of West Bengal, India.. From there take a take a helicopter ride to Gangtok, the capital of the state of Sikkim. It will take 30-40 mins and you can have the whole of the afternoon for shooting. Alternatively, take a flight to Kolkata, capital of State of West Bengal, India. From ther take an overnight train or bus ride to reach New Jalpaiguri, in the northern part of the state. You will arrive early in the morning. From there take a cab to reach Gangtok. It is approx. 125 km. ride, mostly along mountain roads and will take 4-5 hours. You can reach by early afternoon. This is a less costly way to travel than taking the flight and the helicopter ride, but takes more time.
Photo Spot Details
Gangtok is the capital of the Eastern State of Sikkim, India. It is situated on the Himalayan Mountain Range and is a travellers' paradise. The best time to visit is between October and February, early January being the best time if you want to have snow, and prefer the spots to be less crowded. The period between June to September is forbidden due to landslides caused by rain. March to May is the most crowded, being the period of Indian Summer, so is not a good time to visit for photo op.
You can carry all the photogear you want. There are fantastic sacred lakes, Lake Tsomgo at 12500 feet, and Lake Gurundongmar, at 17800 feet. Both these lakes are surrounded by snowy mountains and have legends dedicated to them. Lake Gurudongmar is the best spot to visit. The whole lake freezes during winter except for a particular spot and there are lots of legend around it. The way to both the lakes are rugged and dangerous and extremely beautiful
There are also a number of monasteries and holy places in and around Gangtok. The area is predominantly Buddhist. Photography is not allowed within the monasteries but there are lots of photo ops available in and around, as well as with the Monks once they are outside the prayer hall.
From October to February you will mostly get clear skies. F/2.2-2.8, ISO 100, and a shutter speed of 250-500 served me well. My visit was in April, but skies are pretty similar to what you get in February.
There are also cable-car rides and helicopter rides available which allow you to get a fabulous view of the entire Gangtok valley from high up above. The central M.G.Road market is a bustling place. There are no cars allowed in the road so it is a great place to set up a tripod right in the middle of the road and keep shooting. Sikkim has a very active music scene and many time local musicians hold live concerts in the market complex itself which provides for a great photo ops.