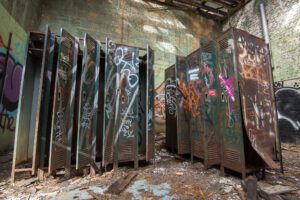 Photo Spot Summary
Country: United States
Category: Industrial
State: Virginia
City: Richmond
GPS Latitude: 37.524570
GPS Longitude: -77.417923
Directions
The building is surrounded by an easily scalable fence with plenty of no trespassing signs, so venture at your own risk. The map link will take you to a nearby public parking lot within sight of the grounds.
Photo Spot Details
Fulton Gas Works was built to provide manufactured natural gas for street lights throughout Richmond in the mid 1800's. Since then it has been converted and used for other fuel types, until it was closed in the early 1970s. There are a few buildings on the grounds, all in a state of disrepair, that house plenty of industrial equipment. The site is an urban explorer's dream.
Best Times and Gear
Since you'll be inside, anytime of day will do but you may get more directional light early or late in the day. However, the area is used by homeless people as a place to sleep so I'd recommend keeping your visiting hours to daytime. I'd recommend an overcast day to cut down on the power of the light coming in the windows. As far as lenses, bring zooms to give you more flexibility in some of the tight areas. There are plenty of rundown industrial scenes so bring a wide-angle zoom as well as mid-range and macro lenses.