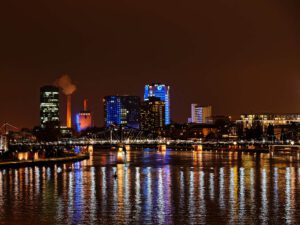 Photo Spot Summary
Country: Germany
Category: Cityscape
City: Frankfurt am Main
GPS Latitude: 50.108608
GPS Longitude: 8.687813
Directions
The Alte Brücke (Old Main Bridge) is located in the geographic centre of Frankfurt, Germany. The nearest metro stop is Don/Römer. When you reach the river there are walkways and paths lining both shores.
Photo Spot Details
The river Main flows through the middle of Frankfurt and the necessity of being able to cross from one half of the city to the other half brings with it opportunities to capture views with uncluttered foreground, provided by the river. At night the water provides a reflecting bonus! Ideally a tripod provides the necessary stability for longer exposures when needed, especially at night. However carry-on air travel does not always provide opportunity to pack all your desired equipment. So railings, lampposts, signs, anything that can help stabilize your camera are pressed into use.
The featured shot is from the Alte Brücke (Old Main Bridge) looking west towards the Eiserner Steg (Iron Footbridge). The footbridge is a relative newcomer, being only about 145 years old with its fundamental structure still intact, while the Old Main Bridge site has seen 18 re-builds of various bridge types over the centuries since it was first documented, in the year 1222.
The next photo is looking east from Old Main Bridge to the Ignatz-Bubuis-Brücke (formerly the Upper Main Bridge, renamed in 2000). The bridge railing assisting to stabilize the camera for this half-second exposure.
A portion of the city centre and the north terminus of the Iron Footbridge is captured in the next photo. As with many other bridges in Europe, the fad of placing "love-locks" has spread to the Eiserner Steg; a sample of the locks seen in the photo. This practice has led to some extreme consequences – as in the forced closure of the Pont des Arts in Paris!
The last photo in this group is taken from the bridge deck at the north terminus of the Eiserner Steg. The literal translation of "steg" from German to English includes the words "web" or "path". The "web" of steel forming the superstructure of the bridge seen clearly in the photo.