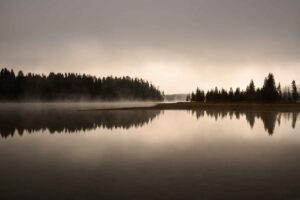 Photo Spot Summary
Country: United States
Category: Landscape
State: Wyoming
City: Yellowstone National Park
GPS Latitude: 44.567005
GPS Longitude: -110.383171
Directions
Fishing Bridge is a popular bridge in Yellowstone National Park. Very easy to find using the provided map.
Photo Spot Details
We spend ages checking light and setting up or we hang around for hours waiting for "the light", but this particular morning I set up my camera and tripod looked up and saw the image attached. I took two shots but the first one was the one. My camera is a Nikon D800, 24-120 zoom at 40mm, ISO 400, spot metering, aperture priority. The only down side was that my camera was still set from the night before on JPEG!
We were on a Yellowstone 5-day trip and were taken to this location looking for wildlife at around 6.30 AM in mid September.