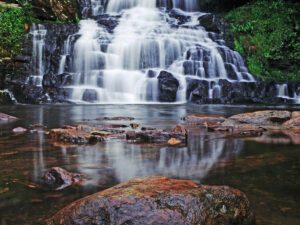 Photo Spot Summary
Country: India
Category: Waterscape
City: Shillong
GPS Latitude: 25.537958
GPS Longitude: 91.822067
Directions
Elephanta Falls is situated at the outskirts of Shillong, the Capital city of the North-eastern Indian state of Meghalaya. Hilly road and around 12 kilometers away from Shillong. It is around 140 km from Guwahati Airport and will not take less than 4 hours to reach considering hilly roads.
Photo Spot Details
The original Khasi name(Khasi is the local language of Meghalaya) of Elephanta Falls is -"Ka Kshaid Lai Pateng Khohdiew" meaning " Three steps of water". Because there are 3 phases in Elepahnta Falls. The First phase is hidden behind trees and jungle and not very accessible. The second phase is also not very significant. The third phase is really magnificent and since this region has rain all through the year, it is always flowing with water but July-August is the best time to visit as it is monsoon here and the water gushes down with full force and the view is stunning. The Third phase is also the tallest and the grandest.
The name 'Elephanta Falls' was given by the British as there used to be huge rock in the Fall area resembling the shape of an elephant. However this rock was destroyed during the 1897 earthquake.
All photos here are taken with the compact Ricoh GR, mostly with the in-built ND Filters.