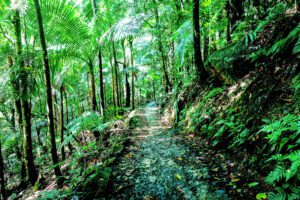 Photo Spot Summary
Country: Puerto Rico
Category: Travel
City: Rio Grande
GPS Latitude: 18.299902
GPS Longitude: -65.784325
Directions
El Yunque Rain Forest is a U.S. National Forest. It is 35 minutes away from San Juan, Puerto Rico. Take PR-26 from San Juan, stay right on PR-185 about 25 km in, and then take PR-957 into the forest.
Photo Spot Details
These pictures were all taken on the way to La Mina Trail which takes you to a wonderful waterfall (La Mina Falls). This is the most popular trail and is heavily traveled. The trail is in excellent shape, but be prepared with good shoes (should have water shoes once you get to the falls). Get there early, as once the tourist buses come in, El Yunque fills up quickly. We got there at 9:00 am and hiked in and out and even grabbed lunch before the rush. If you take a tripod (I didn't) take a compact one as the trails are narrow and with a lot of traffic you may be an obstacle to other hikers. You really aren't supposed to leave the trail, but a small deviation in without damaging the forest growth is possible for a great shot.
Lots of macro photography options available – my only regret as I wasn't prepared with the right equipment. Ferns, leaves, delicate plants and so on would have made some macro work very rewarding.
The canopy of green is simply astounding. My wife said I took a picture of every tree in the forest but I probably missed a couple… The depth of the forest is amazing. Once you get to the falls itself, the photo opportunity diminishes in my opinion – too many people, very difficult to get a clean shot of the falls and pool. However, it is well worth it. Best time to go is early morning to noon. The sun is nicely filtered and blocked so that you can use the dappling of the sun through the leaves for some nice compositions.