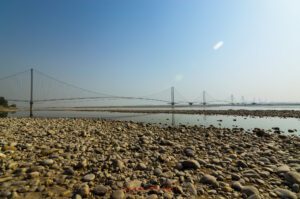 Photo Spot Summary
Country: Nepal
Category: Architecture
City: Bhimdatta
GPS Latitude: 28.897041
GPS Longitude: 80.124352
Directions
Dodhara Chandani Suspension Bridge lies on the south-western corner of Nepal almost bordering to India. The bridge connects a small landmass of Nepal across the Mahakali River which otherwise acts as the natural frontier between the two countries. The nearest city is Mahendranagar on the far west end of the East West Highway. From Mahendranagar, the bridge is about 7-8 kms south. Any local person at Mahendranagar can guide you towards the bridge.
Photo Spot Details
For the local residents of Dodhara-Chandani, the 1.60 m wide and 1452.96 m long pedestrian bridge is the only link to the remaining landmass of their district across the Mahakali. Before construction of the bridge, the folks of Dodhara and Chandani had to travel all the way to Khatima in India and cross the Sarada Barrage to reach Mahendranagar, the district headquarter.
The bridge has eight steel pylons end to end. Though purposefully a pedestrian bridge, locals extensively use motorbikes and cycles. In fact motorcycle taxis (mostly with Indian registration numbers) transporting passengers and groceries across the river are a common sight. During the dry season, the river is shallow enough to be walked across, thanks to a big canal diverted towards India few kilometers upstream from the Sarada Barrage.
As usual, mornings and evenings would be better depending on from which end you tend to photograph the bridge. The bridge extends mostly East-West. For a higher flow of water on the river, you might want to be there during the monsoon seasons of July-August.