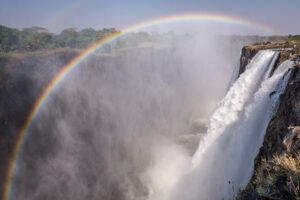 Photo Spot Summary
Country: Zambia
Category: Travel
City: Livingstone Island
GPS Latitude: -17.922579
GPS Longitude: 25.849588
Directions
The only way to get to Devil's Pool is by boat. You pick up the boat (arrange through one of the tour operators) at the Royal David Livingstone Hotel on the Zambian side of Victoria Falls.
Photo Spot Details
Devil's Pool is next to Livingstone Island, precariously perched right on the brink of the 355ft high Victoria Falls. I recommend taking the breakfast-time trip to Livingstone Island. Your boat ride will take you downstream on the Zambezi River past elephants wading, crocodiles sunning and hippos yawning in the river. You will be served a wonderful breakfast on the island and then given the choice of actually swimming (in the same river you saw crocodiles a few minutes earlier) out to Devil's Pool, right on the edge of the falls. I took this opportunity and it is not actually really dangerous, but it is still an adrenaline rush to do. Unfortunately you cannot swim in the pool during the rainy season (February through August) as the water levels are too high.
In the main picture shown here, you can see people in the top right corner of the image, actually in Devil's Pool. Not only is swimming in the pool an amazing activity to do, but standing on Livingstone Island, you get amazing views of the falls with spectacular rainbows – a wonderful place for amazing photographs. While you are there, don't miss out on a stop at the "loo with a view", which is a toilet with walls on only 3 sides – facing straight at the falls.
Take your tripod to the island as you will want to get pictures of the falls with longer exposures (1/15 – 1/8 second is a suggestion) to get some blur of the water. I did not have my tripod for the main picture shown here.