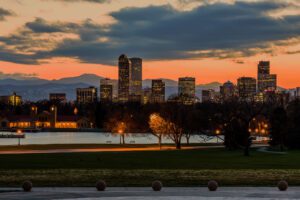 Photo Spot Summary
Country: United States
Category: Cityscape
State: Colorado
City: Denver
GPS Latitude: 39.747463
GPS Longitude: -104.943573
Directions
Drive to Denver Museum of Nature and Science and go to top stairs of the museum facing Ferril Lake you will see the Denver Skyline with Mountain facing view.
Photo Spot Details
I have been in search of good location to shoot Denver Skyline with Mountains/Sunsets and found this place when I was shooting birds in City Park from a fellow photographer. The stair top gives you nice vantage point, I noticed if you could go in the museum there is a rooftop patio which should give even better point to get the skyline and mountains.
From this location your wide angle lens is not going to give the depth of field and compression for the mountains plus the skyline is bit far. I would go with 70-200 or 85mm, 105mm or 135mm primes for vertical panorama.
The featured image I shot is with 70-200mm at 122mm, f/11.0, ISO 125 for 3 seconds.
This location is also one of the best inside the city for birding, there is a small island in Ferril Lake with trees filled with different species of birds. So bring in your long telephoto to capture some birds.