Photo Spot Summary
Country: United States
Category: Waterscape
State: California
City: Davenport
GPS Latitude: 37.007839
GPS Longitude: -122.191742
Directions
Getting to this spot is a little tricky, so use the buddy system. If you look at the map you'll see the exact spot I took this photo from. There is a parking lot about a quarter mile north, up by the road, across from a few restaurants. Once you're there you'll find a beaten path that crosses some train tracks and leads you down a gentle decline into the cove. Once your on the beach, head to the south end of the cove until you're at the rock face. It juts out to the ocean but leaves enough space, during low tide, for you to walk around into the crevice.
Photo Spot Details
WARNING: Use the buddy system, and be sure to visit this spot at low tide. When I took this photo the tide was starting to come in and each crashing wave was pushing more water into the crevice. This surge (as seen in the photo) makes for some dramatic lines through the shot but don't plan on eating your lunch here. Get your shots and get back around to the beach! Once I was out I spent an extra hour or so on the beach and could see the conditions getting more turbulent in the crevice as the tide rose.
Be sure and wear good shoes with grip. No flip-flops. The surface of the crevice is covered with algae and can make for some slippery going. Keep your gear in your pack, take your time finding a spot, get stable and shoot.
Best Times & Gear
Sunset is the only way to go. More celestial minded photographers will want to see if the angle of the sunset at a certain time of year will put it within view of the crevice opening. This photo was taken in May and the sun is a little more off to the right that I would have liked. Bring a tripod, and plenty of cleaning cloths for mist or splashes on your gear. Working space is tight so a wide angle zoom is what I'd recommend.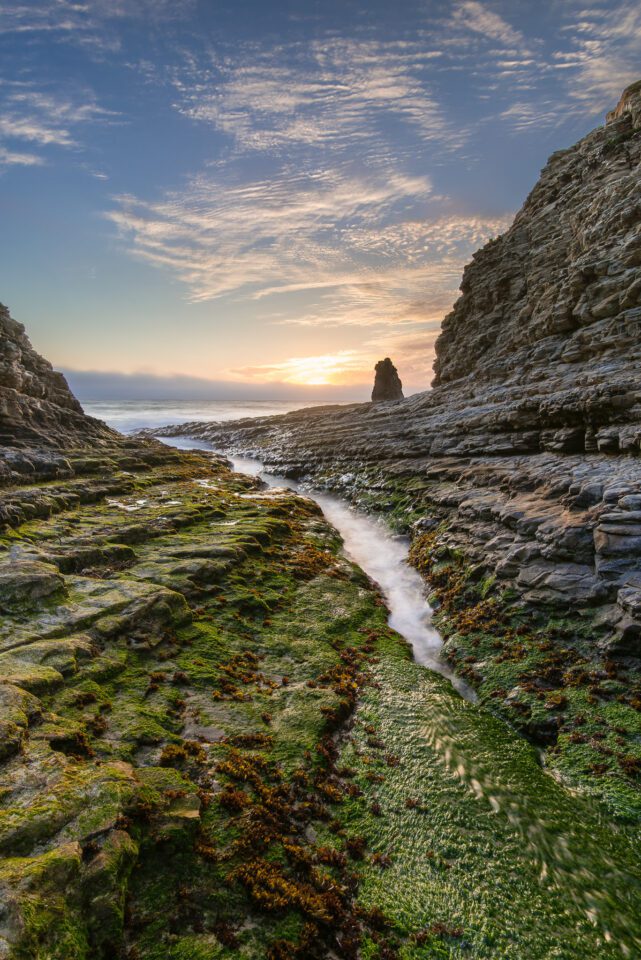 Definitely bring the polarizer to cut the glare on the algae. As for GNDs, the crevice walls will be in the shot so if you darken your sky you'll also darken them. It's up to you whether you prefer exposure merging, or brush work to brighten back up the walls.