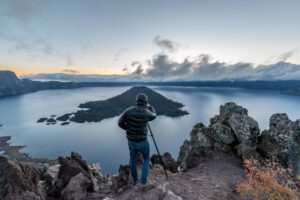 Photo Spot Summary
Country: United States
Category: Landscape
State: Oregon
City: CRATER LAKE
GPS Latitude: 42.924480
GPS Longitude: -122.161530
Directions
Crater Lake is in southern Oregon in quite an isolated location. The closest city to Crater Lake is Portland, although it is still a 4 hour drive. Once you reach the park, accessibility to the crater rim is simple, with many lay-bys along the rim road which circles the entire lake. Further, there is a path which runs along the rim edge which is not too strenuous.
Photo Spot Details
Crater lake is a brilliantly unique location, with the island volcano providing an unmissable focal point for photos. It's not hard to find an amazing location to photograph along the crater rim, although I found the best angle to be from south western corner, close to the volcanic cone protruding from the lake waters. Walking along the rim trail, there are several rocky outcrops which provide a great clearing from which to capture the entire crater. At a height of over 2000m, the night time and morning air was below freezing late in September. The weather did cloud over late in the evening however, providing some welcome warmth for my night in the tent.
Photography Tips
The more elevation the better with photography here, looking down on the lake from a greater height makes for a more complete perspective of the lake and volcano. Photos are best as wide-angle as possible. Although it can be difficult to get the entire lake in the shot, using rocks in the foreground helps to complete the crater shape-look in a photo. Try to get everything as sharp as possible here from front to back using fstop f8 or above.
I would also advise seeking out some colourful foliage in autumn time to add foreground interest, providing a glimpse of the fall colours which seems sparse in what is a predominantly evergreen area.