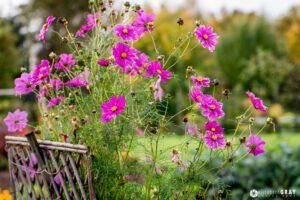 Photo Spot Summary
Country: Canada
Category: Travel
State: British Columbia
City: Coquitlam
GPS Latitude: 49.231770
GPS Longitude: -122.806511
Directions
From Hwy 1, take Exit 44 (Cape Horn Exchange) and follow the signs to Lougheed Hwy (Hwy 7) east. Continue east on Lougheed Hwy to Colony Farm Rd. Turn right and continue 1 km to the main parking lot. You will be able to see the community garden just to the east of the parking lot.
Photo Spot Details
The community garden is comprised of over 500 individual plots on seven-acres within Colony Farm Regional Park in Coquitlam, BC. It is a great location to see organic farming techniques, and to relax and enjoy nature. And, it is a wonderful spot to take photographs!
The 404-hectare regional park was once a productive farm, providing food for nearby psychiatric and penal institutions in the province. However, by the mid 1980's much of the land was abandoned, and it began to revert back to wild marshes, grasslands, streams and sloughs. Today it is managed by Metro Vancouver's Parks Department. If you have time, take a stroll along one of the dykes after you visit the community garden.
The community gardens are a great place to visit any time of the year, but I particularly enjoy the fall. At this time the gardens may be past their peak, but there is so much beauty to be found amongst the decaying plants. Late blooming flowers and fall vegetables contrast beautifully against shades of green and brown. It is also a great time to find spider webs dripping with dewdrops.
Bring your macro lens and tripod. You can also get interesting perspectives with a wide angle or even a fisheye lens.
If you visit in the fall, it is a good idea to bring a rain sleeve for your camera to protect it from the elements.
Photo Tips
The community garden is full of interesting plants, but also look for textures and patterns to photograph. If it is raining, use a circular polarizing filter to cut through glare. Try to take shots from different angles. Often a great photograph is taken from a perspective that involves getting underneath your subject or from ground level. Don't be afraid to get dirty!