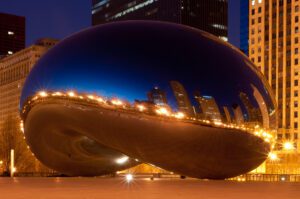 Photo Spot Summary
Country: United States
Category: Cityscape
State: Illinois
City: Chicago
GPS Latitude: 41.882656
GPS Longitude: -87.623306
Directions
You will find Cloud Gate on North Michigan Avenue, just south of E Washington Avenue, in the magnificent Millennium Park. Any cab will get you here or you can drive and park at one of the self-park garages in the area.
Photo Spot Details
Everyone in Chicago can tell you about "The Bean". Not everyone will remember that its official name is Cloud Gate. Made of highly polished stainless steel plates, its beautiful shape (from which it got its name) and amazing reflective properties makes this a great sculpture and a wonderful photographic opportunity.
This is a great spot for daytime pictures – you will often see wedding and other similar events being photographed here – it is also an awesome spot for nighttime and early morning pictures.
Photography Tips
1) Night-time shots can be spectacular, but unless you stay up very late, you will have plenty of people in the pictures. That could be a great look and if could be fixed partly by looong exposures.
2) Very early morning – before sunrise – here you can get pictures that transition from dark, to blue hour, to sunrise. That is what the series of pictures here show. You will only be here with a handful of fanatical, um I mean enthusiastic, photographers. A long exposure will probably remove them (and their reflections) from your picture.
3) Bring a tripod. You are allowed to use one and it's pretty much essential for night time shots.
4) You will get plenty of reflections of lights, so closing down the aperture is useful for getting starbursts. I used f/36, f/29 and f/25 for these three pictures.