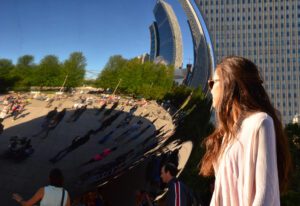 Photo Spot Summary
Country: United States
Category: Cityscape
State: Illinois
City: Chicago
GPS Latitude: 41.883385
GPS Longitude: -87.621788
Directions
Walk, cab, drive or train/subway in – it's just off Michigan Avenue in downtown Chicago. Locals call it "the Bean."GPS Latitude: 41.882657200 GPS Longitude: -87.623303900
Photo Spot Details
Enjoy a stunning spot – a 110-ton elliptical sculpture by British artist Anish Kapoor that is free and open to all in that most American of cities, Chicago. The location has everything from world-class architecture on three sides (arguably four sides) to people of all kinds, gathered around a great sculpture called Cloud Gate but known to locals as "The Bean."
Here's the great thing – you don't have to track for miles and the site offers a host of angles, portraits, studies in people, nature, architecture, cityscapes, art and design. Friends and significant others are happy to pose here – or can journey off to Michigan Avenue for shopping or to museums, Lake Michigan or hundreds of other places within walking distance.
Photography Tips
1. Recommendations for gear and preparation and angles? No! Discover! That's what makes it so much fun. You can do anything here including video. All hours (I'd personally avoid midnight to 500 am, except in summer as the light comes as early as 415 am in summer.)
2. Winter: Bring winter gear or risk numbness of fingers and toes.