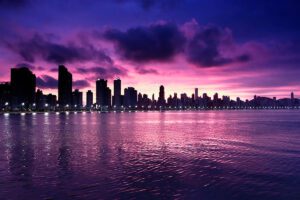 Photo Spot Summary
Country: Brazil
Category: Cityscape
City: Balneário Camboriú
GPS Latitude: -27.002474
GPS Longitude: -48.604610
Directions
The rock dock is located in the south of the bay and you can get there easily, as shown on the map.
Photo Spot Details
It's easy to see the beauty of a big city, but to capture that "magic" you must take your time and find a good spot. A lot of the city's surrounding area of Santa Catarina district in Brazil, deep in the South of the country is also really beautiful. In the south of the bay there is a rock dock and right in the middle of it you will have the best place to take the best shot of the city.
It was a great afternoon in the city of Camboriu, the Sun was coming down wen I was with my camera just walking, I had the cheapest of the lenses, the kit 18-55mm lens. At around 18:00 I sat on the middle of the rock dock and took the above shot. Everything was lit up like magic. Beautiful clouds, the water and the buildings all reflecting off water. I had enough light to expose without a tripod using relatively low speed and ISO, but it is always recommended to use a tripod when capturing scenes like this. With an ND filter, you can get the water look smooth and beautiful, especially on windy days.