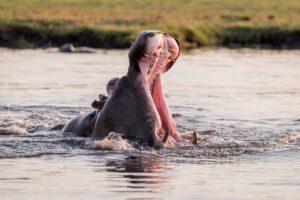 Photo Spot Summary
Country: Botswana
Category: Wildlife
City: Kasane
GPS Latitude: -17.805773
GPS Longitude: 25.146566
Directions
The gateway to Chobe is the town of Kasane. You can fly to Kasane from Johannesburg, South Africa or Lusaka Zambia. You can also drive here from within Botswana or from Zambia, Namibia or Zimbabwe. In fact, Kasane is located just 10 minutes from where these four countries meet on the Zambezi River.
Photo Spot Details
To describe Chobe in a short paragraph is akin to draining the Zambezi River with a straw. This park, and in particular the opportunities for game viewing near the river (or on the river) are among the best anywhere in the world. Not only do you have massive herds of elephant, plenty of hippo, crocodiles and buffalo, but a wide variety of antelope including some that are not seen anywhere else. There are the predators, including lions and leopards and cheetah. And then of course there are baboons and monkeys and honey badgers and giraffe and zebra and so much more.
And then there are the birds. The diversity of year-round and migratory birds is astounding. They are big, small and above all colourful.
Getting around
The lodges and independent tour operators provide many guided tour options. You can go in open landrovers – a treat. They cannot leave the roads, but you will have plenty of opportunities for great sights. But my favorite is viewing on the water. The sights of hippo foreplay, crocodiles feasting on a buffalo carcass, elephants crossing the river, skimmers fishing and the iconic African Fish Eagle with its haunting cry are in such abundance it is like drinking from a firehose.
Photography
1) Bring a long lens – at least 400mm if you want to get the birds. If you can have a second body with a wider angle, consider taking that too. You will get very close to some of these animals.
2) The best opportunity for wildlife photography is an outfit called Pangolin Photo Safaris. They have individual 360deg swiveling chairs with a Wimberley mount and included are Nikon D7000 and Sigma 150-500mm lenses. Their trained guides and skilled boat operators will get you close to some of the most amazing sights.
A very small sample of the animals and birds you will see is shown here.