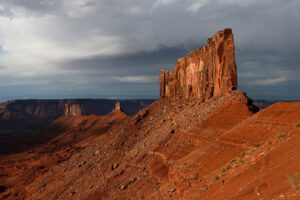 Photo Spot Summary
Country: United States
Category: Landscape
State: Utah
City: Castle Valley
GPS Latitude: 38.639427
GPS Longitude: -109.409004
Directions
Just before entering Moab, cross the bridge over the Colorado River and take a left (north) onto Utah Highway 128 (River Road). Go 15 miles and turn right onto the La Sal Loop Road and turn into the climbers campground in 4.5 more miles on the left.
Photo Spot Details
This spot can be accessed by hiking (& sometimes climbing) the the well established trail up through the debris field to Castleton tower / the rectory.
Castle Valley is one of my favourite locations in Utah because of the dramatic scenery which involves multiple desert towers, valleys and the the colorado river. This location is accessible all year, however in winter snow and/or ice is likely to accumulate, making the trail difficult to hike. Sunset is the best time to photograph this side of Castle valley. Taking a headlamp is advised when coming back down the trail after sunset.