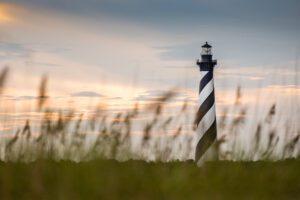 Photo Spot Summary
Country: United States
Category: Landscape
State: North Carolina
City: Buxton
GPS Latitude: 35.250538
GPS Longitude: -75.528831
Directions
The map link will take you directly to the lighthouse, which has a large parking lot, but this is not where the photo was taken. About 200 feet east (towards the ocean) is an additional beach-access parking lot. If you walk out to the beach and look west you will see the lighthouse through the reeds, and this is where the photo was taken.
Photo Spot Details
The Cape Hatteras Lighthouse https://en.wikipedia.org/wiki/Cape_Hatteras_Light is an operating lighthouse located near the southern-most point of Hatteras Island and the greater Outer Banks of North Carolina. Definitely plan on spending the day enjoying the beach, either before or after your shoot. The area definitely has that small beach-town feel (and the accompanying price increase on just about everything).
Best Times & Gear
The lighthouse grounds are small so any close-up wide-angle shots will have distortion and tomb-stoning. I highly recommend a tele-photo shot from the beach. Sunrise or sunset, you can walk the beach and get an appropriate angle. This shot was taken near the parking lot at sunset at 200mm. I'd recommend a fast shutter as the wind is always blowing near the point, and you may or may not want to freeze the movement of the reeds.