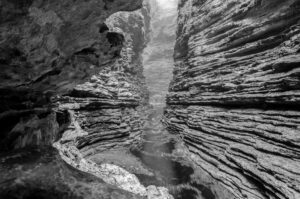 Photo Spot Summary
Country: Brazil
Category: Waterscape
City: Chapada Diamantina
GPS Latitude: -13.326499
GPS Longitude: -41.146465
Directions
Departing from the city of Ibicoara (which is located on the State of Bahia - Northeastern Brazil), you should take a unpaved road to the State Park located right above the city limits. After a 1.5 hr walk you may access a amazing canyon and a incredible waterfall.
Photo Spot Details
This photo was taken while accessing the Buracão Waterfall through a narrow rocky canyon. You might need good swimming skills in order to get into the canyon and be able to see the waterfall right after it. This canyon and the waterfall can be accessed after a 1.5 hr trail-walk among the Brazilian Cerrado vegetation. Rainy season (December-May) is a good choice, but depending on the water flow you might not be able to access the canyon.
Springtime and Autumn might be the best seasons. Equipment you should bring with you include dry bags and cases, wide-angle lenses, tripod and shutter release (remote or cable). You might get nice shots using long exposure, since the black water contains white foams from the decomposition of organic matter floating downstream. There are also many other options for visiting around, such as the Butterflies waterfall and many other natural attractives.