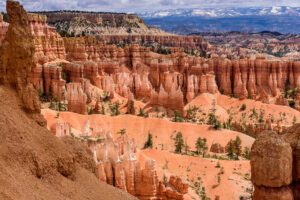 Photo Spot Summary
Country: United States
Category: Landscape
State: Utah
City: Bryce
GPS Latitude: 37.593037
GPS Longitude: -112.187088
Directions
Route 63 in southwest Utah will bring you right into Bryce Canyon. The road continues through the park for about 12 miles, ending at Rainbow Point.
Photo Spot Details
Bryce Canyon is a spectacular geological formation in southwestern Utah. It's at a very high elevation; some parts are over 9000 feet above sea level. Because of this elevation, Bryce is usually cool throughout the year; the average high temperature during the summer is around 83 degrees. In the winter (and even into the spring), you can get some spectacular shots after a snowfall.
There are two aptly-named spots: Sunrise Point and Sunset Point. As you'd expect, they're best photographed at those times (although the rest of the park is beautiful at sunrise/sunset, too).
Bryce Canyon is not really a canyon, but rather a series of 'amphitheaters' just off rt. 63. There are parking lots at each of the major spots, and a short walk from the lot will bring you to the edge of the amphitheater. There are also several hiking trails into the amphitheaters, something like 15 miles worth. You can get wonderful shots from the trails, as well from the viewpoints on the edges. Each of the amphitheaters is as photogenic as the others; it's tough to name a 'favorite' spot.
The appropriate gear would include a wide angle zoom for panorama shots of the amphitheaters, as well as more 'normal' zoom in the 24-70mm range, or so. You may also want a telephoto lens (or zoom) for zeroing in on details of the 'hoodoos' (the spire-like structures throughout the amphitheaters). As usual, a polarizing filter will help saturate the beautiful reds and oranges.