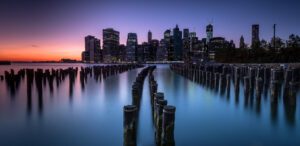 Photo Spot Summary
Country: United States
Category: Cityscape
State: New York
City: New York
GPS Latitude: 40.700794
GPS Longitude: -73.996841
Directions
This spot is located in the Brooklyn Bridge Park in Brooklyn, New York. You can get access here by taking any number of subways to this area, popularly called DUMBO - the F train to York St, the A or C trains to High St or the 2 and 3 trains to Clark St. You can get here via the East River Ferry from Manhattan or other parts of Brooklyn. Of course you can drive and bike here too.
Photo Spot Details
This area is quite popular in general and is (unfortunately or fortunately) a bit of a tourist trap. On the weekends, the crowds can be a bit overwhelming. The neighbouring Smorgasburg food fair rings a ton of people here in the summers. As a photo spot, it is quite popular with such a great view of lower Manhattan and the two iconic bridges- the Brooklyn Bridge and Manhattan Bridge – side by side. This particular spot can be reached by walking toward the end of the main promenade and cutting back in to where you can see the raised stumps of the old pier. The geometry of the wooden stumps makes it a great foreground element against the backdrop of the city.
I have mostly shot this in the evening time. The light is quite nice in the evenings, especially in the late Fall or winter time when the sun drops to the far right of the frame. It can be quite impressive especially when the lights switch on in the Manhattan skyline.
Photography Tips
This location has become quite popular in recent times though and in the summers, it can get annoying finding a spot. The colder months are more spectacular in my opinion and the cold keeps away all but the most determined photographers.
The symmetry of the wooden stumps makes for some interesting photography compositions.
The wider, the more impressive. I needed 16mm for this photograph.
There is a small window of time between the lighting up of Manhattan and the street lights in the park in the evenings. Try to shoot in this window because the streetlights will pollute the image with the dirty green color balance of the fluorescent lights.