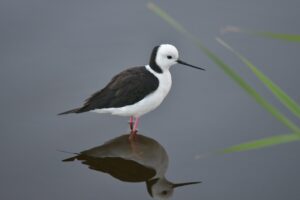 Photo Spot Summary
Country: Australia
Category: Wildlife
City: Bibra Lake
GPS Latitude: -32.086742
GPS Longitude: 115.827995
Directions
On the eastern shores of Bibra lake following Bibra Drive Travelling North . After the round about on Parkway Road just to the north on the bend you will find a sign posted parking area. Walk on the track West would and about 3 min walk you will see a concrete path that heads to the lake Old Hide. About 3 min further West is the other New Hide concrete path heading out to the lake.
Photo Spot Details
This is a spot that will appeal to a bird photographer two bird hides an Old Wooden one with shutters and a new one with sliding windows the bird you will see have been painted on the inside of the hide. The bird life is worth going to have a look at, while i have only added three photos there are a lot of migratory bird using the lake in season. The spot is also very subject to the amount of water that has fallen on a bad year it can be dry lake with only a few spots of water. If you have a lens up to 500mm you will do well, i pack my 150-600mm Tamron lens on the camera and carry the monpod but in the old hide you can use the shutter frame if you don't want to carry the monopod. It is worth remembering the whole place is wheel chair friendly.
My wife and i regularly walk the lake so i pack camera and lens(150-600 & 24-120) start from the mentioned car park as its the closest to the hides. Get the photo of the birds then finish the walk around the lake an hour walk, keep the pack light. As you go around the Lake there are views worth getting and spots you can find the birds so keep you eyes out.
I have found this spot to be a bit better early morning when less people have walked out to the hide's and scattered the birds. Having said that afternoon the birds in the bush show up in the last rays of sunshine. A good spot for Birders well worth the visit more than once and great place for a picnic on the Western shore after a shoot. I am just starting out in bird photography since i got the 150-600 Tamron lens which i bought as my surfing lens but has proved just as good on the birds.
Warning: Remember this is Snake Country it is not really advisable walking in the reeds to get close to the birds off the tracks provided.