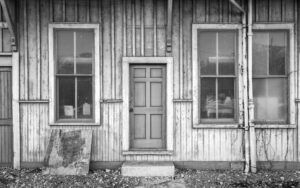 Photo Spot Summary
Country: United States
Category: Industrial
State: Virginia
City: Glasgow
GPS Latitude: 37.627098
GPS Longitude: -79.456268
Directions
The map directions will lead you right to the train station, but you'll have to drive onto private property. There are a few signs as you enter the area but no gates, chains, or signs of recent activity. The only official structure is a mobile trailer office that hasn't been visited in some time.
Photo Spot Details
From what I can tell the Balcony Falls Train Station has not be active for years. The building is locked up and looks to be used for storage. The surroundings don't provide much in the way of a picturesque view, but all around the building you'll find mix-match doors, windows, pipes, and general decay that makes for some great still-life studies.
Best Times & Gear
I wouldn't worry too much about sunrise or sunset, but something in the morning or evening will give you some nice directional light for texture. Bring a range of focal lengths as you may want to shoot wide, tight, or even macro.