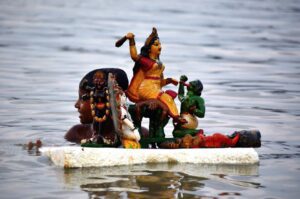 Photo Spot Summary
Country: India
Category: Travel
City: Kolkata
GPS Latitude: 22.566271
GPS Longitude: 88.339798
Directions
Take a flight to Kolkata, the capital of the eastern Indian state of West Bengal. From there you can hire a cab to go to Babughat. It is located along the banks of the Ganges river (local name Hooghly river) and is very near to the Eden Gardens stadium
Photo Spot Details
Babughat is one of the many ghats built along the river bank of Hooghly along the Strand Road. The best time to visit is during the Durga Puja festival which happens around October in Kolkata. On the tenth day of the festival, the idols of Goddess Durga are brought to Babughat during late afternoon or evening and immersion rituals take place. This is the best time to photograph.
There are no restrictions to photography. The place is taken over by photographers from the country as well from around the world during the 2-3 days when immersions take place. However one has to be careful about slipping on the muddy banks of the river.
A fast prime or telephoto with good low light capability should be good enough for taking snap during the rituals.