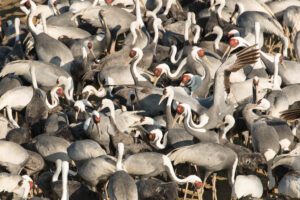 Photo Spot Summary
Country: Japan
Category: Wildlife
City: Izumi-shi
GPS Latitude: 32.102856
GPS Longitude: 130.275101
Directions
This location is accessible by several methods. Many of the multi-day high-end photo touring groups will include this as part of their itinerary, so you could do that if you're feeling rich. I chose to fly from Tokyo to Kagoshima, then rent a car to drive the two hours to the site. You could also take the shinkansen (bullet train) or a standard tour bus. The coordinates listed are for the visitor's center at the site, and you won't need to venture far from there to get great pictures.
Photo Spot Details
Two species of cranes winter at this area: White-Naped Cranes, and Hooded Cranes, and they do so in very large numbers (13,000 plus), making for a very impressive and noisy scene. The rest of the year, this is just another rice field and not particularly photogenic, so plan on visiting between December and March, preferably January or February. About 80% of the world population of Hooded Cranes winters here, making this a very important area ecologically and a true wildlife photographer's dream.
Bring your longest lens and a tripod. You can expect to see a number of other photographers there, most of whom will have more expensive gear than you. Follow the long lenses to the best vantage points. The visitor's center sells snacks and souvenirs, and has a little restaurant. For a few hundred yen you can go up to the observation deck, which is nice, or for free you can go onto the roof of an adjoining building.
One problem that you will note is that nothing actually opens until midmorning, but the birds are most active just after sunrise. You can still park and take photos while you are waiting for things to open, you just won't be able to get onto the observation platforms.
I would suggest you make a multi-day trip out of this as the weather can be rather fickle and it is entirely possible you will get rained out one day. There is adequate lodging in Kagoshima for relatively reasonable prices by Japanese standards, and they also have a very nice aquarium and an active volcano that you can visit. There is a ferry that will take you to the base of the volcano, but the best views of it are from the hills in central Kagoshima.