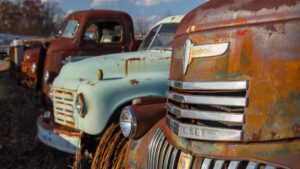 Photo Spot Summary
Country: United States
Category: Automotive
State: Virginia
City: Columbia
GPS Latitude: 37.681007
GPS Longitude: -78.203400
Directions
The map directions will take you directly to the main office. Remember this is a private business, so be sure to ask permission before wandering around.
Photo Spot Details
The location's name is P L Duncan Trucking Inc, but the photo spot consists of a few acres of land, on which you'll find dozens of antique trucks from all different manufacturers. REMEMBER this is private property, so be sure to stop by the main office and ask permission to walk the grounds. The gentleman that owns the business was not 100% excited about my request at first. I offered him $20 as a "day pass", but he let me walk around for free under the condition that I "don't go into any of the vehicles". I'd ask that you offer the same as a gesture of courtesy.
Best Times & Gear
Any time of day would be fine, but earlier or later in the day will give you warmer, more dramatic tones which will enhance the rusted subject's color. Definitely bring a tripod as there are a number of poorly lit sheds which house a good number of the nicer vehicles.