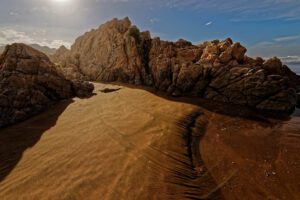 Photo Spot Summary
Country: Morocco
Category: Landscape
City: Casablanca
GPS Latitude: 33.586315
GPS Longitude: -7.686474
Directions
Ain Diab is an area in the western part of Casablanca. Take the modern public transit tram to the terminal stop station "Ain Diab", cross the Boulevard de l'Océan Atlantique, and you are there!
Photo Spot Details
Plage Ain Diab (Ain Diab Beach) stretches for about three kilometres along the Atlantic Ocean in the western part of Casablanca, Morocco. The striking combination of sparkling sand, jagged rock outcrops, and the seemingly constant wind and mist off the Atlantic, rewards the photographer who can overcome the challenges at hand. The orientation of the beach means that the sun needs to be particularly respected – if it is not evoking flares in your composition, it is lighting up the mist and washing out contrast.
The featured image shows what can be had by "running close to the sun" – deep shadows and dazzling points of light.
The second photo implies solitude by the ocean, but this beach is far from quiet! At any one time there are several ongoing beach soccer matches, horse riders, joggers, strollers, surfers – a jumble of humanity enjoying their time by the ocean – look closely at the third photo – you'll get the idea!