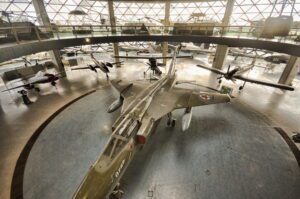 Photo Spot Summary
Country: Serbia
Category: Automotive
City: Beograd
GPS Latitude: 44.819073
GPS Longitude: 20.285458
Directions
The museum is located alongside the Nikola Tesla airport in Surčin, Belgrade. So if you find yourself at the airport while the museum is working there is only a five minute walk to get to it. If you are in Belgrade there are two public transport lines that can get you there. The mini bus line A1 and PTC "Belgrade" Line 72.
Photo Spot Details
There are two things that are interesting to see. Of course the planes, but also the old building a large glass-encased round structure that looks like a strange mushroom from outer space that has sprouted in the middle of Srem's cultivated fields which was designed by Ivan Štraus. There are planes on the outside of the museum. They are unfortunately left to deteriorate by weather but that gives them a pretty nostalgic look which looks beautiful on your camera. The other part is inside the museum where you can find lots of planes and helicopters. Don't expect to look at state-of-the-art stuff because there are mostly planes that show Serbia's aviation history.
Tips:
1. If you are bringing a tripod you can only use it outside of the museum. They do not allow to take the tripod inside.
2. Try wide-angle lenses They can really show how big these planes really are.
3. Since it is quite hard to get the picture where there is one plane isolated from the other try to get couple of them in frame and make a composition.
4. Waiting outside for sunset is a good option.
5. Polarising filters will come in handy.
6. Try to take pictures of details on planes.