Pretty much the whole Photography Life team uses Lightroom (Tom, hint hint) and we all love it. Without a doubt, Lightroom is an integral part of many photographers' workflows. It is easy to learn and use, comes with a boatload of great tools and makes the process of managing and organizing images a breeze. However, it seems like Lightroom is often plagued by various bugs and annoyances, some of which have been there for a very long time. One of those nasty old timers, is the Lightroom Exit Bug (I came up with this title, since I have no idea how else to call it), which has been plaguing Lightroom for a very long time, I believe since version 2 or 3. It also occurs in the latest release of Lightroom 5.2 RC. Basically, at some point of time, Lightroom's shortcuts and menu windows just stop working and random presets get applied to your photos. The bug also prevents you from being able to exit out of Lightroom. The only cure is to exit out of Lightroom by clicking the "X" on the top right corner of the Lightroom window.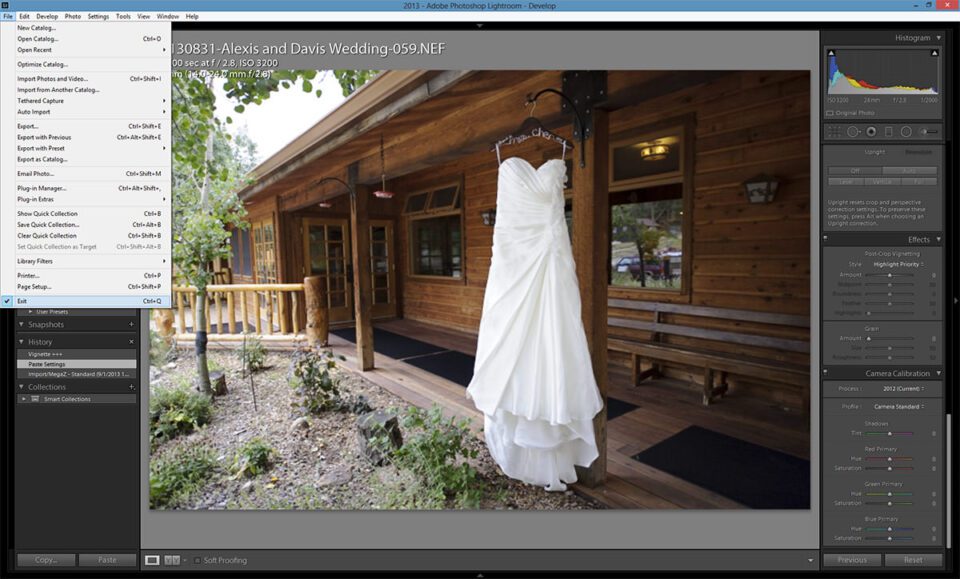 I do not know the exact reason for this bug and why it exactly it occurs, since it is rather random. Sometimes it occurs after editing 10-15 images and sometimes it will show up after an hour or more of editing. I noticed that it typically happens when working with batches of photos. Since Lola does a lot of editing of wedding photos, she has been seeing it a lot for quite some time now.
When you try to exit Lightroom using File->Exit, here is what ends up happening: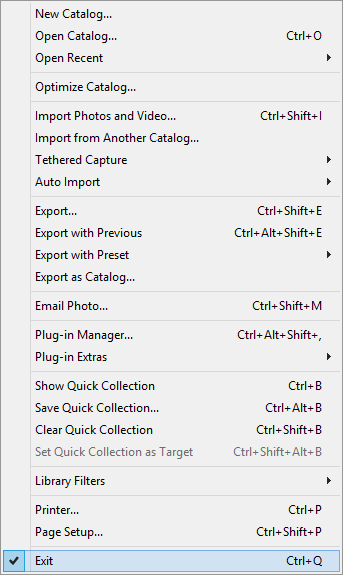 Lightroom never closes, and when you click the File menu again, you see a check mark right next to Exit, as shown in the screenshot above. No matter how many times you click this, Lightroom completely refuses to close. Most of the shortcuts don't work either – pressing CTRL+Q does absolutely nothing.
Now here is the nasty part of this bug. The moment it happens, Lightroom starts applying presets on photos when you try to use shortcuts like CTRL+Z (undo). Here is an screenshot of an image that had "Vignette +++" preset applied to it, although I never wanted it: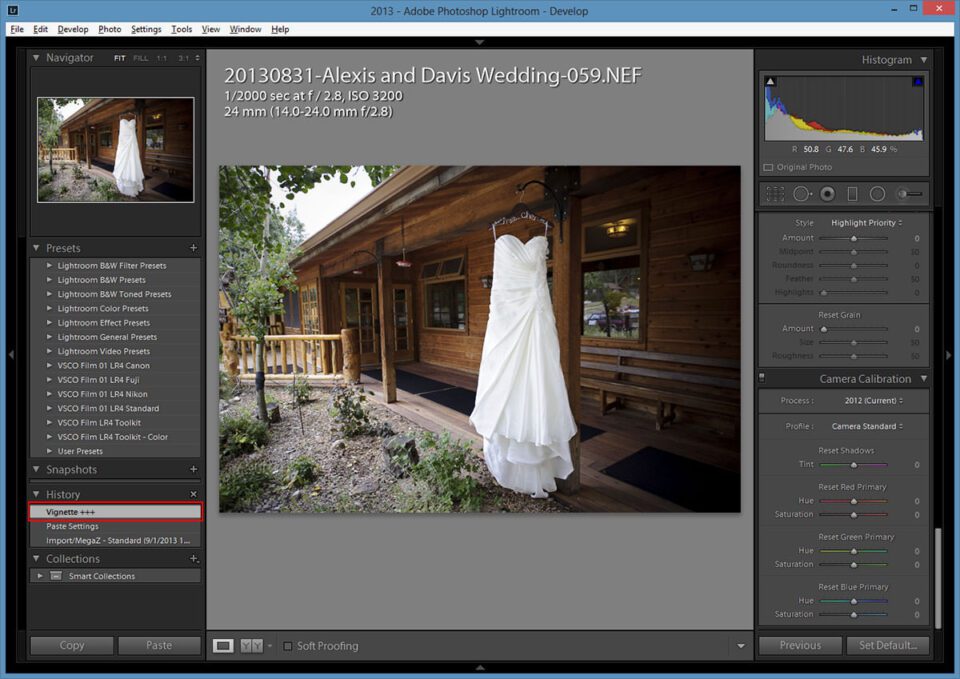 This may not be an issue when you work on a single file, since you can roll back the change using the History panel. But I once had hundreds of photos selected and when I pressed CTRL+Z, a black and white preset got applied to all those images. Since I could not roll back the action, I had to close out of Lightroom. When I re-opened the catalog, all of the presets were still there. I had to literally go through each image, one by one and undo the last preset (all images were edited). Needless to say, it was a very frustrating experience for me, since there was no way to undo the last action and I did not want to restore from a previous backup.
At first, I thought that my plugins and presets were the cause. I removed them all at some point and tried to reproduce the bug, which showed up again shortly. I even tried reformatting my computer and re-installing Lightroom – all to no avail. I sat quiet on this bug for a while, since I thought that I was the only person with such issues. Until Roman sent me the following video, asking me if I had seen the bug before (he experienced it too):
This is exactly the same bug that I have been seeing all these years. I really hope that Adobe's development team will make a note of this particular bug and fix it in future releases of Lightroom. Their challenge will be to first identify it, since it is not something that you can reproduce right away, each time.
Question to our readers – have you seen this particular bug yet? If yes, can you tell us about your setup? (PC or Mac? What version of Lightroom are you using? What operating system? Single or Dual screen setup?). Thank you!