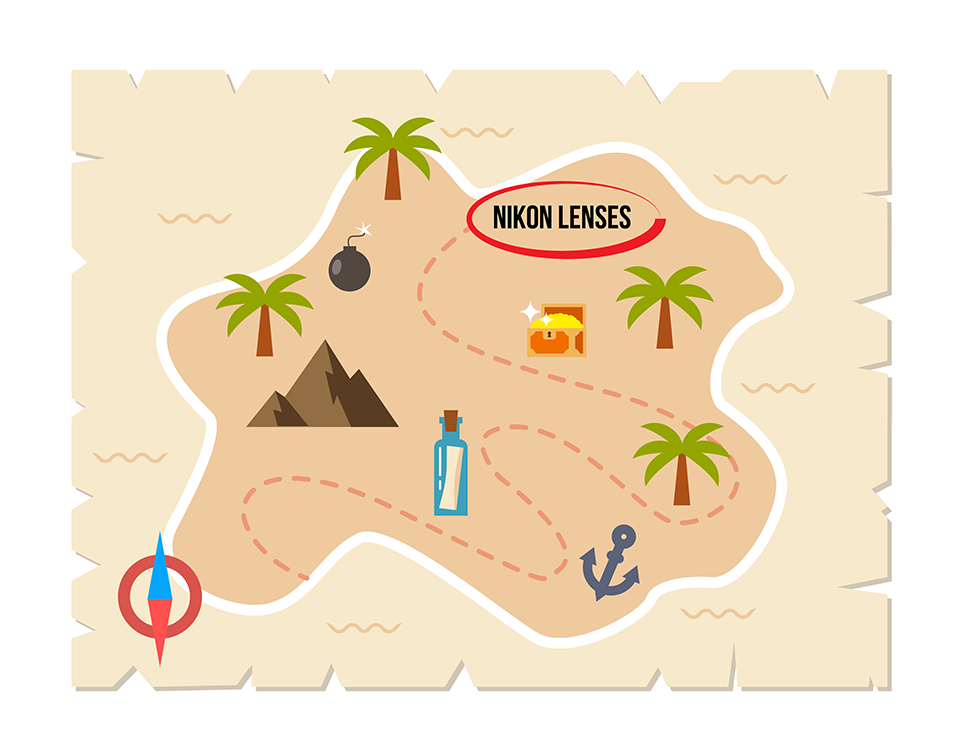 Nikon once again updated its Z lens roadmap, adding a few brand new lenses to its mirrorless Z System. The most recent update addresses the remaining eight lenses we expect to see in 2023 (two of which have already been announced). Let's take a look at these lenses – and everything else we can expect to see for Nikon's mirrorless system – today.
The Updated Nikon Z Lens Roadmap
The following is the latest version of the Nikon Z lens roadmap. It's still current as of late May 2023, with three exceptions: the mystery 12-28mm, 26mm, and 85mm lenses have now officially been announced.
As you can see below, the number of unannounced lenses is dwindling – not a bad thing! – but there are still some intriguing lenses that have yet to be released. Nikon says the roadmap covers "to 2023," so presumably, all of the remaining lenses will be announced this year.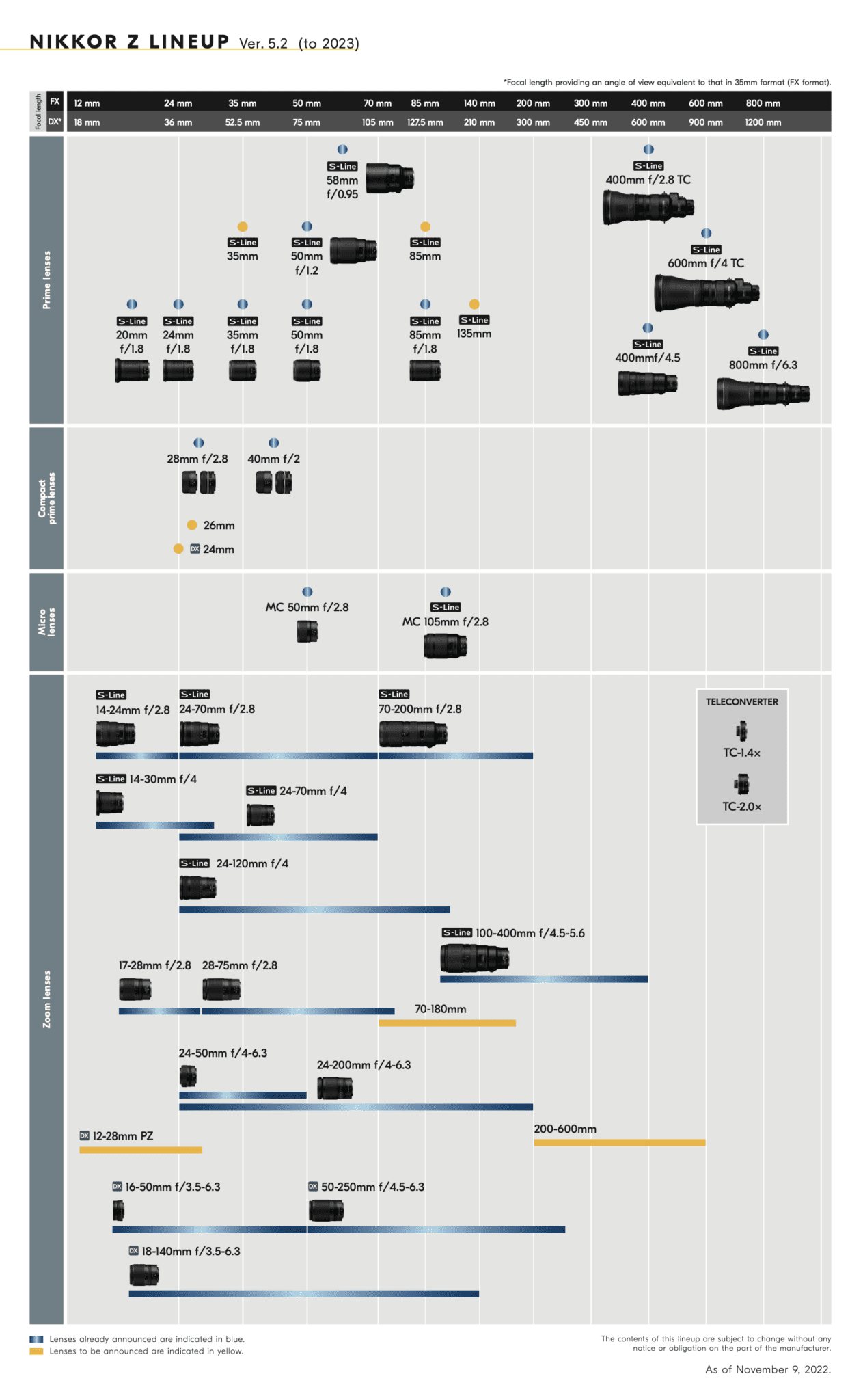 The unannounced lenses are:
A 35mm S-line lens
A 135mm S-line lens
A 70-180mm non-S zoom
A 200-600mm non-S lens (this one has been on the roadmap for a while now)
A 24mm DX lens
In total, every Nikon Z lens we know about is as follows. Lenses that have not yet been formally announced are marked in bold:
12-28mm f/3.5-5.6 DX PZ VR
14-24mm f/2.8 S
14-30mm f/4 S
16-50mm f/3.5-6.3 DX VR
17-28mm f/2.8 (Tamron optical design)
18-140mm f/3.5-6.3 DX VR
20mm f/1.8 S
24mm f/1.8 S
24mm compact DX
24-50mm f/4-6.3
24-70mm f/2.8 S
24-70mm f/4 S
24-120mm f/4 S
24-200mm f/4-6.3 VR
26mm f/2.8
28mm f/2.8
28mm f/2.8 Special Edition
28-75mm f/2.8 (Tamron optical design)
35mm S (likely f/1.2)
35mm f/1.8 S
40mm f/2
50mm f/1.2 S
50mm f/1.8 S
50mm f/2.8 macro lens
50-250mm f/4.5-5.6 DX VR
58mm f/0.95 S
70-180mm non-S (likely f/2.8)
70-200mm f/2.8 VR S
85mm f/1.2 S
85mm f/1.8 S
100-400mm f/4.5-5.6 S
105mm f/2.8 VR S macro lens
135mm S (likely f/1.8)
200-600mm (non-S lineup – and may end up as a 180-600mm)
400mm f/2.8 TC VR S
400mm f/4.5 VR S
600mm f/4 TC VR S
800mm f/6.3 VR S PF
1.4x Teleconverter
2.0x Teleconverter
The official specifications of the unannounced lenses remain unknown, but we can predict some of the maximum apertures with reasonable certainty. It's probable that the 35mm will be an f/1.2 lens to match the 50mm f/1.2 and 85mm f/1.2 lenses. I'd be surprised if the 135mm is anything other than f/1.8 or possibly f/2. And because the 70-180mm lens is likely a Tamron-designed lens (something I've written about before) it will probably be a 70-180mm f/2.8 to match their existing lens for Sony E-mount.
As for the other two lenses – the 200-600mm and DX 24mm – your guess on the maximum aperture is as good as mine. No information is publicly known, so take my predictions above for what they're worth. For example, there are rumors that the 200-600mm will actually be a 180-600mm lens, so even the focal lengths are not set in stone. Hopefully, Nikon will release more information soon.
When Are These Lenses Coming Out?
The new roadmap doesn't list any date projections for when the unannounced Z lenses will go on sale, aside from hinting that they will all be announced in 2023. I'd like to note that the unannounced lens which has been on the roadmap the longest is the 200-600mm. It's been there for years, which is a bit of a sore spot among Nikon photographers, but hopefully that means it will be one of the next few lenses to ship.
At the same time, it isn't clear if the roadmap represents everything that Nikon will announce in 2023. Nikon has already released some surprises that were not previously on the roadmap: 1.4x and 2x teleconverters, the Nikon Z 24-50mm f/4-6.3, Nikon Z 17-28mm f/2.8, and Nikon Z 28-75mm. It's also possible that lingering supply chain issues might push one or two of the unannounced lenses to 2024, at least for the shipping date, despite Nikon's use of the phrase "through 2023."
Finally, these two graphics are also worth keeping in mind: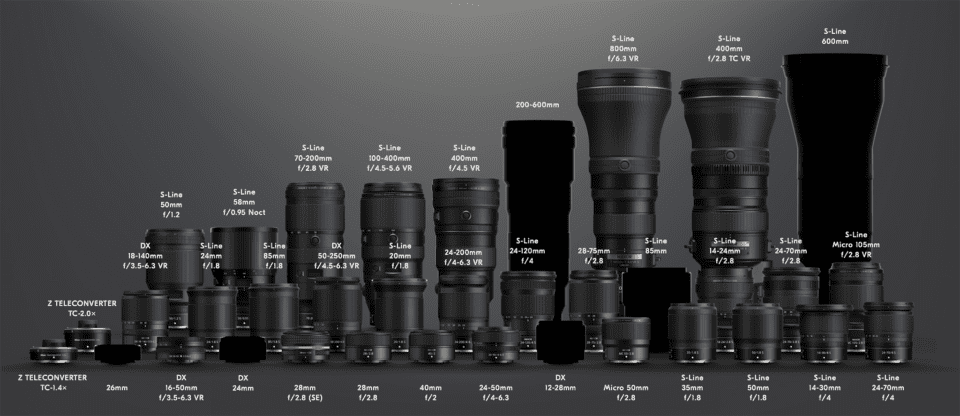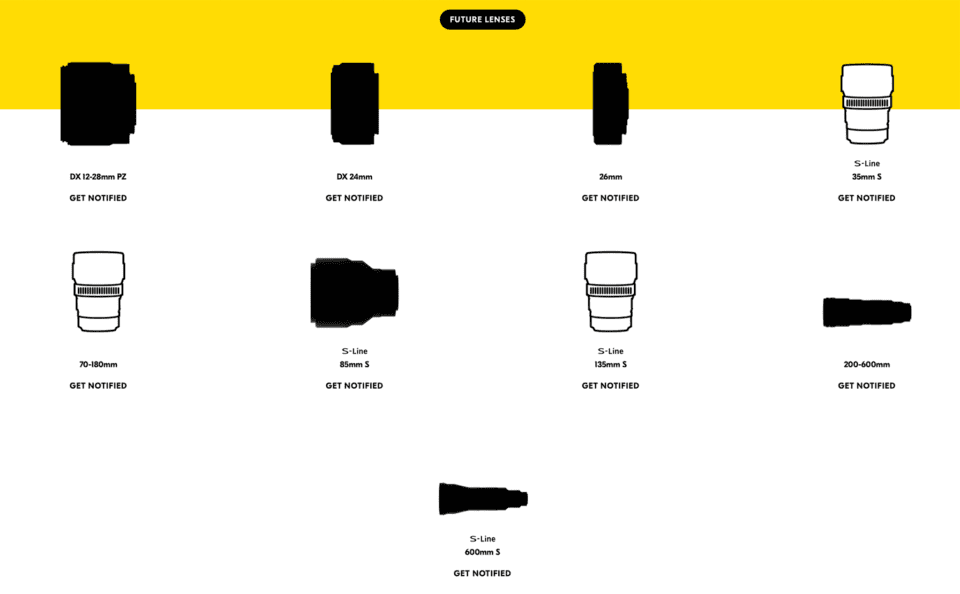 The images are slightly out of date by now, but they still do a good job showing the size and shape of some unannounced lenses – specifically the DX 24mm and the 200-600mm. I don't think Nikon has published more updated versions of these images, but please let me know in the comments section if you've found updated versions somewhere, and I'll add them to this article.
By the sizes of the unannounced lenses, we can infer a few things about their purpose. For example, the unreleased 24mm DX lens seems to be a small pancake lens somewhere between the 26mm f/2.8 and 28mm f/2.8 in size. And the 200-600mm will be a large telephoto zoom, but decidedly more compact than any of the "exotics" like the 400mm f/2.8 or 800mm f/6.3.
Note that Nikon's illustrations for the 35mm S, 70-180mm, and 135mm S lenses in the diagram above are the same as one another. This is just a placeholder drawing and probably does not represent the appearance of any of those three lenses.
Analyzing the Future Lenses
At this point, there are five lenses left on the roadmap, including some very interesting-looking lenses. One that's sure to be very popular is the 200-600mm lens, which is likely to be a less expensive option for photographers who need a supertelephoto lens.
At the same time, it's nice to see that Nikon is continuing their line of compact prime lenses with the unannounced 24mm DX lens. Compact lenses pair very well with the lightweight Z cameras, and I'd love to see a comprehensive set of them some day, including an ultra-wide around 18mm or 20mm.
Meanwhile, the 35mm prime (presumably f/1.2) will be a highly sought-after combination with the 85mm f/1.2 S for wedding photographers and others who work in low-light conditions. The mystery 135mm lens is likely to fall under the same umbrella, too.
As for the 70-180mm, it will likely be an f/2.8 lens, completing Nikon's cheaper trio of rebranded Tamron f/2.8 lenses. I had hoped instead for a lightweight telephoto zoom option, which is still somehow missing from Nikon's native lineup after all these years (aside from the 24-200mm f/4-6.3, which is a good lens for a superzoom, but is still a superzoom).
Third Party Lenses
Already, there are well over 100 third-party lenses for the Nikon Z system, but almost all of them are manual-focus only. While there's nothing wrong with manual focus lenses, they don't have as wide of an appeal as autofocus lenses.
Some of the key third-party autofocus lenses available for the Nikon Z system are as follows:
Meike AF 85mm f/1.4:
Tamron 70-300mm f/4.5-6.3
TTArtisan 27mm f/2.8 (DX only)
TTArtisan 32mm f/2.8
Sigma 16mm f/1.4 (DX only)
Sigma 30mm f/1.4 (DX only)
Sigma 56mm f/1.4 (DX only)
Viltrox 13mm f/1.4 (DX only)
Viltrox 23mm f/1.4 (DX only)
Viltrox 33mm f/1.4 (DX only)
Viltrox 56mm f/1.4 (DX only)
Viltrox 24mm f/1.8
Viltrox 35mm f/1.8
Viltrox 50mm f/1.8
Viltrox 85mm f/1.8
Yongnuo 50mm f/1.8
Yongnuo 85mm f/1.8
Of the bunch, probably the most exciting is the Tamron 70-300mm f/4.5-6.3, which is the first official Tamron lens for Nikon Z cameras. It's a good lightweight telephoto option for Z users, and it pairs well with the Z system considering Nikon's lack of alternatives. I've shot with it and really liked it as a portable telephoto option for landscape photography. Hopefully it proves popular enough that Nikon releases a lightweight telephoto zoom of their own to compete with it!
I'm also excited about the three Sigma DX lenses. Sigma is one of the best third-party lens companies, and these lenses are a good start considering that there aren't very many Nikon-brand Z DX lenses yet. All three of them fill useful spots in the lineup, for anything from astrophotography to portraiture and street photography. The same can be said of the Viltrox Z DX lenses.
Most of the other third-party lenses listed above have Nikon Z equivalents already, although they could still make sense if you're trying to save money.
Nikon Z Lenses Announced So Far
The list below keeps track of all the Nikon Z-mount lenses that have been announced so far, in order from least to most recent:
2018
2019
2020
2021
Nikon Z MC 50mm f/2.8 Macro Lens
Nikon Z MC 105mm f/2.8 VR S Macro Lens (our review)
Nikon Z 28mm f/2.8 (our review)
Nikon Z 40mm f/2 (our review)
Nikon Z 28mm f/2.8 SE (same optics as 28mm f/2.8; our review)
Nikon Z 18-140mm f/3.5-6.3 DX VR
Nikon Z 24-120mm f/4 S (our review)
Nikon Z 100-400mm f/4.5-5.6 VR S (our review)
Nikon Z 28-75mm f/2.8 (our review)
2022
2023
Nikon Z 85mm f/1.2 S
Nikon Z 26mm f/2.8 (our review)
Nikon Z 12-28mm f/3.5-5.6 PZ VR
If you want to find out more about the Nikon Z lenses, see Nikon Z Mirrorless Lenses page at Nikon USA.
Nikon Z Cameras
All the lenses above are Nikon Z mirrorless only, meaning they will not fit on any Nikon DSLR regardless of the adapter you use. At the moment, these are the only cameras which work with Nikon Z lenses:
Of these cameras, the Nikon Z30, Z50, and Zfc have a DX sensor (AKA 1.5x crop sensor), while the others have a larger FX camera sensor. However, all of Nikon's Z lenses fit on all of these cameras, DX or not. If you use one of Nikon's DX lenses on an FX camera, your photos will be automatically cropped to fit the DX area. See more at Nikon DX vs FX.