Nikon once again updated its Z lens roadmap, and we now know of a total of ten Z mount lenses that will be released in the coming years. The most exciting part is that we will soon be seeing top-of-the-line 400mm and 600mm super-telephoto primes in the line-up! Here's a first look at the new lenses you can expect to see.
The Updated Nikon Z Lens Roadmap
Here is the latest version of the Nikon Z lens roadmap, announced at the end of 2020 but still current as of May 1, 2021: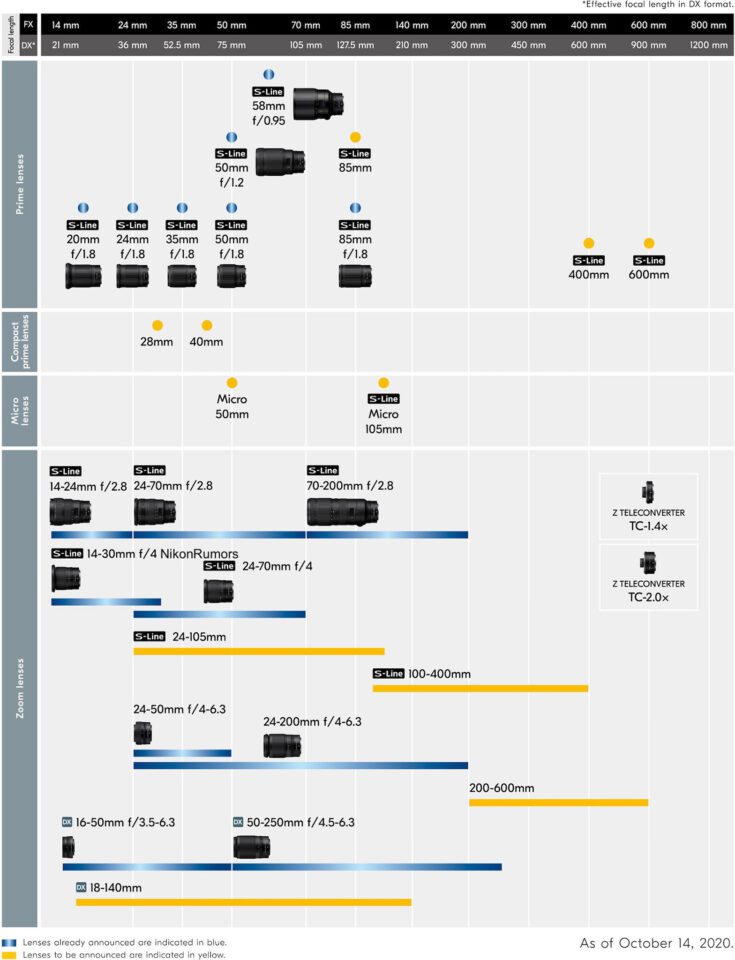 And here is the roadmap it replaces: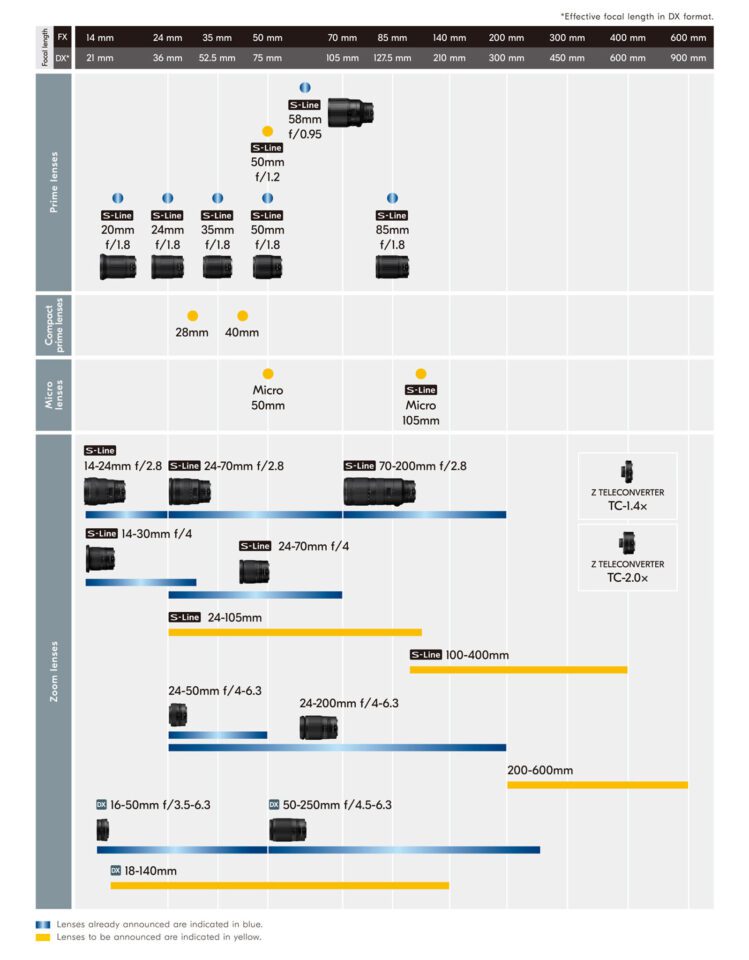 As you can see, Nikon added another 85mm prime to the roadmap (most likely an 85mm f/1.2 S lens), as well as two super-telephoto primes – 400mm and 600mm! These are probably going to be exotic Nikon Z 400mm f/2.8 S and Z 600mm f/4 S lenses that are specifically designed for sports and wildlife photographers. With the 1.4x and 2x teleconverters already out, Nikon will finally have a nice set of super-telephoto glass, which is very exciting!
In total, every Nikon Z lens we know about is as follows. Lenses that have not yet been formally announced are marked in bold:
We don't yet know the maximum aperture values of some of these lenses, including the 400mm and 600mm primes, but we can roughly tell what they are going to be based on their previous designs. Hopefully, Nikon will release more information soon.
When Are These Lenses Coming Out?
The new roadmap doesn't list any date projections for when the unannounced Z lenses will go on sale. It is hard to predict what specific lenses will be announced in 2021 for a number of reasons. First, Nikon has released some surprises that were not previously on the roadmap (1.4x and 2x teleconverters, as well as the new Z 24-50mm zoom). And second, given the current economic conditions and COVID 19, it might push new releases further into the future.
However, given the recent developmental announcement of the Nikon Z9, it is likely that either the 400mm f/2.8, the 600mm f/4, or both, will be released relatively soon. Nikon is likely planning for some pre-production Z9 cameras to be available for the Tokyo 2021 Olympics in July, and it is unlikely Nikon would offer such a camera without at least one native supertelephoto prime. It will likely be October or November of 2021 when the Z9 and any associated lenses formally announce and ship.
Analyzing the Future Lenses
A lot of Nikon's upcoming lens lineup looks very interesting. In particular, it's great to see a company put specific effort into releasing pancake lenses, as well as exotic super-telephotos. The latter has been a major pain point for all mirrorless systems, and it is great to see that Nikon will be releasing high-end 400mm and 600mm S-line primes. I really hope Nikon can push the optical design of these lenses even further compared to their F-mount counterparts, so that we end up with much lighter and sharper lenses that would couple well with both 1.4x and 2x teleconverters, especially when it comes to autofocus. Imagine being able to take sharp, properly focused images at 1200mm f/8 – it could be a game-changer!
It's also nice to see not one, but two dedicated macro lenses on their way for the Z system. I would have preferred a 150mm+ macro lens rather than a 50mm and a 105mm, but I'm not complaining. The Z cameras are great for close-up photography for a few reasons – focus stacking, in-viewfinder magnification, focus peaking – and they deserve more than an adapted lens.
The 100-400mm also seems interesting to me. The biggest gap in the entire Z lens lineup was – and still is – a small aperture telephoto lens. Heck, I'd be first in line to buy the Nikon Z 50-250mm f/4.5-6.3… if it weren't DX only. Most likely, the 100-400mm will still be too heavy to be ideal but at least it's something. Still, you've got to wonder why Nikon continues to hold out and not release a lightweight telephoto zoom for what is, ostensibly, a travel-friendly camera system.
We also get the first super-telephoto Z lens – the 200-600mm, though no word on its maximum aperture – which very well could win fans for wildlife and sports photography. Seeing as though it's not an "S" series lens, chances are good that it will mimic something like the Nikon 200-500mm f/5.6 VR, a well-regarded budget super-telephoto lens.
What Nikon really needs to push to its Z lens roadmap, is a sharp and lightweight 70-200mm f/4 S. Nikon, please, make this a surprise announcement – it should be on the priority list way before any of the specialized or exotic primes.
Nikon Z Lenses Announced So Far
The list below keeps track of all the Nikon Z-mount lenses that have been announced so far, in order from least to most recent:
2018
2019
2020
If you want to find out more about the Nikon Z lenses, see Nikon Z Mirrorless Lenses page at Nikon USA.
Nikon Z Cameras
All the lenses above are Nikon Z mirrorless only, meaning they will not fit on any Nikon DSLR regardless of the adapter you use. At the moment, these are the only six cameras which can mount Nikon Z lenses:
Of these, the Nikon Z50 is the only camera so far with a DX sensor, while the other five have a larger FX camera sensor. However, all of Nikon's Z lenses fit on all of these cameras, DX or not. If you use one of Nikon's DX lenses on an FX camera, all your photos will be automatically cropped to fit the DX area. See more at Nikon DX vs FX.
Nikon has also revealed an upcoming Nikon Z9 camera that will sit at the top of the company's lineup, but few details are known about its specifications yet.