Nikon once again updated its Z lens roadmap, adding a few brand new lenses to its mirrorless Z System. Specifically, as announced in mid-September 2022, there is now a 35mm S-line lens, 135mm S-line lens, and 70-180mm non-S lens on the roadmap. Let's take a look at these lenses – along with all the upcoming lenses for Nikon's mirrorless system – today.
The Updated Nikon Z Lens Roadmap
The following is the latest version of the Nikon Z lens roadmap, announced on September 20, 2022. It's completely current at the moment and has some very exciting unreleased lenses, which Nikon says covers "to 2023."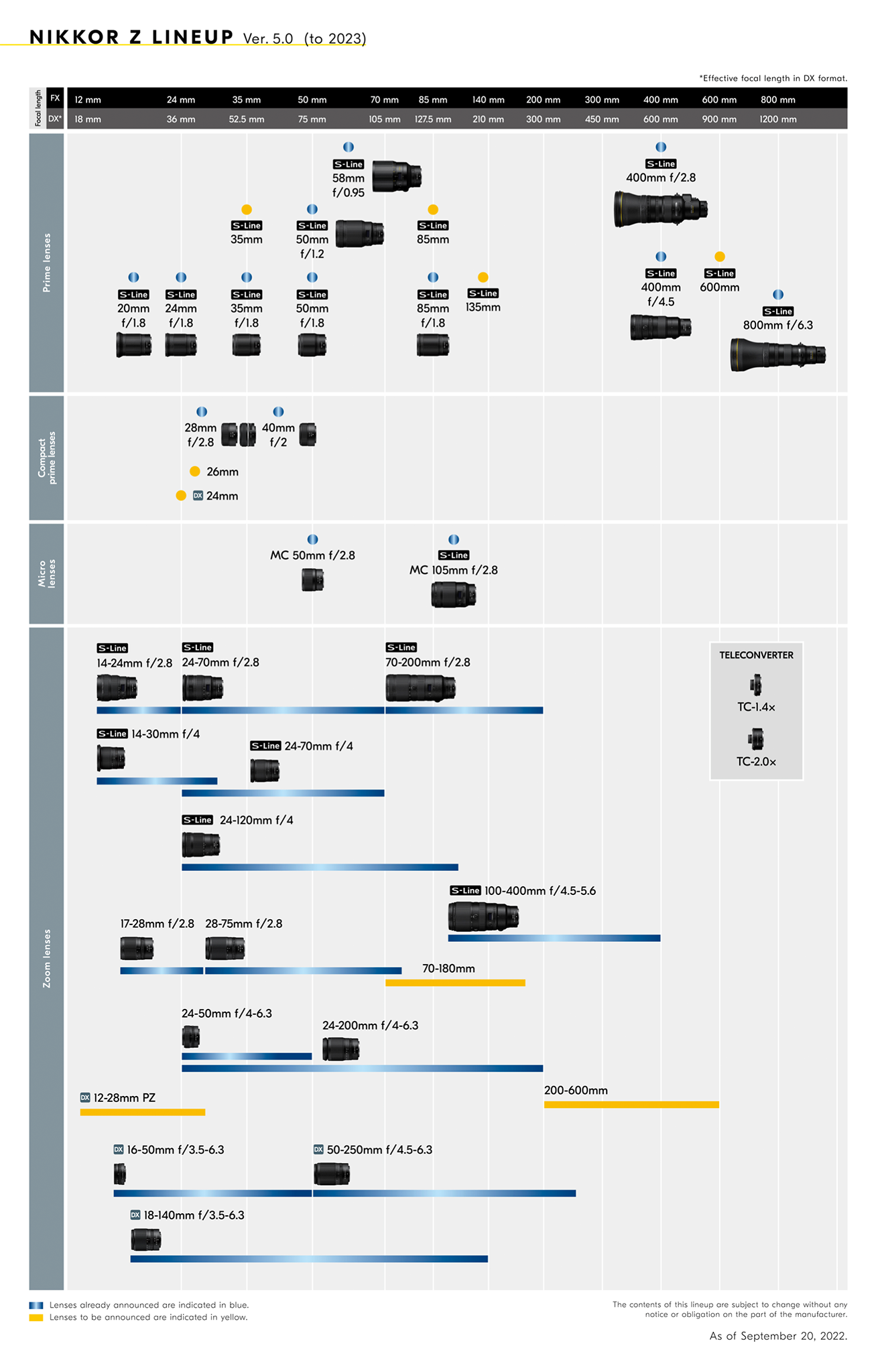 What Nikon added to the roadmap most recently is:
A 35mm S-line lens
A 135mm S-line lens
A 70-180mm non-S zoom
Details that the 12-28mm lens has a "PZ" designation (most likely standing for "power zoom" but an outside chance of "Piezo motor" or something else)
The other unannounced lenses – all of which have been on the roadmap for a while now – are:
A 600mm S-line prime lens
An 85mm S-line prime lens
A 200-600mm non-S zoom lens
A 26mm compact prime lens
A 24mm compact DX compact prime lens
The roadmap has changed a lot over the years. For example, the image below is how it looked in late 2019, with tons of lenses missing, and a few details that have changed (like the 24-105mm that actually ended up being a 24-120mm). Notably, only the 200-600mm still hasn't been announced since then.
Old 2019 version: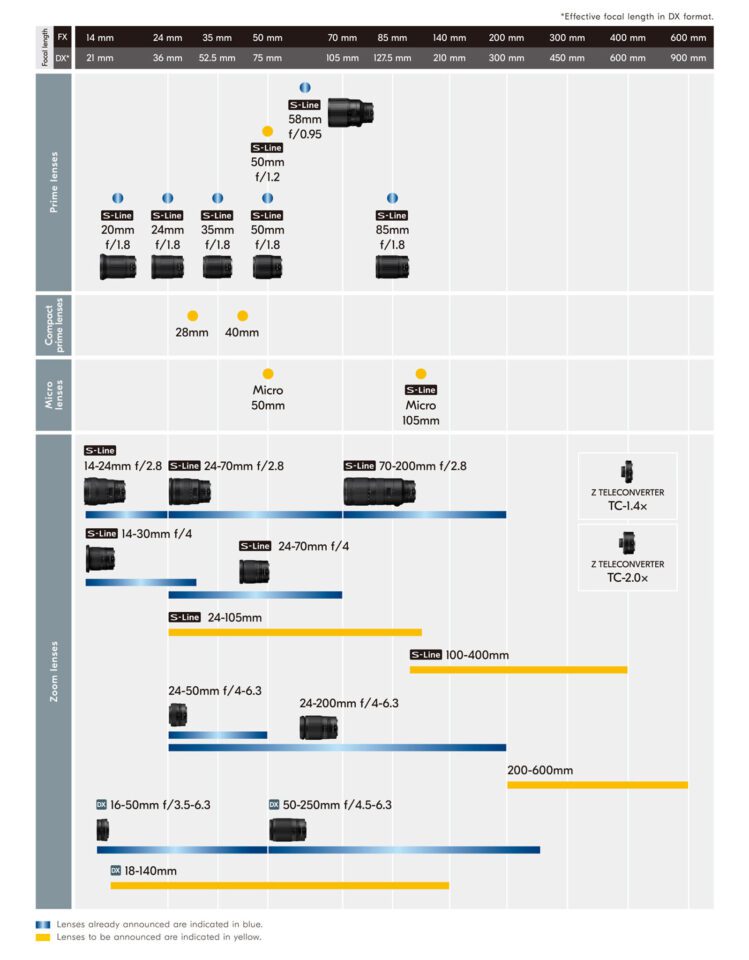 As you can see, Nikon has added tons of lenses since then, especially on the telephoto side of things. While the official specifications of the unannounced lenses remain unknown, it's likely that the 35mm and 85mm will be f/1.2 lenses. The 600mm is probably going to be an f/4 lens, based on past releases from Nikon (and a leak where Nikon accidentally mentioned a Z 600mm f/4). I'd be surprised if the 135mm is anything other than f/1.8 or possibly f/2. As for the other lenses – the 26mm, 70-180mm, 200-600mm, DX 12-28mm, and DX 24mm – your guess is as good as mine. It depends on how high-end Nikon wants to make these lenses.
In total, every Nikon Z lens we know about is as follows. Lenses that have not yet been formally announced are marked in bold:
12-28mm DX
14-24mm f/2.8 S
14-30mm f/4 S
17-28mm f/2.8 (Tamron optical design)
16-50mm f/3.5-6.3 DX VR
18-140mm f/3.5-6.3 DX VR
20mm f/1.8 S
24mm f/1.8 S
24mm compact DX
26mm compact (non-S lineup)
35mm S
24-50mm f/4-6.3
24-70mm f/2.8 S
24-70mm f/4 S
24-120mm f/4 S
24-200mm f/4-6.3 VR
28-75mm f/2.8 (Tamron optical design)
28mm f/2.8 SE
28mm f/2.8
35mm f/1.8 S
40mm f/2
50mm f/2.8 macro lens
50mm f/1.2 S
50mm f/1.8 S
50-250mm f/4.5-5.6 DX VR
58mm f/0.95 S
70-180mm non-S
70-200mm f/2.8 VR S
85mm S (likely f/1.2)
85mm f/1.8 S
100-400mm f/4.5-5.6 S
105mm f/2.8 VR S macro lens
135mm S
200-600mm (non-S lineup)
400mm f/2.8 TC VR S
400mm f/4.5 VR S
600mm S (likely f/4)
800mm f/6.3 VR S PF
1.4x Teleconverter
2.0x Teleconverter
Since we don't officially know the maximum aperture values of some of these lenses, take my predictions for what they're worth. Hopefully, Nikon will release more information on the other lenses soon.
When Are These Lenses Coming Out?
The new roadmap doesn't list any date projections for when the unannounced Z lenses will go on sale. However, it should be noted that the unannounced lenses which have been on the roadmap the longest are the 85mm S, 200-600mm, and 600mm S. It's possible that those three lenses will ship before the others.
At the same time, it is hard to predict what specific lenses will be announced in 2022 versus 2023 for a number of reasons. First, Nikon has released some surprises that were not previously on the roadmap (1.4x and 2x teleconverters, as well as the Nikon Z 24-50mm f/4-6.3, 17-28mm f/2.8, and 28-75mm f/2.8 zooms). And second, given the supply chain issues that many companies are still having, it might push new releases further into the future.
This graphic is also worth keeping in mind: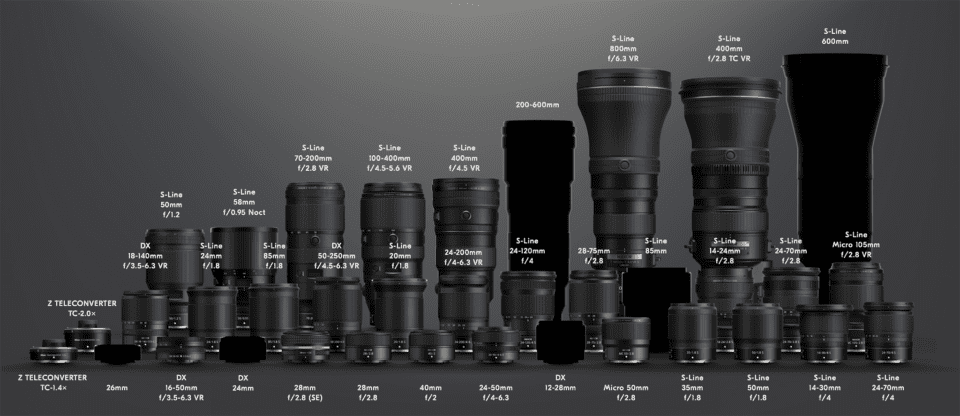 This image is from September 2022, but before Nikon added the most recent batch of three new lenses on September 20. (It seems Nikon hasn't published an updated version since then, but let me know if you find a newer image anywhere, and I'll post it.)
Even though the graphic above is missing the 35mm, 135mm, and 70-180mm, I find it useful for determining the rough sizes and shapes of some of the unreleased lenses. For example, by the size of the unannounced S-line 600mm lens, we can infer that Nikon is going to give it a large maximum aperture and isn't as worried about the size or weight of that lens. Meanwhile, it gives us an insight to the unreleased 26mm full-frame lens: It's a tiny pancake lens, even smaller than Nikon's 28mm f/2.8 and 40mm f/2.
Analyzing the Future Lenses
At this point, there are nine lenses left on the roadmap, including some very interesting-looking lenses. One that's sure to be popular is the 200-600mm lens (not S-line), which may be a relatively inexpensive option for photographers who need a long lens. At the same time, the mystery 600mm S-line lens looks like it will be a high-end option and a pretty massive optic, probably with the near-perfect performance we've come to expect from Nikon's exotic supertelephotos. Both of these lenses could be great choices for sports and wildlife photographers, especially coupled with the Nikon Z9.
It's also nice to see that Nikon is continuing their line of compact prime lenses with the unannounced 24mm DX and 26mm FX lenses. Compact lenses pair very well with the lightweight Z cameras, and I'd love to see a comprehensive set of them some day. Since the silhouette of the 26mm lens in Nikon's diagram is tiny, I predict that it's somewhere from an f/4 to an f/5.6. It should add a true pancake lens to the Z system, great for hikers and travel photographers.
Meanwhile, the 35mm and 85mm primes (both presumably f/1.2) will be a highly sought-after combination for wedding photographers and others who work in low-light conditions. The mystery 135mm lens will fall under a similar bucket, too, likely at f/1.8.
Overall, this is a fairly complete lineup, although the one question mark is the 70-180mm. This could be the lightweight telephoto zoom that I have been hoping to see from Nikon for ages, or it could be one of Nikon's rebranded Tamron lenses (not necessarily a bad thing). Tamron has a 70-180mm f/2.8 that gets good reviews and is very light for an f/2.8 telephoto zoom, but is still somewhat heavy at 810 grams. Would you prefer this 70-180mm to be a variable aperture zoom, an f/2.8 rebranded Tamron, or perhaps an f/4 constant aperture lens? I was rooting for an f/4 lens, but that seems pretty unlikely, because then it would have been an "S" lens. We'll have to wait and see if Nikon goes the lightweight telephoto route or the rebranded Tamron route instead.
Third Party Lenses
At the moment, there are a ton of third-party lenses for the Nikon Z system, but almost all of them are manual-focus only. While there's nothing wrong with manual focus lenses, they don't have as wide of an appeal as autofocus lenses.
Some of the key third-party autofocus lenses available for the Nikon Z system are as follows:
Viltrox 13mm f/1.4 (DX only)
Viltrox 23mm f/1.4 (DX only)
Viltrox 33mm f/1.4 (DX only)
Viltrox 56mm f/1.4 (DX only)
Viltrox 24mm f/1.8
Viltrox 35mm f/1.8
Viltrox 50mm f/1.8
Viltrox 85mm f/1.8
TTArtisan 32mm f/2.8
Yongnuo 50mm f/1.8
Yongnuo 85mm f/1.8
Tamron 70-300mm f/4.5-6.3 (not yet shipping)
Of the bunch, probably the most exciting is the Tamron 70-300mm f/4.5-6.3, which is Tamron's first official lens for Nikon Z cameras, and looks like a good lightweight telephoto option for Z users. However, it was only announced on August 30 of 2022, and Tamron says it won't ship for another month or two.
The Viltrox DX-only prime lenses also look interesting to me if you have a Nikon Z30, Z50, or Zfc, since there is no native Nikon Z equivalent yet. Most of the other third-party lenses have Nikon Z equivalents already, although if you're trying to save money, any of the lenses above could be a viable choice.
Nikon Z Lenses Announced So Far
The list below keeps track of all the Nikon Z-mount lenses that have been announced so far, in order from least to most recent:
2018
2019
2020
Nikon Z 14-24mm f/2.8 S (our review)
Nikon Z 70-200mm f/2.8 VR S (our review)
Nikon Z 20mm f/1.8 S (our review)
Nikon Z 24-200mm f/4-6.3 VR (our review)
Nikon Z 24-50mm f/4-6.3 (our review)
Nikon Z 50mm f/1.2 S
Nikon Z 1.4x Teleconverter
Nikon Z 2x Teleconverter
2021
Nikon Z MC 50mm f/2.8 Macro Lens
Nikon Z MC 105mm f/2.8 VR S Macro Lens
Nikon Z 28mm f/2.8
Nikon Z 40mm f/2
Nikon Z 28mm f/2.8 SE (same optics as 28mm f/2.8)
Nikon Z 18-140mm f/3.5-6.3 DX VR
Nikon Z 24-120mm f/4 S
Nikon Z 100-400mm f/4.5-5.6 VR S
Nikon Z 28-75mm f/2.8
2022
Nikon Z 400mm f/2.8 VR S
Nikon Z 800mm f/6.3 VR S
Nikon Z 400mm f/4.5 VR S
Nikon Z 17-28mm f/2.8
If you want to find out more about the Nikon Z lenses, see Nikon Z Mirrorless Lenses page at Nikon USA.
Nikon Z Cameras
All the lenses above are Nikon Z mirrorless only, meaning they will not fit on any Nikon DSLR regardless of the adapter you use. At the moment, these are the only cameras which work with Nikon Z lenses:
Of these cameras, the Nikon Z30, Z50, and Zfc have a DX sensor (AKA 1.5x crop sensor), while the others have a larger FX camera sensor. However, all of Nikon's Z lenses fit on all of these cameras, DX or not. If you use one of Nikon's DX lenses on an FX camera, your photos will be automatically cropped to fit the DX area. See more at Nikon DX vs FX.