Nikon once again updated its Z lens roadmap, and we now know of a total of nine Z-mount lenses that will be released in the coming years. These range from two compact primes (a 28mm f/2.8 and 40mm f/2) to high-end 400mm and 600mm super-telephotos. Here's a first look at the new lenses you can expect to see.
The Updated Nikon Z Lens Roadmap
The following is the latest version of the Nikon Z lens roadmap, announced on June 28, 2021. It's still current as of September 2021: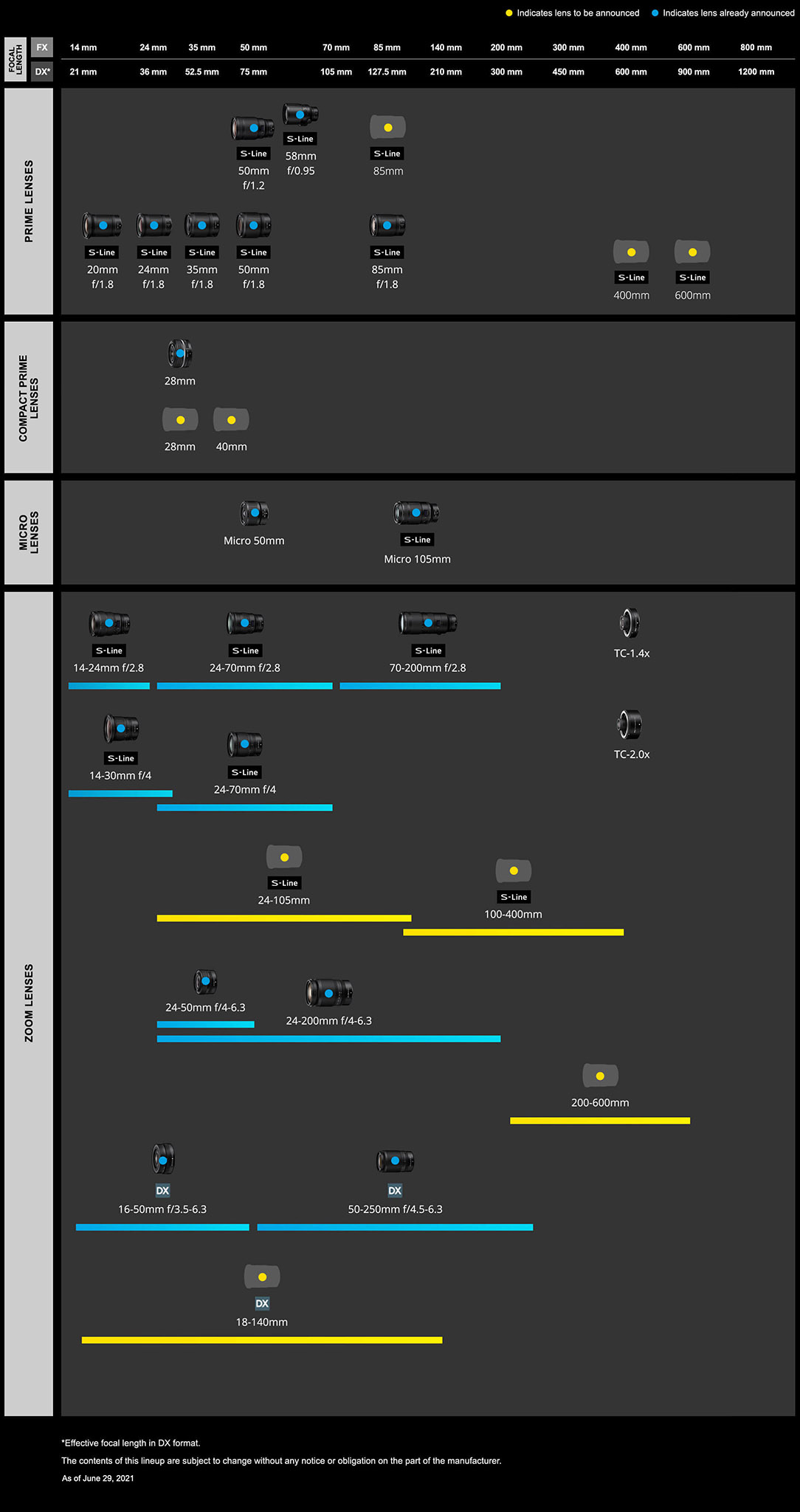 Even though this is officially the newest version of the roadmap, a few new bits of information have been released about some of the unannounced lenses. As of September,ber 2021, these are the other additional details we know:
The unannounced 28mm lens above is optically identical to the retro-themed 28mm f/2.8 SE that was announced alongside the Nikon Zfc. The difference is that the unannounced variation of the 28mm f/2.8 lens will simply have a standard appearance/design, rather than a retro styling. It will ship before the end of 2021.
The 40mm prime lens above will be a 40mm f/2 compact prime lens – not quite a pancake lens, but close. It will ship before the end of 2021.
The 18-140mm DX lens at the bottom of this chart will be an 18-140mm f/3.5-6.3 DX VR.
The roadmap has changed a bit over the years. For example, here's how it looked in late 2019: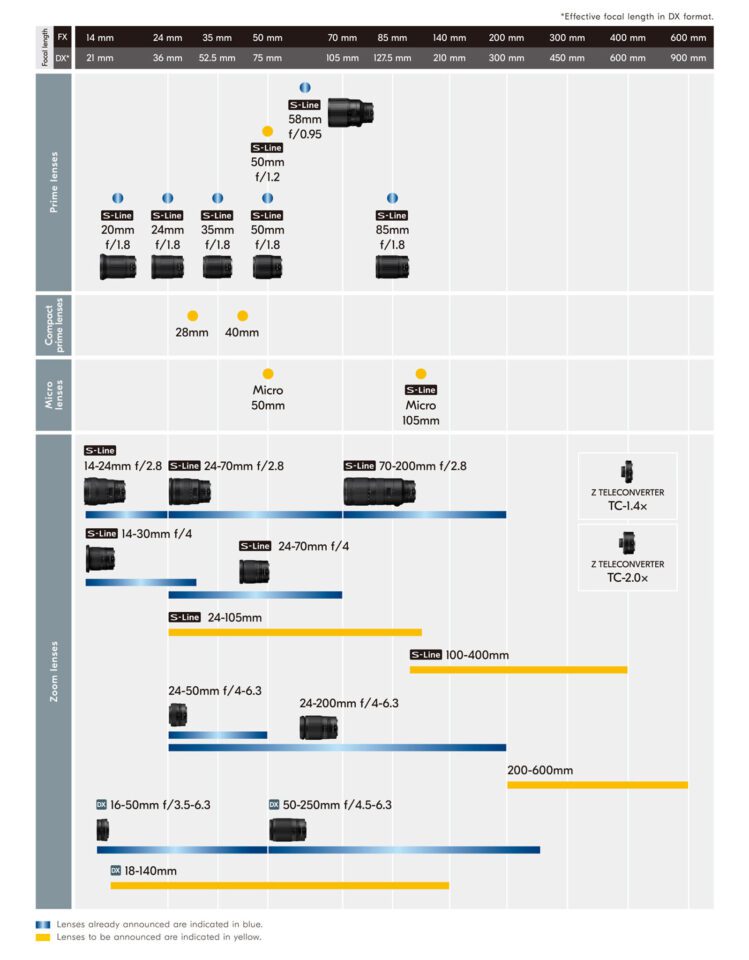 As you can see, in recent years, Nikon added another 85mm prime to the roadmap (likely an 85mm f/1.2 S) as well as two super-telephoto primes – 400mm and 600mm. While the official specifications remain unknown, these supertelephotos are probably going to be exotic Nikon Z 400mm f/2.8 S and Z 600mm f/4 S lenses that are specifically designed for sports and wildlife photographers. With the 1.4x and 2x teleconverters already out, Nikon will finally have a nice set of super-telephoto glass, which is very exciting! Most likely, one or both of them will be announced alongside the upcoming Nikon Z9 in the fall of 2021.
In total, every Nikon Z lens we know about is as follows. Lenses that have not yet been formally announced are marked in bold:
14-24mm f/2.8 S
14-30mm f/4 S
16-50mm f/3.5-6.3 DX VR
18-140mm f/3.5-6.3 DX VR
20mm f/1.8 S
24mm f/1.8 S
24-50mm f/4-6.3
24-70mm f/2.8 S
24-70mm f/4 S
24-105mm S
24-200mm f/4-6.3 VR
28mm f/2.8 SE
28mm f/2.8 (not yet shipping)
35mm f/1.8 S
40mm f/2 (not yet shipping)
50mm f/2.8 macro lens
50mm f/1.2 S
50mm f/1.8 S
50-250mm f/4.5-5.6 DX VR
58mm f/0.95 S
70-200mm f/2.8 VR S
85mm S (likely f/1.2)
85mm f/1.8 S
100-400mm S
105mm f/2.8 VR S macro lens
200-600mm (non-S lineup)
400mm S (likely f/2.8)
600mm S (likely f/4)
1.4x Teleconverter
2.0x Teleconverter
We don't officially know the maximum aperture values of some of these lenses, including the 400mm and 600mm primes, but we can roughly tell what they are going to be based on their previous designs. Hopefully, Nikon will release more information on the other lenses soon.
When Are These Lenses Coming Out?
The new roadmap doesn't list any date projections for when the unannounced Z lenses will go on sale, although Nikon has said that both compact lenses (the 28mm f/2.8 and 40mm f/2) will be available before the end of 2021. Aside from those, it is hard to predict what specific lenses will be announced in 2021 versus 2022 for a number of reasons. First, Nikon has released some surprises that were not previously on the roadmap (1.4x and 2x teleconverters, as well as the Nikon Z 24-50mm f/4-6.3 zoom). And second, given the current economic conditions and COVID-19, it might push new releases further into the future.
However, given the recent developmental announcement of the Nikon Z9, it is likely that either the 400mm f/2.8, the 600mm f/4, or both, will be released relatively soon. Nikon has said the pro-level Z9 is scheduled to be available in 2021, and it seems unlikely that Nikon would offer such a camera without at least one native super-telephoto prime. It will likely be October or November of 2021 when the Z9 and any associated lenses start shipping.
This graphic is also worth keeping in mind: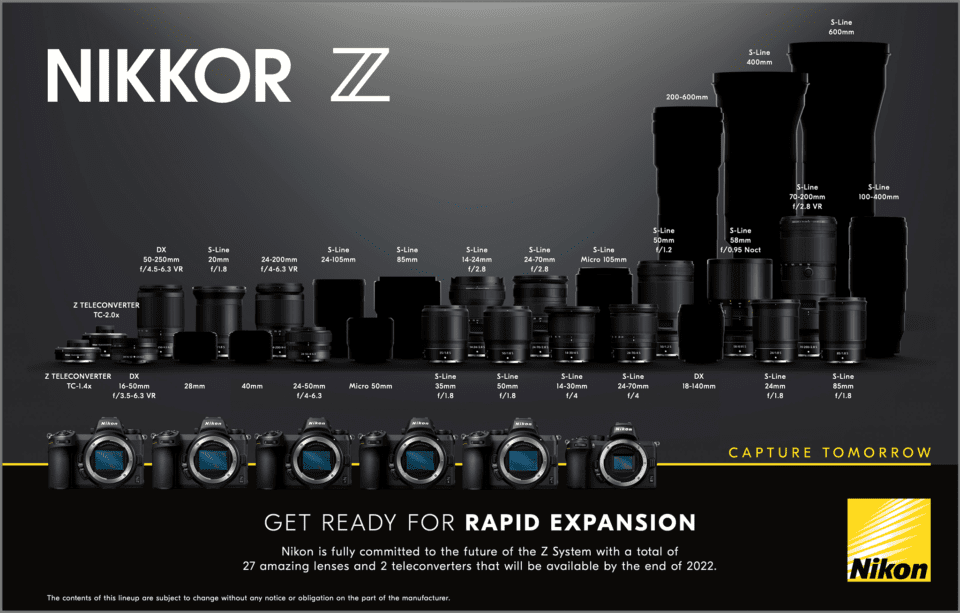 While it's a bit outdated – Nikon has since announced both macro lenses as well as the development of the 28mm and 40mm lenses – it's still useful for judging the shapes and sizes of the future optics. There's also the quote at the bottom of the graphic that says Nikon will have 27 lenses by the end of 2022. That leaves no room for surprises beyond the lenses on this roadmap.
However, in a separate interview, Nikon implied that they want to release at least ten more lenses before March of 2022. That would cover not just all the lenses in the current roadmap, but also one extra lens! There's zero other information about the extra lens, if it even exists – it could be F-mount rather than Z-mount for all we know. But either way, it would be great to see Nikon make a March 2022 deadline for the remainder of the lenses on the roadmap, rather than waiting until the end of 2022.
Analyzing the Future Lenses
A lot of Nikon's upcoming lens lineup looks very interesting. The high-end 400mm and 600mm S-line primes seem like they could be very impressive, especially if they are lighter and sharper than their F-mount counterparts. If they couple well with both the 1.4x and 2x teleconverters, especially when it comes to autofocus, it could be very exciting. Imagine being able to take sharp, properly focused images at 1200mm f/8 – it could be a game-changer!
It's also nice to see the two compact prime lenses on their way for the Z system. The Z cameras are great for travel photography already, and a pair of lightweight primes (the 28mm f/2.8 and 40mm f/2) will make that all the more true. I wish Nikon had prioritized their release instead of some of the other, heavier lenses so far, but at least these should both be shipping before the end of 2021.
The 100-400mm also seems interesting to me. The biggest gap in the entire Z lens lineup is the lack of a lightweight telephoto zoom. Most likely, the 100-400mm will still be too heavy to be ideal, but at least it's something. In the meantime, many photographers who normally would not consider a superzoom are stuck with the Nikon Z 24-200mm f/4-6.3 as their only option. (Though, as our review showed, the 24-200mm does punch above its weight.)
We also will be seeing another supertelephoto Z lens – the 200-600mm – which very well could win fans for wildlife and sports photography. Seeing as though it's not an "S" series lens, chances are good that it will mimic something like the Nikon 200-500mm f/5.6 VR, a well-regarded budget supertelephoto lens.
What Nikon really needs to push to its Z lens roadmap is a sharp and lightweight 70-200mm f/4 S. Nikon, please, make this a surprise announcement – it should have been on the priority list a long time ago, but especially now that the Z system is otherwise starting to look so complete.
Nikon Z Lenses Announced So Far
The list below keeps track of all the Nikon Z-mount lenses that have been announced so far, in order from least to most recent:
2018
2019
2020
Nikon Z 14-24mm f/2.8 S (our review)
Nikon Z 70-200mm f/2.8 VR S (our review)
Nikon Z 20mm f/1.8 S (our review)
Nikon Z 24-200mm f/4-6.3 VR (our review)
Nikon Z 24-50mm f/4-6.3 (our review)
Nikon Z 50mm f/1.2 S
Nikon Z 1.4x Teleconverter
Nikon Z 2x Teleconverter
2021
Nikon Z MC 50mm f/2.8 Macro Lens
Nikon Z MC 105mm f/2.8 VR S Macro Lens
Nikon Z 28mm f/2.8 (development announcement)
Nikon Z 40mm f/2 (development announcement)
Nikon Z 28mm f/2.8 SE (same optics as 28mm f/2.8)
Nikon Z 18-140mm f/3.5-6.3 DX VR (development announcement)
If you want to find out more about the Nikon Z lenses, see Nikon Z Mirrorless Lenses page at Nikon USA.
Nikon Z Cameras
All the lenses above are Nikon Z mirrorless only, meaning they will not fit on any Nikon DSLR regardless of the adapter you use. At the moment, these are the only seven cameras which work with Nikon Z lenses:
Of these cameras, the Nikon Z50 and Zfc have a DX sensor (AKA 1.5x crop sensor), while the other five have a larger FX camera sensor. However, all of Nikon's Z lenses fit on all of these cameras, DX or not. If you use one of Nikon's DX lenses on an FX camera, your photos will be automatically cropped to fit the DX area. See more at Nikon DX vs FX.
Nikon has also revealed an upcoming Nikon Z9 camera that will sit at the top of the company's lineup, but few details are known about its specifications yet. It's due to be announced in late 2021.