Now that Nikon has released its duo of new high-end full-frame mirrorless cameras, including the 45 megapixel Z7, it's inevitable that people will want to compare them against Nikon's current DSLR lineup – especially the D850, itself launched almost exactly a year ago. This article is one such comparison. Naturally, both the Nikon Z7 and D850 have exceptional specifications, but the Z7's newer technology does come out slightly ahead in certain respects. Is the difference enough to sway your purchase?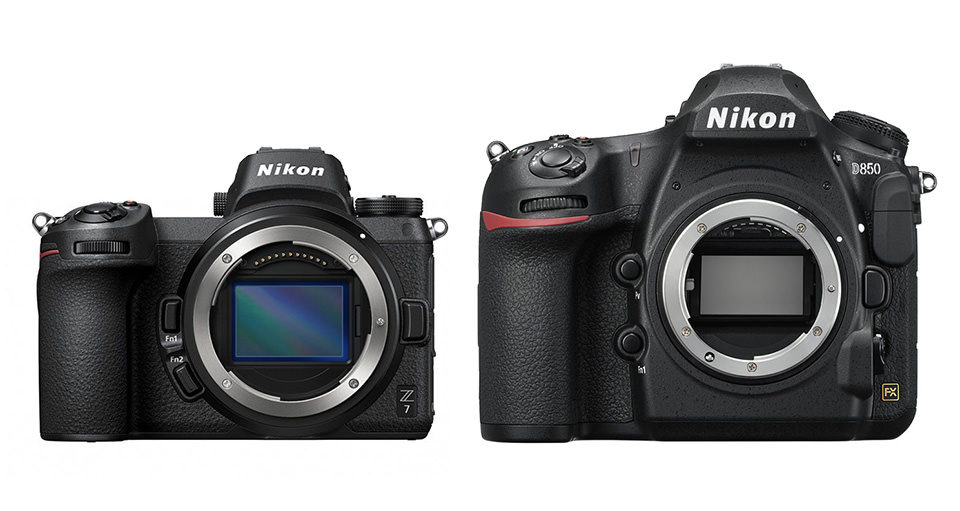 Nikon Z7 and D850 Specifications Comparison
As you can see by the specifications, both the D850 and Z7 have some impressive specifications, with many similarities overall. Where there are differences, though, the Z7 generally comes out a bit ahead:
Camera Feature
Nikon Z7
Nikon D850
Sensor Resolution
45.7 MP
45.7 MP
Sensor Type
BSI CMOS
BSI CMOS
Sensor Size
35.9×23.9mm
35.9×23.9mm
Mount
Nikon Z
Nikon F
Low-Pass Filter
No
No
Sensor Pixel Size
4.35µ
4.35µ
Image Size
8,256 x 5,504
8,256 x 5,504
In-Body Image Stabilization
Yes
No
Image Processor
EXPEED 6
EXPEED 5
Buffer: RAW 14-bit Lossless Compressed
19
51
Native ISO Sensitivity
ISO 64-25,600
ISO 64-25,600
Boosted ISO Sensitivity
ISO 32, ISO 51,200-102,400
ISO 32, ISO 51,200-102,400
Dust Reduction / Sensor Cleaning
Yes
Yes
Viewfinder Type
Electronic Viewfinder / EVF
Pentaprism / OVF
Viewfinder Coverage and Magnification
100%, 0.8x
100%, 0.75x
Built-in Flash
No
No
Storage Media
1x XQD
1x QXD, 1x SD (UHS-II)
Continuous Shooting Speed
9 FPS
7.0 FPS, 9.0 FPS with MB-D18
Max Shutter Speed
1/8000 to 30 sec
1/8000 to 30 sec
AE Bracketing Range
Up to 9 frames, up to 3 EV difference
Up to 9 frames, up to 3 EV difference
Flash Sync Speed
1/200
1/250
Shutter Durability
200,000 cycles
200,000 cycles
Exposure Metering Sensor
TTL exposure metering using main image sensor
181,000-pixel RGB sensor
Number of AF Points
493 AF points
153 AF points, 99 cross-type
AF Detection Range
-1 to +19 EV (-4 to +19 EV with low-light AF)
-4 to +20 EV
Focus Peaking
Yes
Yes
Video Maximum Resolution
3,840 x 2,160 (4K) up to 30p, 1920 x 1080 (FHD) up to 120p
3,840 x 2,160 (4K) up to 30p, 1920 x 1080 (FHD) up to 120p
HDMI Output
4:2:2 10-Bit
4:2:2 8-Bit
Log Recording
N-Log
No
Audio Recording
Built-in stereo microphone
External stereo microphone (optional)
Built-in stereo microphone
External stereo microphone (optional)
Headphone Jack
Yes
Yes
LCD Size and Type
3.2″ Tilting Touchscreen LCD
3.2″ Tilting Touchscreen LCD
LCD Resolution
2,100,000 dots
2,359,000 dots
Built-in GPS
No
No
Wi-Fi
Yes
Yes
Bluetooth
Yes
Yes
Battery Life
330 shots (CIPA)
1840 shots (CIPA)
Button Illumination
No
Yes
Weather Sealed Body
Yes
Yes
USB Version
3.1 (Type C)
3.0 (Type A)
Weight (Body Only)
585 g (20.7 oz)
915 g (32.3 oz)
Dimensions
134 x 100.5 x 67.5 mm (5.3 x 4.0 x 2.7″)
146.0 x 124.0 x 78.5mm (5.7 x 4.9 x 3.1″)
MSRP Price
$3,399.95 (as introduced; check price)
$3,299.95 (as introduced; check price)
Clearly, the Nikon D850 and Z7 have plenty of similarities. In fact, aside from the expected differences between a DSLR and a mirrorless camera, the two cameras are remarkably alike. The Z7 has a smaller, lighter form factor and an electronic viewfinder, while the D850 has a vastly better battery life and an optical viewfinder. Another key difference between the two cameras is storage media – Nikon decided to go with a single XQD memory card slot on the Z7 instead of two memory card slots that we see on the Nikon D850. For video shooters, the Nikon Z7 is also a superior option, thanks to 4:2:2 10-bit recording with N-Log, which is absent on the D850. The only other major feature difference is the number of autofocus points, which favors the Z7, although that doesn't mean the Z7's autofocus system is actually faster or more reliable (yet to be tested).
Still, not everything is the same. The Z7 has in-body image stabilization (IBIS) that can compensate up to 5 stops, the first time we've seen such a thing in a Nikon camera, and that's a big deal. Considering that it works with adapted F-mount lenses, you now have image stabilization on any lens you own, going back decades. This is a big deal for both photography and video work. Also, the Nikon Z7 has 9 FPS shooting built-in, while the D850 requires a separate grip (adding to the weight and price) to get the same.
It is worth stating the obvious, too: these two cameras have different form factors, and they won't handle in the same way. Aside from the smaller size of the Z7, which leads to a shorter grip, there are many differences in the control arrangements of these two cameras. A big one is that the Z7 has a mode dial with three custom setting options, while the D850 has a button to change PASM modes, as well as menu banks for custom settings. Some of the cameras' buttons are in entirely different places, too, mainly to accommodate the Z7's change to right-hand dominant controls.
My opinion so far is that the Z7 layout takes the best of Nikon's consumer and professional DSLR controls and puts them in a single camera. It not only has the joystick and AF-ON button of the D850, but also the custom settings of Nikon's less expensive DSLRs that many people prefer. Unless there are any unforeseen handling issues with the right-hand dominant controls, I suspect the Z7 will be among the best-handling Nikon cameras ever made. The only issue up in the air is why the Z7 doesn't have a dedicated AF mode button, like nearly all of Nikon's advanced cameras do. I suspect this will be an option we can assign to one of the custom function buttons on the front of the camera, but that remains to be seen.
Not surprisingly, there are a lot of unknowns remaining about this camera. We still don't know which autofocus system performs better, and that will take some testing before anything definitive is revealed. The same is true of the 45 MP sensor. On paper, it seems to be the same as in the D850, but perhaps Nikon has been able to improve things over the past year. Even if not, there arguably is not a single full-frame camera on the market today with a better sensor than the D850. A sensor that is just as good would be a definite win.
Which Camera Should You Get?
As the specifications comparisons show, the Nikon Z7 is ahead of the D850 in some noticeable ways, although they're quite close overall. Indeed, I'd say the two cameras are positioned more side-by-side on the market rather than one ahead of the other. Since the D850 currently sells for $3,300, and the Z7 sells for $3,400, the ultimate question is even more important: which camera is the better choice for your photography?
As much as I am tempted to say the Z7, given its impressive list of features and specifications, the only real answer is that it depends upon your needs. We haven't tested the two cameras head-to-head, but it is impossible to deny that the D850 is a field-proven workhorse. It has excellent build, weather sealing, battery life, and usability. The optical viewfinder is large and bright, and it works with Nikon's huge lens lineup without resorting to adapters.
The Z7, in turn, is the new kid on the block: interesting technology (including IBIS), an intriguing form factor, and the first step into Nikon's next line of cameras and lenses. As much as the F-mount lenses and bodies will continue being supported, I strongly suspect that Nikon will shift more and more of its resources to the Z-mount in the future. Nikon made a big deal out of the Z mount during the announcement, which shows that the company is shifting gear and its resources towards the mirrorless system going forward.
Those differences make this comparison a tricky one, and I'm sure a degree of polarization will follow anyone who chooses one over the other. Personally? My trusty D800E is reaching the end of its run, and it's almost time to jump on an upgrade for my landscape photography. The Z7's future-proofed mount and impressive technology have swayed me in that direction, and I don't mind using my F-mount lenses via Nikon's adapter until the day that replacements arrive.
Then again, it is always possible that the Nikon Z7 will have some unforeseen issues, and we still need to test it here at Photography Life before I feel entirely ready to buy it for myself. That's one advantage of the D850, at least for now; it is a proven camera with amazing performance and very few downsides (even landing as our number one favorite DSLR on the market today).
Really, either way, you can't go wrong.