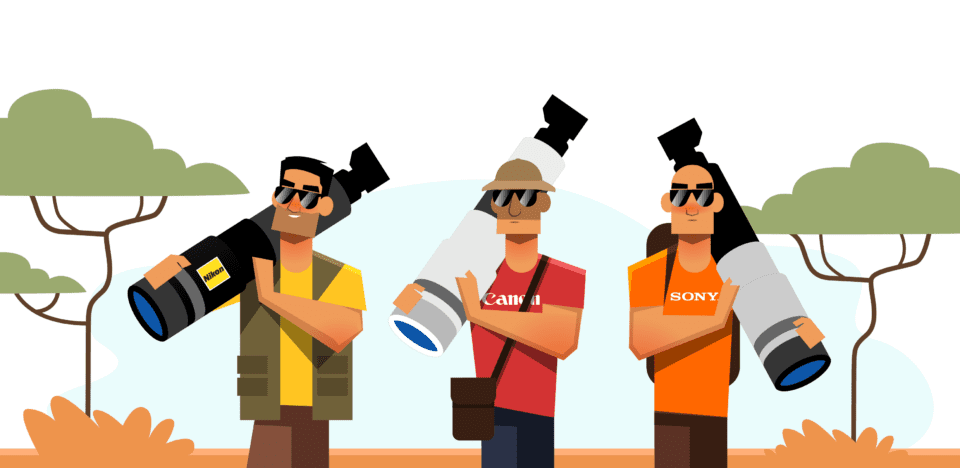 I've been getting a lot of questions from our readers about whether they should choose a Nikon, Canon, or Sony camera. These inquiries are only increasing over time, so I decided to post an article on what I think about these different camera systems. There are tons of Nikon vs Canon vs Sony debates online, so hopefully my personal thoughts on this subject will clarify things for you!
Pretty much all of my gear is from Nikon – it's the system of choice for me. Why don't I shoot Canon or Sony? Is Nikon superior to these brands? No, not really. Read on to understand why.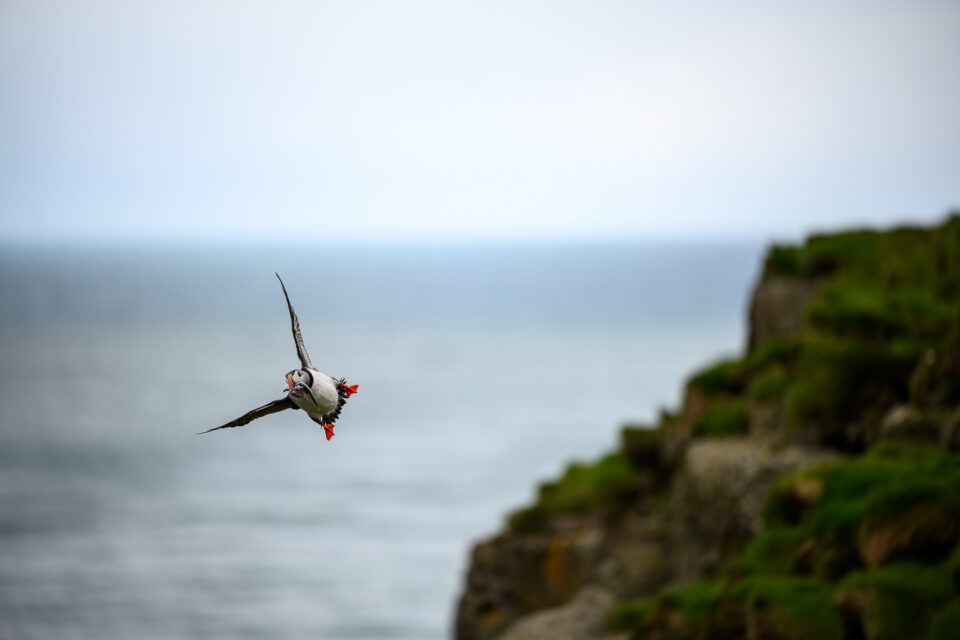 Lola and I used to have some debates on camera gear in the past. She was very impressed by the beautiful imagery from wedding and portrait photographers that shot with Canon, pushing her to think that our choice of Nikon was inferior. It took me a while to convince her that it was not the case. Here is how I explained everything to her, which I hope will help our readers understand this topic in detail and answer questions about different camera systems.
Some Differences
Although Nikon, Canon, and Sony all have well-developed mirrorless systems, there are some significant differences between each one. In this section, I will describe some unique features of each system.
Nikon
Nikon took a little longer to enter the mirrorless world than Sony, but they also have many strengths as well. They have a wide range of full-frame cameras from the very affordable Nikon Z5 to the flagship Nikon Z9 and its compact brother, the Nikon Z8.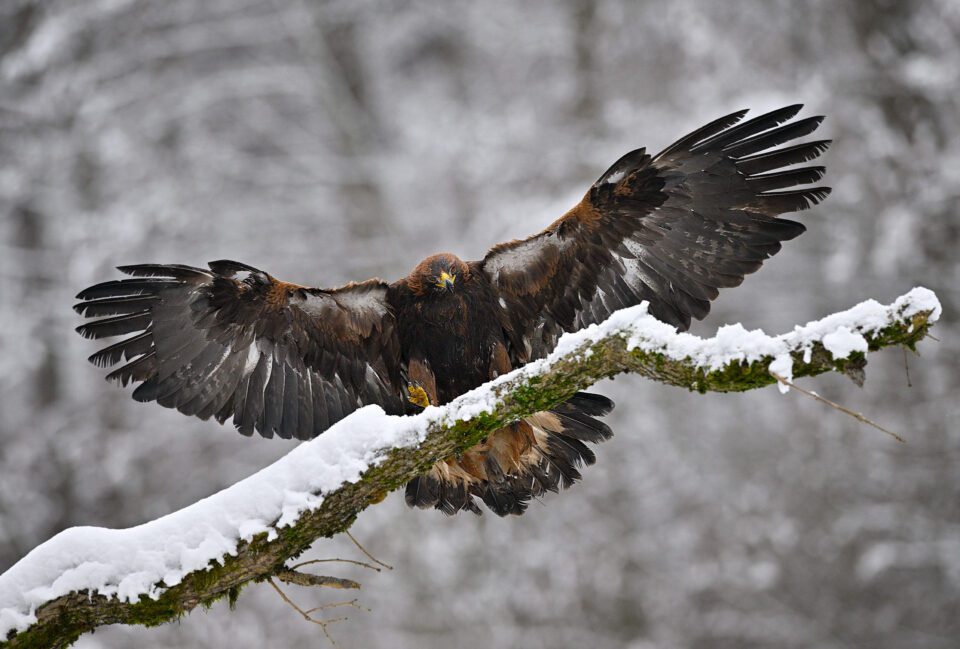 Nikon also dominates in high-end telephoto primes. Their phase-fresnel Z 800mm f/6.3 VR is the most affordable way to reach 800mm reliably. They also have a compact 400mm f/4.5, along with a high-quality 100-400mm zoom.
At the top of the telephoto range, Nikon now has a 400mm f/2.8 and a 600mm f/4. And although Canon and Sony also have such lenses, Nikon's versions have a huge advantage: a built-in 1.4X teleconverter, that makes these lenses even more versatile when shooting wildlife. Canon and Sony users must take off the lens and add a teleconverter manually, which may result in lost shots. I have already heard many bird photographers of other systems jealously eye the Nikon Z 600 f/4 for this useful addition.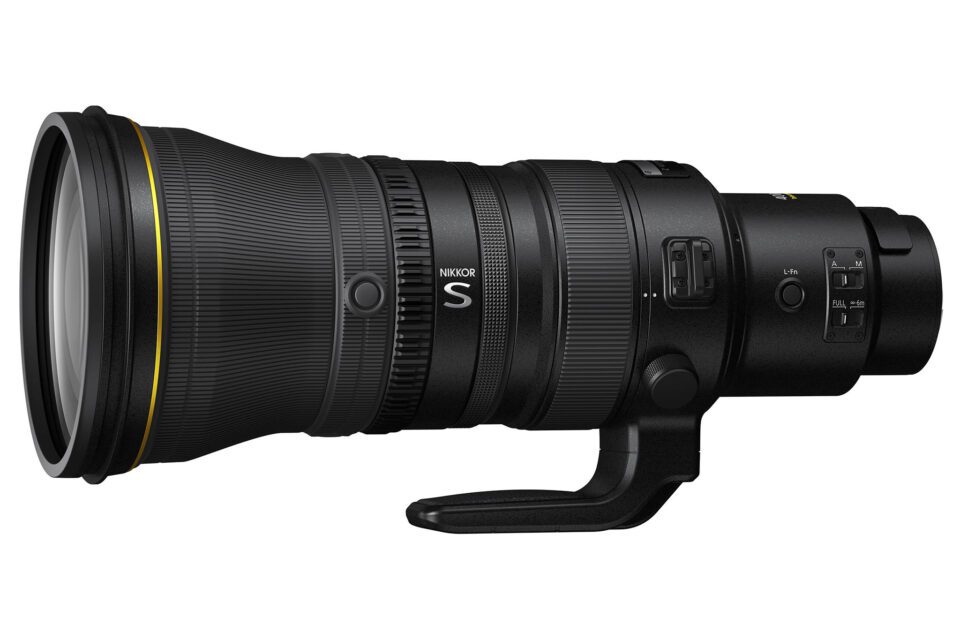 In terms of commonly-used focal lengths, it's interesting to compare Nikon and Canon. Nikon took a more middle-of-the-road approach, offering very well-performing f/1.8 lenses at 50mm and 85mm for example. Canon on the other hand released a much cheaper 50mm f/1.8 with lower optical performance, and its more premium lens is a much more expensive 50mm f/1.2 prime. Nikon has an amazing selection of amazing f/1.8 primes for the Z system that far surpass their F-mount counterparts.
As well as having a nice selection of Z-mount lenses, Nikon mirrorless cameras can also use the huge lens lineup for their DSLR F-mount, which still has some lenses like tilt-shift lenses that do not have first-party counterparts in the world of Sony.
Canon
Canon has traditionally been one of the strongest camera companies and they have developed a fascinating mirrorless system as well. Although Canon has fewer lenses than Sony, they have some strengths as well.
For example, consider cameras suitable for action and wildlife. Nikon has the amazing Z9 and Sony has the A9II and A1, but those cameras are quite expensive. On the other hand, Canon has the Canon R6 II. The R6 II is certainly the best-performing mirrorless full-frame camera in its price range, and although it may lack a few features of the Sony A9II, it is also $2000 cheaper.
Canon has a 100mm macro lens and Nikon has a 105mm macro lens, but Canon's has a 1.4x magnification, whereas Nikon's is just 1x. As someone who shoots macros, I often find a magnification of slightly greater than 1x very useful. Of course, there are some very good third-party macro lenses that go beyond 1:1 magnification.
Their macro lens isn't the only unusual lens released by Canon. They also have f/11 lenses in the 600mm and 800mm focal lengths under $1000, which are a relatively cheap way to try out wildlife photography.
The Canon R5, while being a little older than the Sony A1 and Nikon Z9, still has comparable autofocus, and it is also the cheapest of the three. And while the Canon RF 100-500mm f/4.5-7.1 is a bit slower than Sony's 200-600mm f/5.6-6.3 superzoom, it is much lighter and thus makes one of the lightest higher-end wildlife setups on the market.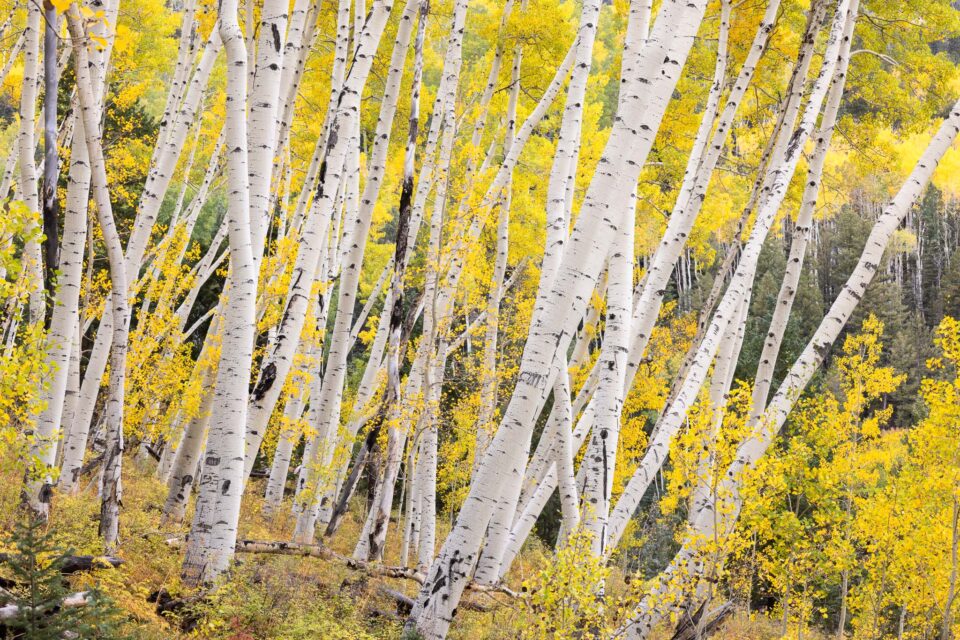 Unlike Sony and especially Nikon, Canon also has the only high-performance APS-C camera, the Canon R7. For $1500, it is more affordable than any full-frame action-oriented camera.
Sony
Sony has had the longest time to develop their mirrorless system, and so in some ways, they are the most advanced. They also opened their lens mount protocol so that third parties can make lenses for the Sony E mount, whereas Canon sometimes actively discourages this.
Thus, the Sony E-mount system has accumulated nearly 200 third-party lenses, giving users more choices compared to Canon and Nikon. For example, Sigma has a 24-70mm f/2.8 lens in their highly-regarded Art line of lenses, which is about half the price of the respective first-party 24-70mm f/2.8 zooms for Sony, Nikon, and Canon!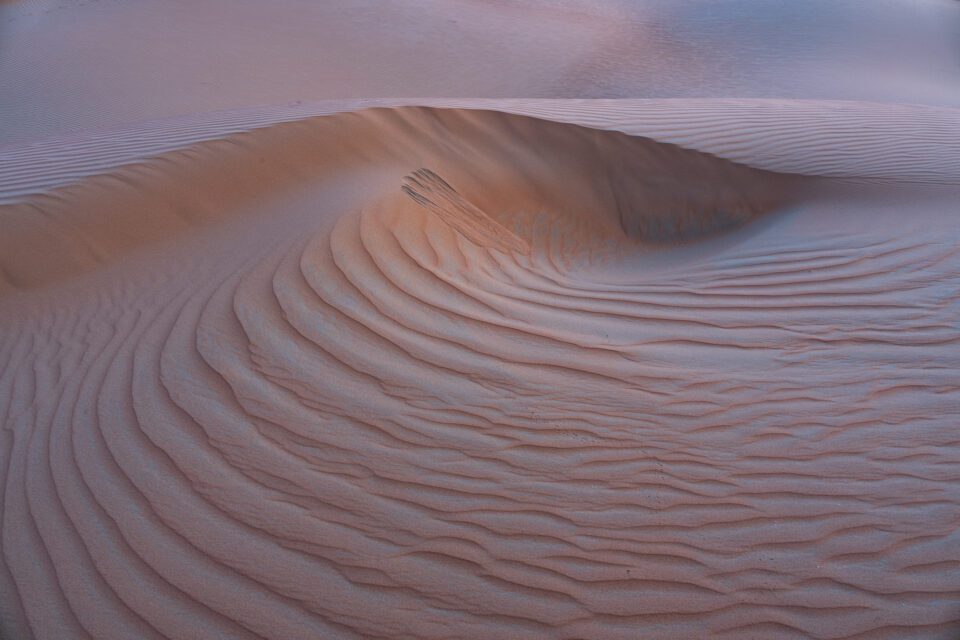 As a result of their head-start into their mirrorless system, they also have some lenses that the others are still developing. Unlike Canon and Nikon, they have a superzoom that reaches 600mm, the Sony FE 200-600mm f/5.6-6.3. Canon has the Canon RF 100-500mm f/4.5-7.1 whereas Nikon has yet to release a superzoom that surpasses 500mm.
Sony also has a few lines of cameras that Canon and Nikon lack. Landscape shooters will appreciate Sony's A7R series. The latest A7R V camera is 61MP, which is much higher than the resolution of Canon or Nikon high-megapixel full-frame cameras. On the video front, they have the A7S series, which has a special 12MP sensor and many video tools and options not present in other cameras.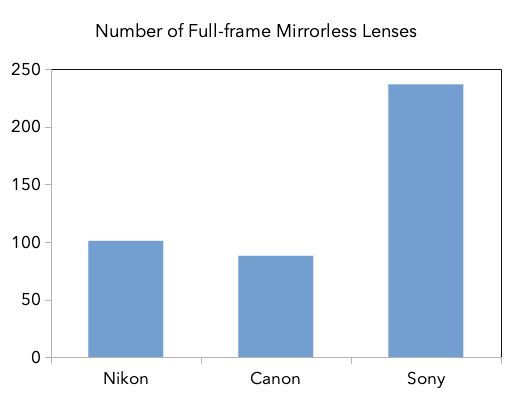 Which System Should You Choose?
Before you think one system is significantly better than another, keep in mind that most people will be able to find what they need with any system, and in the future manufacturers will just release more cameras and lenses to reduce comparative advantages. But although all three systems offer most of what everyone needs, specific shooters should still look more closely into the differences that may give them a few extra small conveniences.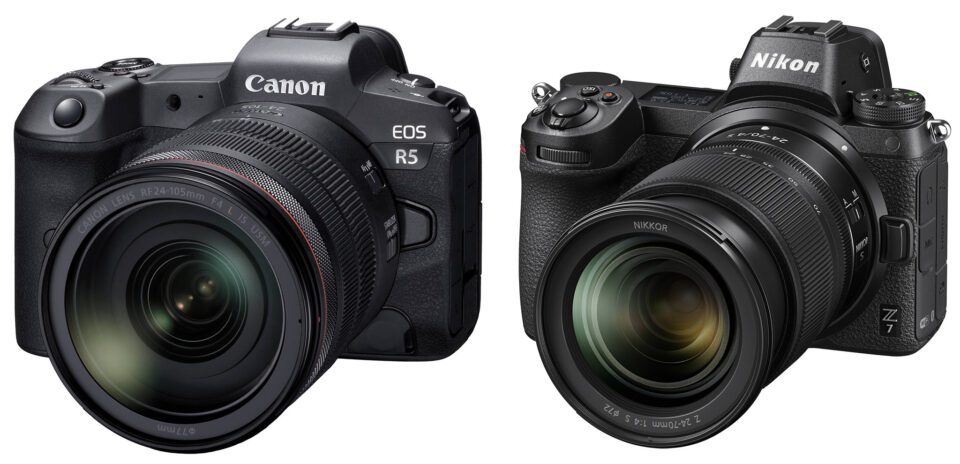 Let's consider a few examples. If I were shooting mostly portraits and events it would be hard to ignore Sony. Not only are their mid-range cameras very capable, but there are so many lenses to choose from, many of which would be cheaper third-party lenses from Tamron and Sigma.
If I wanted a medium-range but not overly expensive wildlife setup with a zoom lens, my first thought between these three brands would be the Canon R7 with the Canon RF 100-500mm f/4.5-7.1. This camera and lens combination is cheaper than the Sony a9ii alone and would face very few limitations for general wildlife.
On the other hand, if I wanted to constantly shoot at 800mm I would take a strong look at Nikon first because they have the 800mm f/6.3 at a price far cheaper than a 600mm f/4 and teleconverter, and except for bokeh, such a combination would not have much of an advantage over the 800mm f/6.3!
In other words, if you make a list of your requirements and figure out how you want to grow as a photographer, I believe one or two features of these three brands will stand out to you, and that will help you choose between them. On the other hand…
A Camera Is Just a Tool
But what happens if you give the best set of painting tools to someone who does not know how to paint, and an ordinary, much inferior set of tools to a good painter? Who is going to have a better painting? The same rhetorical question is valid for photography – if you get a better camera, does it necessarily mean that you will take better pictures? No, I do not want to bring up another "camera does not matter" debate, since we are all getting tired of it.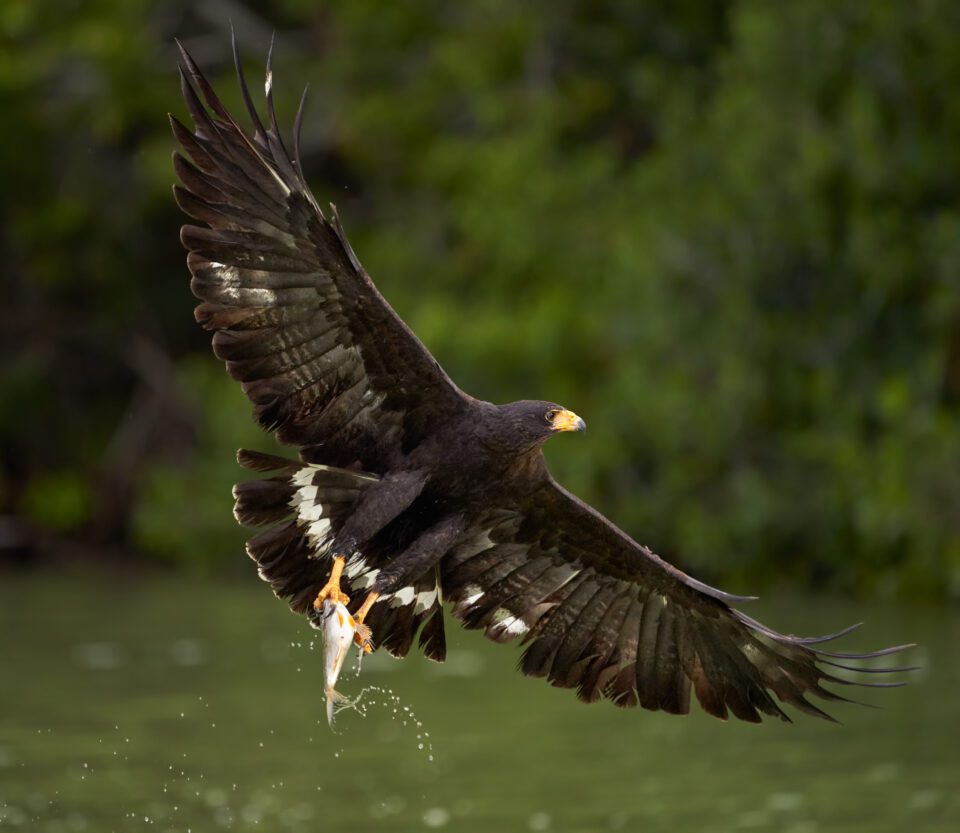 You know what, on the other hand, let's discuss it for a second… does the camera truly matter? It does and it doesn't. For most people who use a camera for family snapshots, the camera does not matter. For an amateur photographer or hobbyist, it does. For a professional photographer who makes a living out of photography, it matters big time.
When somebody hands the wrong camera to a good photographer, they will most likely be able to utilize it fully and capture great pictures. Similar to how a good painter can work on a painting with a low-quality set of tools. However, no photographer would want to continue working with inappropriate gear and no painter would want to use low-quality tools for the rest of their lives, since they know that the good tools do help them tremendously in achieving the best results that differentiate them from the rest of the competition. Ansel Adams loved to work with the best gear for a reason – he knew how to push it to its limits and get the best possible results.
A camera is just a tool in a photographer's bag. Without the photographer's skill set, patience, vision, creativity, planning, timing, lighting and post-processing, even the best camera in the world will not be able to create a good picture.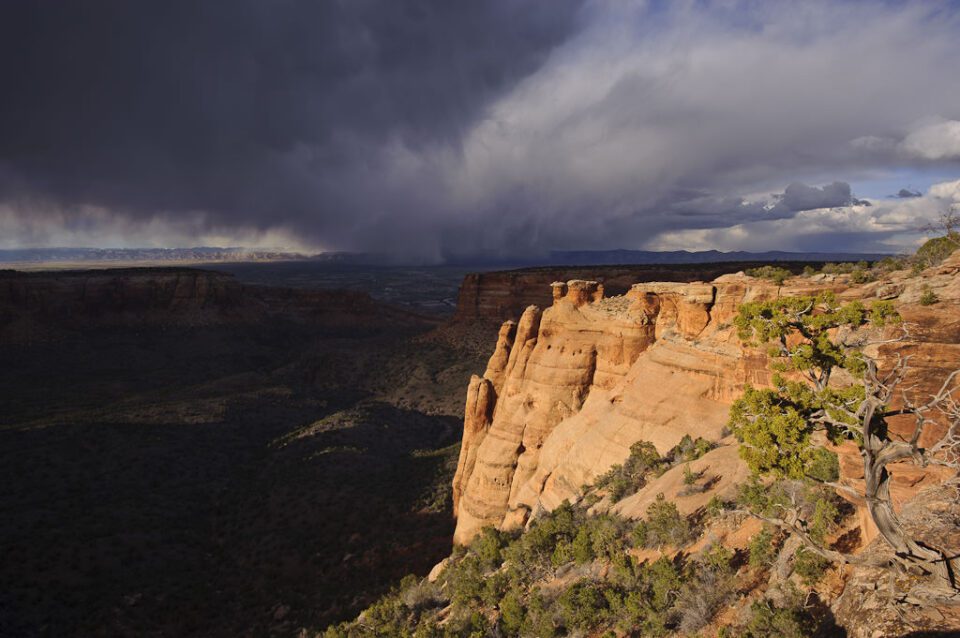 At the end of the day, the question you should be asking yourself is, how much better would your pictures get if you picked one brand over another (or switched from one brand to another)? Most likely, the change would be very insignificant. You gain one thing and lose another. What if one brand comes up with a breakthrough product tomorrow? Are you going to switch or regret your purchase decision?
It's All About You!
Think of your camera as your tool for the job. Without good technical skills and creativity, no matter what camera system you use, you will never be able to capture anything good. Don't become a gearhead and buy more and more useless stuff you do not need. Once you become a better photographer, you will know exactly what you need to get the best results, and then you will be able to really use the subtle advantages of each system.
Good luck! If you have any questions or would like to leave some feedback, please do so in the comments section below.