Like any manufactured product, Nikon's products are also prone to quality assurance / quality control issues. While Nikon has a very extensive and comprehensive quality control process, some defective products can slip through and make it to the market. Other times, the pressure to increase the production output on Nikon's manufacturing plants is so high, that the initial shipments of a newly introduced product can be defective or could have other problems not discovered during the initial testing of the product. Unless the defect is of physical nature, the latter is typically addressed through firmware updates later, which Nikon is pretty good about.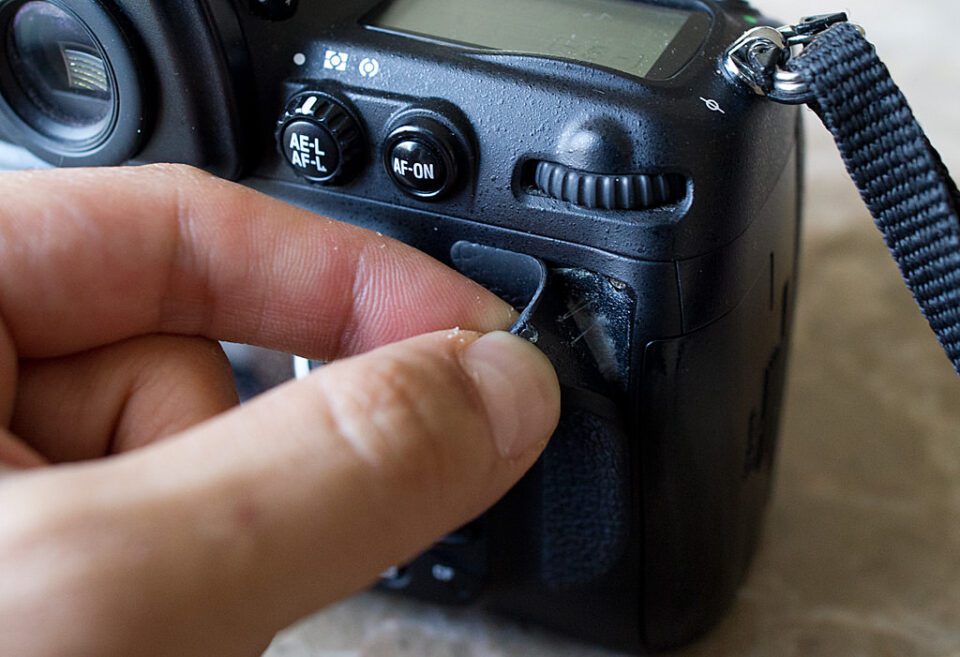 In this article, I would like to point out some of the recent quality control issues I have seen in Nikon products. Specifically, on the latest generation DSLRs like Nikon D700/D5100 and some of the newer lenses, like the Nikon 24-70mm f/2.8G. Why am I doing this? Because first, I want to make our readers aware of potential QA (Quality Assurance) issues they might encounter and second, I want to provide some information on how to react to such problems. Please bear in mind that the purpose of this article is not to scare existing or potential Nikon customers. In fact, every manufacturer, including Canon and Sony occasionally have issues with defective parts and products, so this article could apply to other brands as well.
Let's talk about the types of defects you might see in cameras first:
Camera packaging – when a product is new, it should be nicely packaged and protected/shielded. The camera should be inside a static-free plastic bag or bubble wrap, enclosed in original packaging from the manufacturer. The contents of the package should be listed on the outside and you should check and make sure that the box contains everything listed on the box. Occasionally, one or two items might be missing. How to react: although I personally have never seen a missing product from Nikon's packaging, if you are missing any of the accessories or manuals, please contact the seller immediately. You will most likely end up returning the camera for an exchange. If the seller refuses to exchange the camera or tells you that they will send the missing accessory, then you might be dealing with scammers or switch and bait companies. Always make sure to buy from authorized sellers only.
Signs of camera use – products shipped directly from the manufacturer should be brand new and there should be no signs of prior use. This includes fingerprints, grease/oil marks, scratches, etc. How to react: if you see any signs of prior use, return the camera to the seller immediately and ask for an exchange or a refund.
Broken/damaged parts – I always inspect every camera I purchase or test the moment I receive it. Before I start playing with the camera, I first charge the battery. Once the battery is fully charged, I insert it into the camera, then visually inspect the camera for potential damage. Finally, I take some pictures with and without built-in flash (if you have one) and make sure that the images show up fine on the camera LCD. I recommend you do the same. How to react: if anything is broken or damaged, return the camera to the seller immediately and ask for an exchange or a refund.
Defective pixels on the LCD – this one happens a lot and it is a matter of luck. See my "dead vs stuck vs hot pixels" article about the different types of defective pixels you might see on your LCD. How to react: if you only have one or two defective pixels, don't worry about them – defective pixels are a normal fact of life. Think of it this way – a typical 3 inch LCD from Nikon contains 920,000 pixels. A single defective pixel means 0.0001% failure rate with 99.9999% of good pixels. Unless you have more than 2-3 defective pixels and they are close to each other, I would not worry about them. If you cannot live with those defective pixels, just return the product back to the seller. Depending on the seller, they might issue a full refund or exchange for a different product, or they might charge you a restocking fee. That's why I always buy from B&H and Adorama – they take back products if I am not happy without any questions.
Defective pixels on the camera sensor – just like you can have defective pixels on your LCD, there is also a chance that you might have defective pixels on the camera sensor. Again, check out my article on the different types of defective pixels. Dead and stuck pixels at low ISOs can be annoying, although they are automatically taken care of by Lightroom/Photoshop Camera RAW. How to react: if you just bought your camera and have more than 5 defective pixels that show up at ISO 100-200, then send your camera back to the seller. If you have been using your camera for a while, then call Nikon support to see what they say. If Nikon support considers the pixel issue to be a bad defect, they will ask you to send the camera to Nikon for pixel remapping.
Dirty sensor – this one is very rare, but unfortunately happens every once in a while. During my trip to Glacier National Park on an early morning, I shot alongside a photographer that was using a brand new Nikon D5100 that he bought right before his trip. He was not happy with his purchase, because he had some strange patterns appear on his images and he desperately needed some help. At first, I did not notice anything on images on the LCD, but when I zoomed in, I discovered a strange pattern in almost every single picture with a bright sky. First, I thought that it was some sort of a reflection that was showing up in his images. But as I went through more and more images, the pattern stayed in exactly the same spot and appeared in every single picture like below:I knew it was not a lens problem, because lenses rarely leave anything on images. I also noticed that this pattern was more visible when the lens was stopped down to f/8 and smaller. That's when I realized that something was on the camera sensor. I asked if I could remove the lens and inspect the sensor from the owner and he agreed. We walked back to my car because it was windy outside. I locked up the mirror and used a flashlight to see what was on the sensor and that's when I saw this:

I have no idea what it was. First, it looked like a fingerprint, but then as I looked closer, it turned out to be some sort of a residue. Gladly, the residue was not bad, because a couple of strokes with the Visible Dust Swab + sensor clean solution that I had with me completely removed it from the sensor. The photographer was very happy to see that his camera was taken care of…the last thing he wanted was to come back with bad pictures from Montana.

How to react: If you see a similar pattern in your images on a brand new Nikon DSLR, send it back to the seller and ask for an exchange/refund. Problems like this should be taken care of by Nikon's Quality Control.
Rubber parts peeling off – some Nikon DSLRs like Nikon D700 have problems with the rubber on the back of the camera peeling off after extensive use (see the first image on the top of the article – I took that picture of my D700 today). I thought that I was the only person having such problems, but I have received reports from other photographers that seem to have similar issues. Take a look at another example of rubber peeling off the rear of a different D700 camera:Yikes, that one looks worse than mine. How to react: if you have a problem with your DSLR within the first year of purchase, then send your camera to Nikon for repair. If this happens after the first year (no warranty), then call Nikon to find out what they advise you to do. You might have to pay Nikon to repair the camera. If you do not want to pay, get some superglue and try gluing it back yourself.
Now let's talk about the types of defects you might see in lenses:
Lens packaging – just like with cameras, make sure that the package contents are all there and that the box is original, from the manufacturer. Lens should be wrapped in a plastic container and padded against shocks and drops. How to react: if there are any problems with lens packaging, just send the lens back to the seller for an exchange or a refund.
Signs of lens use – again, products shipped directly from the manufacturer should be brand new and there should be no signs of prior use. How to react: if you see any signs of prior use on a brand new item, return the lens to the seller immediately and ask for an exchange or a refund.
Rubber ring is loose / comes off – While I personally have never had any construction/build problems with any of my Nikon lenses, some people have reported issues with rubber rings coming off on professional lenses like Nikon 17-55mm f/2.8G and Nikon 24-70mm f/2.8G, as shown below:I asked questions regarding this issue and wondered if the lenses were abused or left out in the heat/sun. It turned out that the lenses got normal field use and were not left in extreme weather conditions. So the rubber ring could get loose and eventually could peel off. How to react: call Nikon support and you can order a replacement rubber ring for very cheap (less than $5 USD). Once you receive the replacement rubber ring, installing it on the lens is super easy, so you can do it yourself.
Noise inside lenses when you shake them – this one is probably the most frequently asked question I get from our readers. Is it normal for lenses to make sound as if something is loose inside when you shake them? Yes, it is – almost every lens I own makes some sort of a sound. Newer lenses typically do not have as bad of a problem with this, but might eventually worsen as you use them. Zoom lenses are typically worse than primes. This happens because some of the internal elements move inside lenses when you focus or zoom and some parts could get slightly more loose overtime, which would add to the sound. How to react: first, don't shake your lenses. Second, unless you can see something wrong inside your lens or in your images, you should not worry about it. On some older lenses like the Nikon 85mm f/1.4D, the front element could get loose overtime (mine did that). If you touch the front element and it moves, simply grab the front element your fingers and move it clock-wise until it tightens. This will take care of the problem.
Dust inside lenses – as I have explained in my "dust inside lenses" article, dust is a very normal fact of life when using lenses. It does not impact your images in any way, unless it is behind the rear element of the lens. If there is too much of it, you might lose some contrast in your images. How to react: if you bought a brand new lens and it has large specks of dust (several millimeters in size) inside the lens that you can clearly see with your eyes, then I would return the lens to the seller for an exchange/refund. If you see small dust specks after normal lens use, then do not worry about them – they will not impact your images.
Noises when autofocusing – if you hear high-pitched screeching sounds when your lens autofocuses, you might have some dust/sand on the focusing ring of the lens or the AF parts might not be lubricated enough. How to react: try quickly moving the AF ring multiple times and see if the sound disappears. If it doesn't, call Nikon support for further assistance. If the lens that does this is brand new, send it back to the seller for an exchange/refund.
Audible sound when you half-press the shutter and after you release it – the sound is normal, it is the Vibration Reduction motor that does this. When you half-press the shutter, the Vibration Reduction motor engages and starts to stabilize the lens. Once the shutter is released, it might take a second for VR to turn off. How to react: do not worry about this. All lenses with VR will have this ound when VR is engaged.
Lens is not recognized by the camera – if your lens is not recognized by the camera (0F and other errors), it means that something is wrong with the contacts on the lens and possibly on the camera. How to react: clean the lens contacts as shown in my "how to clean lenses" article and the issue should go away. If the problem persists, call Nikon support for assistance.
Fungus inside lenses – fungus only shows up in lenses that are stored in very humid environments. Fungus is a living organism, so it will probably grow more overtime, plus it is almost impossible to remove. How to react: if you see fungus inside your lenses, it is already too late – Nikon will not remove it for you and repair will not covered by the warranty. Your only choice is to find a company that can disassemble the lens, clean the fungus and assemble it back. The cost will be significant, so it is often easier to just replace the lens.
Cracked/chipped front element and scratches – you should never see scratches, cracks or chipped areas on the front lens element of a brand new lens. However, if the lens is used, you might have signs of scratches and cracks when you visually inspect the lens. How to react: – while small scratches and chips do not significantly impact the image quality, they still degrade it and lower the contrast. If the lens you bought is new and has any physical problems, send the lens back to the seller. If the lens is used, return it to the seller for a full refund, or you will have to live with lower quality/less contrasty images.
Please let me know if I have missed anything. I did not cover any of the Nikon software or accessories like Speedlights, remote cable release systems, etc, which I might add later to this article. If you have had any quality issues with your Nikon product, please leave a comment below with the exact description of the problem.
Lessons Learned
Stop pre-ordering gear – think long and hard about whether you are willing to deal with the challenges of new product launches that are often fraught with issues and manufacturers and customers alike struggle with quality issues, software bugs, and other unforeseen issues. For some products, new product introductions are not very eventful. For complicated equipment such as cameras, however, you can bet that from time-to-time, you will get a lesson in why they call it, "the bleeding edge" of technology. If enough people hold off purchasing new products until there is sufficient reason to believe that most of the new product introduction snafus have been worked out, camera manufacturers will think twice about delivering products that clearly have issues and staying "mum" about the existence of problems.
Use your camera until it dies – reconsider how much bang-for-the buck you might get out of a new upgrade. For some product introductions, you can count on significant new features and functionality – at least by the specs of the new product compared to the previous generation. But how much will you get out of these new features? If you read enough photography forums, you might get the impression that most photographers constantly need an aperture of f/2.8, a minimum of 24 MPs, the need for clean 6400 ISO images, 7-9 frames per second capability, and generous image buffer that will enable them to take nearly unlimited RAW files without a delay. Really? No doubt that some photographers will indeed make use of such capabilities more than others, but being realistic about our shooting needs is the first step in making wise decisions regarding new product introductions. If we are honest regarding our needs, we will be less enticed to jump on the bandwagon and buy more gear than we need.
Don't pay attention to new product announcements – give the rumor mill a rest and enjoy the equipment you have! It may be interesting to scour the photography forums for the latest gossip, but most of us would likely be better served by learning more about photography, our gear and how to use it effectively, and improving our post-processing software skills. It is entertaining to poke fun at gear junkies at times, since we always think it is the "other guy", but the truth be told, more of us should look in the mirror! If more of us got off the Internet, spend more time shooting, and getting to know our gear better, we would likely find that we might not feel the need to purchase every new gizmo that comes along.
Shoot and enjoy photography instead of being a gear junky – aren't you getting tired of all this?
Be willing to change brands – we are all familiar with the proverbial "fan boys" who drone on endlessly about their devotion to a given brand and will defend a company and their products to the point of silliness, despite any evidence to the contrary (even as I write this, there are those in the Nikon camp that continue to deny that the D800 ever suffered from focusing issues). If you talk to some wise pros, however, you may be surprised to find that they are not quite as "religious" as some of the serious amateurs regarding brand loyalty. They buy what they absolutely need and don't obsess about every minor product distinction of every new piece of gear that is announced. And they are sometimes much more willing to change brands than some of the serious amateur crowd.

How can you minimize the "pain" of switching? Pair down that collection of gear that you no longer use. Buy and keep only those lenses that you get value from. Many serious amateurs cringe at the idea of switching brands – for a good reason. But if you look behind some of their concerns, part of this fear is that they have to deal with the growing collection of lenses they rarely use. Every now and then, ask yourself "How much value am I getting from this lens, flash, or other piece of equipment?". If you find that a given piece of gear spends more time on the shelf than on your camera? Sell it. Having a stable of good gear that actually gets used thus serves two purposes: 1) It preserves your hard earned money, and 2) If and when you decide to switch brands because situations change and you are no longer with the products and service of your existing brands, you will have a much easier time.