Nikon lens naming convention can sometimes be rather confusing, because Nikon uses letters and abbreviations to identify different lens components. Knowing what each of those stands for can be valuable, especially during the process of evaluating and purchasing lenses. Since Nikon has been producing lenses for so many years and the technology has significantly changed overtime, some of the older abbreviations are no longer used on modern lenses and those are marked appropriately below.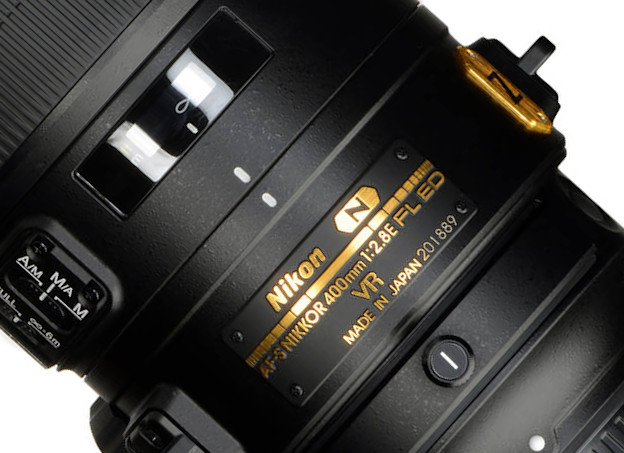 Nikon Lens Naming Conventions and Nomenclature
Here is a detailed list of all Nikon lens abbreviations that have been in use since the DSLR era:
AF – stands for Auto Focus, which means that the lens can automatically focus through the camera.
AF-D – Auto Focus with Distance information. Same as AF, except it can report the distance between the subject and the lens and then reports that information to the camera. The distance information can be useful for metering. See "D" acronym below. No longer used on modern lenses.
AF-I – Auto Focus with an integrated focus motor. No longer used on modern lenses.
AI-P – Manual focus lenses with a built-in CPU that transfer data to camera for exposure metering. No longer used on modern lenses.
AF-S – Auto Focus with Silent Wave Motor. The AF-S lenses have built-in motors inside the lens, which work great on all cameras without built-in motor such as Nikon D40/D40x, D60, D3x00 and D5x00 series.
AF-P – Auto Focus with Stepping Motor. These are the newest generation built-in motors that are fast and ultra-quiet, making them ideal for both photography and videography needs. AF-P motors require the latest generation Nikon DSLRs such as D7500 and D500. They won't work with older DX and FX DSLRs like Nikon D7000 and D800.
AI – Indicates "Automatic Indexing". This abbreviation was used on very old manual focus lenses, so it is no longer used on modern lenses.
AI-P – Manual focus AI lenses with a chip to send data to the camera. No longer used on modern lenses.
AI-S – Manual focus lenses that could be used with cameras that had Program and Shutter Priority camera modes. On AI-S lenses, aperture can be changed directly from the camera. No longer used on modern lenses.
ASP – Lens contains at least one aspherical lens element, which is used for correcting coma and other lens aberrations. Sometimes goes by "AS".
CRC – Close Range Correction lenses that are optimized for close focusing distances.
D – D-type lenses send camera to subject distance information to the camera.
DC – Defocus Control lenses allow controlling the bokeh, which is great for portraits.
ED – Extra-low Dispersion glass elements within the lens do not disperse the light as it enters the lens. Most modern top of the line Nikon lenses contain ED glass, which also delivers better sharpness and reduces chromatic aberration or color fringing in photographs.
FL – Newly introduced in 2013. Indicates that the lens has Fluorite Lens elements, which are optically superior and significantly lighter glass elements. A number of new lenses such as the Nikon 800mm f/5.6E VR now feature fluorite elements.
G – If you see a letter "G" after aperture in the lens, for example "Nikon 50mm AF-S f/1.4G", it means that the lens does not have an aperture ring like the old lenses. All modern Nikon lenses are "G", because the aperture ring is only needed for old manual focus camera bodies.
HRI – Stands for High Refractive Index lens, designed to reduce field curvature and spherical aberrations. HRI lens elements are only present on the best of Nikon lenses, such as the Nikon 70-200mm f/2.8E FL ED VR.
E – The new "E" type lenses feature electronic diaphragm control, similar to what we have previously seen on PC-E lenses (below). These lenses do not have the aperture lever on the back of the lens and are fully electronic, so there is no way to manually adjust the aperture anymore. "E" type lenses are more accurate than "G" type lenses, especially for shooting at high frame rates, because the lens can stop down to a desired aperture without the need to be engaged from the camera motor.
IF – Internal Focusing allows the lens to quickly focus by moving some of the elements inside the lens barrel, without moving the front barrel or extending in size. Many of the modern Nikon lenses such as Nikon 18-200mm f/3.5-5.6G VR II and Nikon 70-200mm f/2.8G VR II are IF lenses. Lenses with IF acquire focus faster than lenses without IF.
Micro – Same thing as Macro, which is designated for macro lenses for close-up work.
N – The letter "N" stands for Nano Crystal Coat and it is always displayed in a golden sticker on all top of the line Nikon lenses. It is a special type of glass coating that
PC-E – Perspective Control with electronic diaphragm. Allows lenses to tilt and shift to create special effects.
RF – Rear Focusing. The focusing is done by moving the rear element inside of the lens, which means the rear element moves while focusing. The latest Nikon 24mm f/1.4 lens, for example, is RF.
SIC – Lenses with Super Integrated Coating have better color performance and are generally deal better with ghosting and flare.
SWM – Silent Wave Motor allows quiet autofocus with a quick switching between autofocus and manual operation. Overriding autofocus is very simple – you just turn the focus ring, instead of switching to manual mode first like you have to on AF-D lenses.
VR – Vibration Reduction allows using lenses hand-held without the need for a tripod in low-light situations. Special motion sensors inside the lens detect hand motion and compensate for the motion by stabilizing the lens in the opposite direction.
FX – this abbreviation indicates "full-frame", as in 35mm film equivalent. Abbreviations like FX, DX and CX indicate format size (size of the digital sensor). You will never see FX on descriptions of lenses, because unless indicated otherwise, all lenses are full-frame by default (see DX and CX below).
DX – If a lens says "DX", it means that it is specifically designed for APS-C DX camera bodies (see sensor size comparison below) such as Nikon D3000/D5000/D90/D300s. DX lenses do work on FX bodies (they will physically mount), but will operate at only half the resolution.
CX – Nikon has a mirrorless system called "Nikon 1", with a sensor smaller than DX. Although the CX abbreviation is not included in the lens title, you might see it in descriptions and other marketing material. If a lens title starts with "1 NIKKOR", it means that the lens is specifically designed for CX camera bodies such as Nikon 1 V1/V2/J1/J2. CX lenses do not work on any other Nikon mounts.
New Terms from the Z Mirrorless Era
Although Nikon Z lenses use many of the same abbreviations as their Nikon F-mount counterparts, they also have a few new abbreviations. Here they are in alphabetical order:
MC: This abbreviation means macro and is used for macro lenses. In the DSLR era, macro capability was designated by the word 'micro' in the lens name, but with their Z-lenses, Nikon simple changed this to the abbreviation 'MC'.

NIKON Z 7 + NIKKOR Z MC 105mm f/2.8 VR S @ 105mm, ISO 64, 16/10, f/9.0 © Spencer Cox

S: This designation is on lenses like the Nikon NIKKOR Z 600mm f/6.3 VR S. The S refers to the S-line of lenses, which are the highest-end lenses of the Z lineup. Although all Z lenses are pretty nice and certainly outdo their DSLR counterparts, the S-line lenses are really something special
SE: This means 'Special Edition', and is used on lenses like the Nikon NIKKOR Z 28mm f/2.8 (SE). These lenses are functionally identical to their non-SE counterparts but have some aesthetic differences like silver finishing.
VCM: This abbreivation stands for Silky Swift Voice Coil Motor, and refers to the highest-end autofocus mechanism on some of Nikon's top lenses like the Nikon 400mm f/2.8 TC VR S. It uses magnets instead of gears.
Example
Take a look at the following Nikon lens: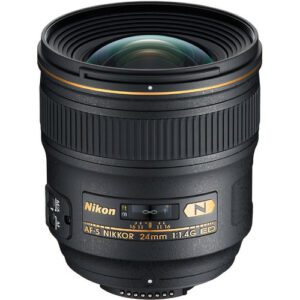 As you can see from the lens image, it says "AF-S Nikkor 24mm 1:1.4G ED" on the lens, which basically means that it is a fixed Nikon (Nikkor and Nikon are the same thing) 24mm lens with a maximum aperture of 1.4, has built-in auto focus with silent wave motor (AF-S), has no aperture ring (G) and contains extra-low dispersion glass (ED). The large letter "N" on the side indicates that the lens has Nano Crystal Coat. The rest of the information is not displayed on the lens, but can be obtained from the lens page in our lens database.