One of the most popular types of telephoto lenses is the humble 70-300mm variable-aperture zoom. They're small, light, and cheap – and many of them still manage good image quality. It's anyone's guess why Nikon has taken so long to introduce one to their Z system. Instead, photographers who want a lightweight telephoto have been adapting the F-mount Nikon AF-P 70-300mm f/4.5-5.6E for years. However, now that Tamron's 70-300mm f/4.5-6.3 is also available with a native Nikon Z mount, I wanted to compare the two lenses in detail. Which one is better?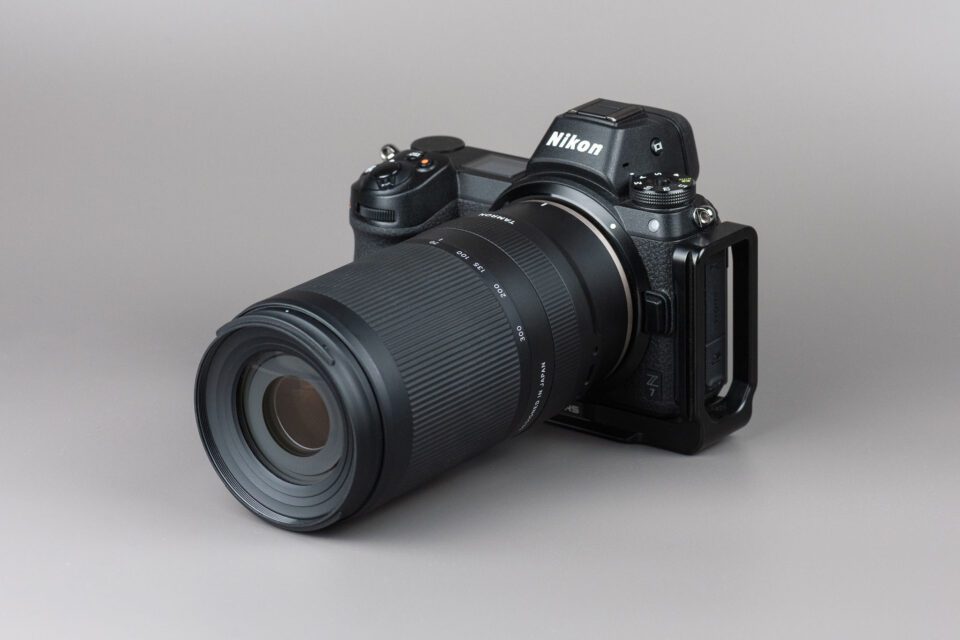 Size and Weight
One of the best parts of these two lenses is how small and light they are. The Nikon 70-300mm f/4.5-5.6E is 680 grams (1.50 pounds), while the Tamron 70-300mm f/4.5-6.3 is even lighter at 545 grams (1.20 pounds).
On a mirrorless camera, the Tamron's weight advantage is even better than that, since you don't need to use Nikon's FTZ adapter in order to mount it on a Nikon Z camera. With the FTZ II adapter weighing an additional 125 grams (0.28 pounds), using the Nikon 70-300mm f/4.5-5.6E entails carrying a bit more weight than the native Tamron. Sure, both are lightweight lenses, but there's still more than half a pound difference between them.
As for size, the two lenses are very similar, but the difference obviously shifts in Tamron's favor if you're intending to use the Nikon lens on a mirrorless camera. Here's a rough size comparison of the Nikon lens + FTZ II adapter versus the Tamron lens, to scale: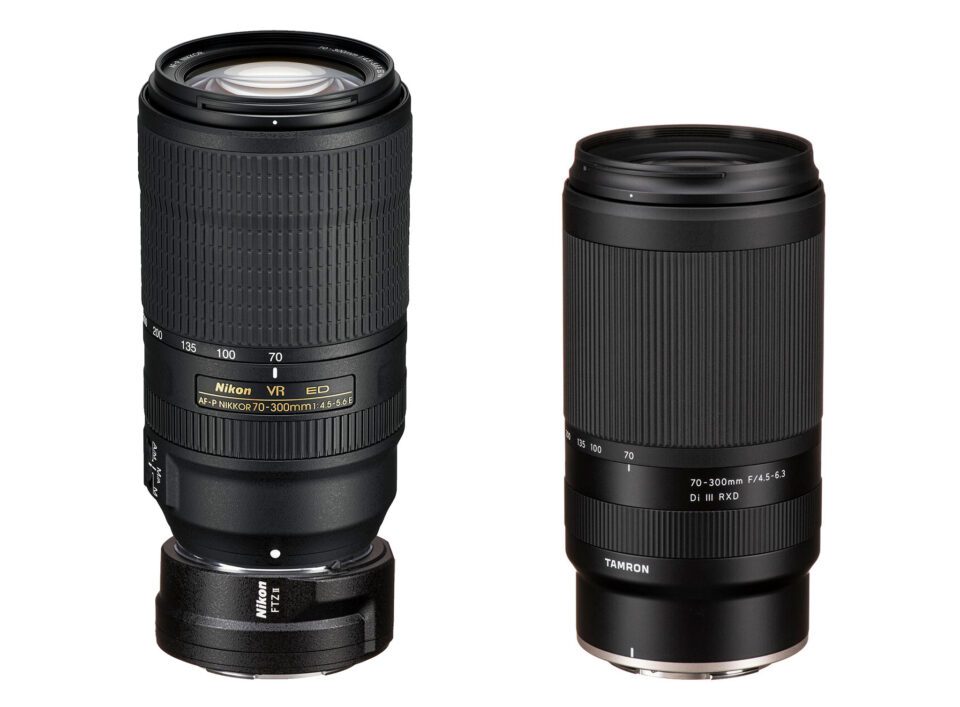 In short, the Tamron 70-300mm f/4.5-6.3 wins the contest of size and weight if you're comparing these two lenses for usage on the same (i.e. mirrorless) camera. Considering that 70-300mm variable-aperture lenses are popular for lightweight needs like travel and hiking, that's a big plus in Tamron's column.
Build and Handling
Neither of the two lenses I'm comparing today are considered high-end. That doesn't make them bad lenses optically, but it does mean that they have some build quality and handling compromises.
One of the biggest compromises is that both lenses have externally zooming designs, where the lens barrel extends as you zoom in. Even some professional lenses do this, and it's not a dealbreaker, but it does call for some extra caution when using these lenses in dusty or rainy environments.
Both lenses have primarily plastic exteriors, with a few key areas of metal (like the lens mounts). The plastic feels a bit nicer on the Nikon lens.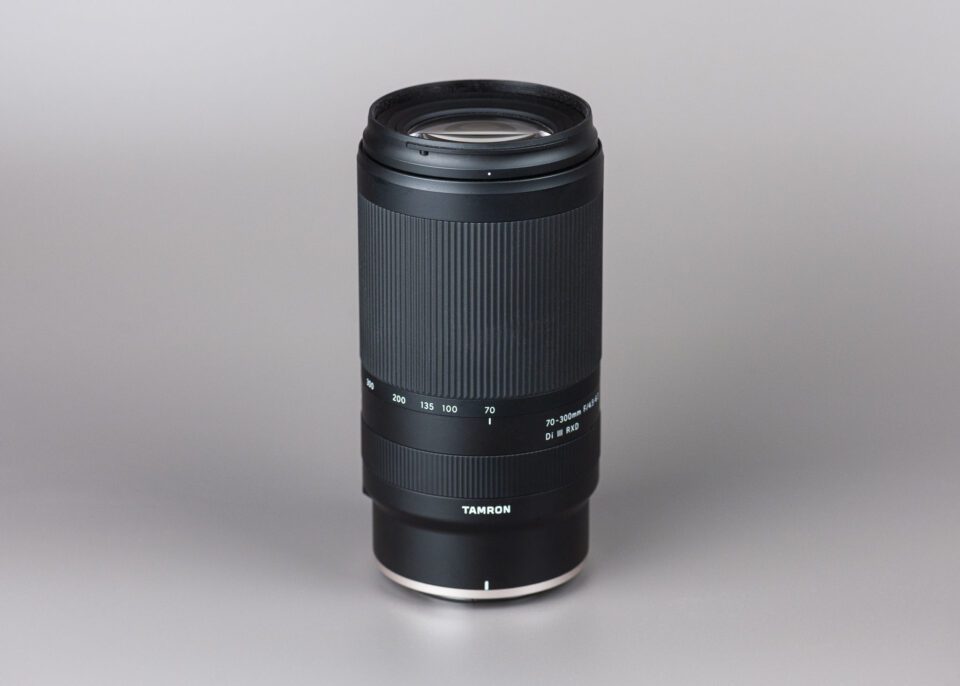 As for handling features, the Nikon lens comes out ahead, since it has a dedicated M-A switch and a VR switch. Meanwhile, the Tamron 70-300mm f/4.5-6.3 doesn't have any buttons or switches at all. Both lenses have a zoom ring and a focus ring.
I prefer the Nikon lens's handling, while I'd rate the build quality of both lenses about the same. That said, adding the FTZ adapter definitely makes the Nikon more annoying to use, especially if you are swapping the FTZ adapter between multiple F-mount lenses.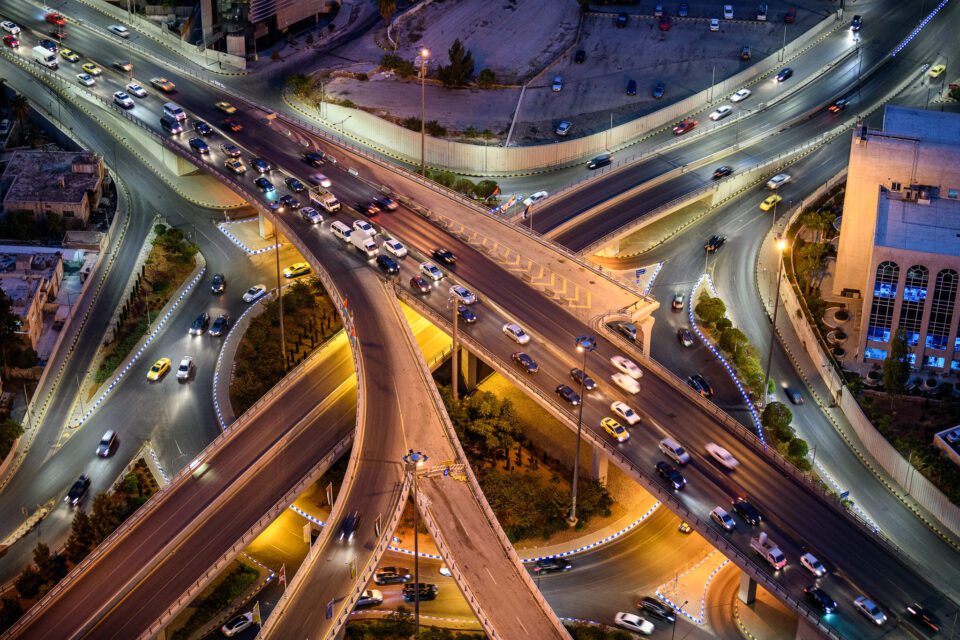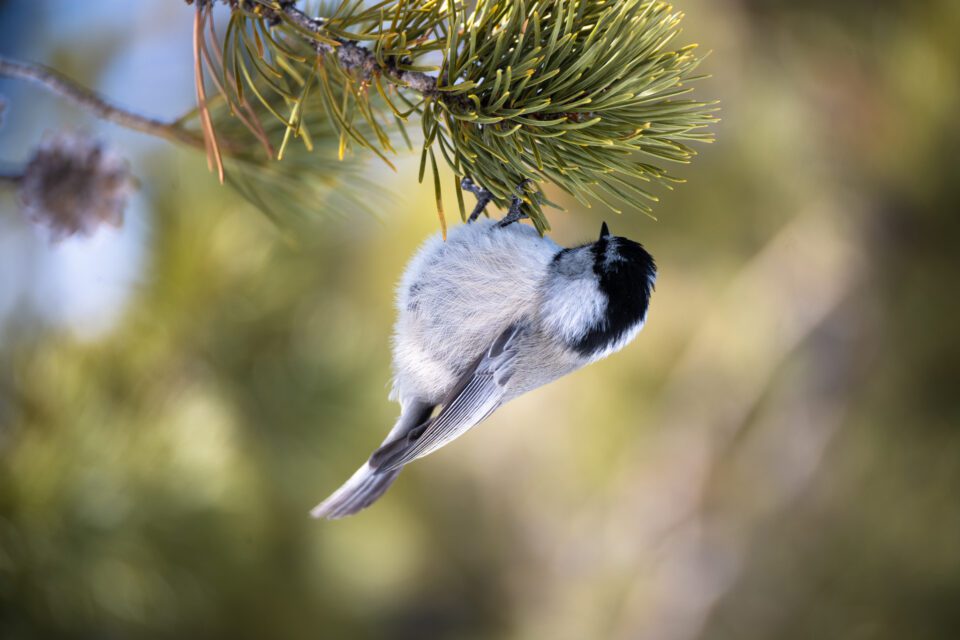 Image Quality
Which lens performs better optically between the Nikon AF-P 70-300mm f/4.5-5.6E and the Tamron 70-300mm f/4.5-6.3? In most categories, the two lenses are either tied, or the Nikon lens is the winner. But let's take a closer look, because the differences may not be extensive enough to matter for you.
1. Distortion
Dedicated telephoto lenses usually don't have much distortion, even zoom lenses like these. That said, the Tamron has a bit more than I'd like to see. Here are our full distortion measurements: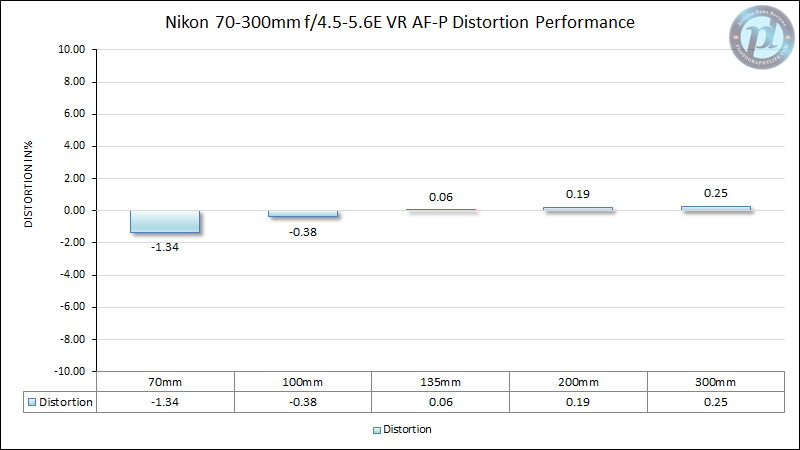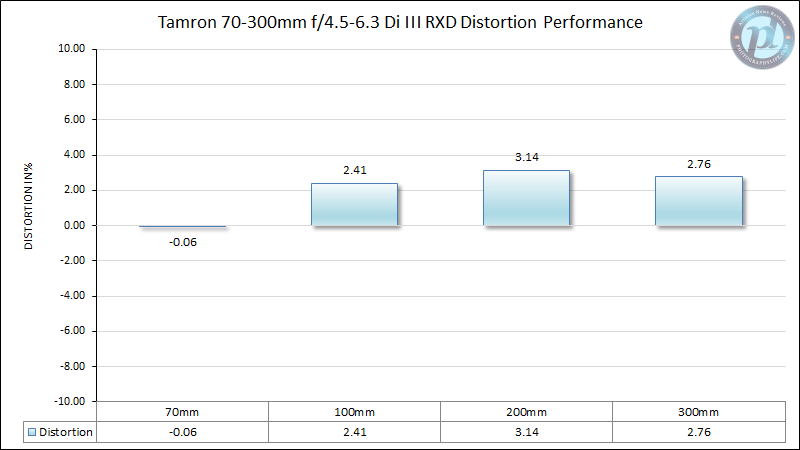 As you can see, the Nikon lens is much better controlled for distortion. The Tamron gets as high as 3.14% pincushion distortion at 200mm, which is a lot for a telephoto.
2. Vignetting
Next up is vignetting. Neither lens is terrible in this regard, but they still have noticeable vignetting: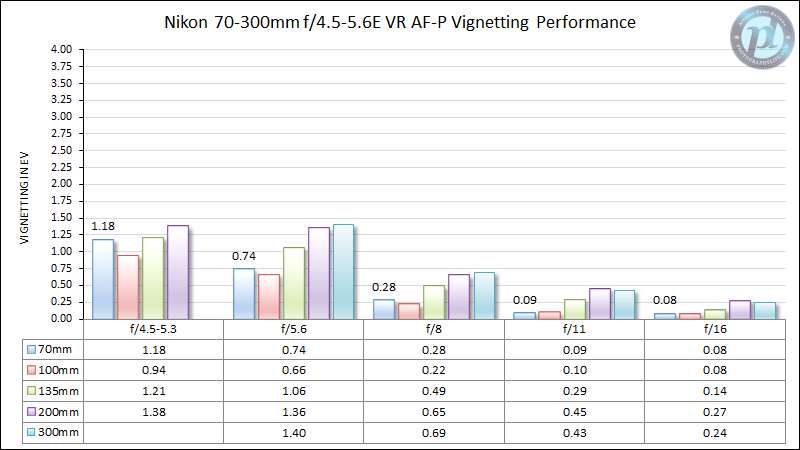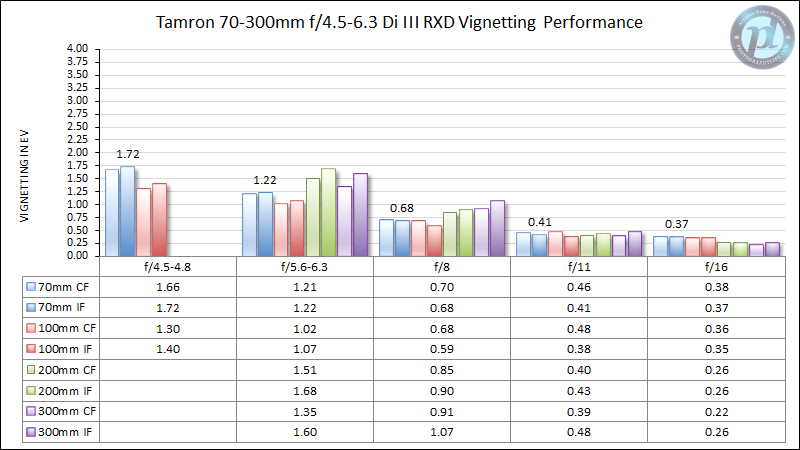 Note that our tests for the Tamron lens include both close focus and infinity focus data, while we only measured infinity focus vignetting at the time of testing the Nikon lens.
To sum things up, the Nikon lens has less vignetting in almost every case, particularly wide open, where vignetting is the most important. The differences at 70mm, 100mm, 200mm, and 300mm are 0.54 stops, 0.46 stops, 0.30 stops, and 0.20 stops respectively. The differences aren't massive, but they all favor the Nikon lens.
3. Lateral Chromatic Aberration
The Nikon AF-P 70-300mm f/4.5-5.6E and Tamron 70-300mm f/4.5-6.3 have very different chromatic aberration profiles, as you can see below: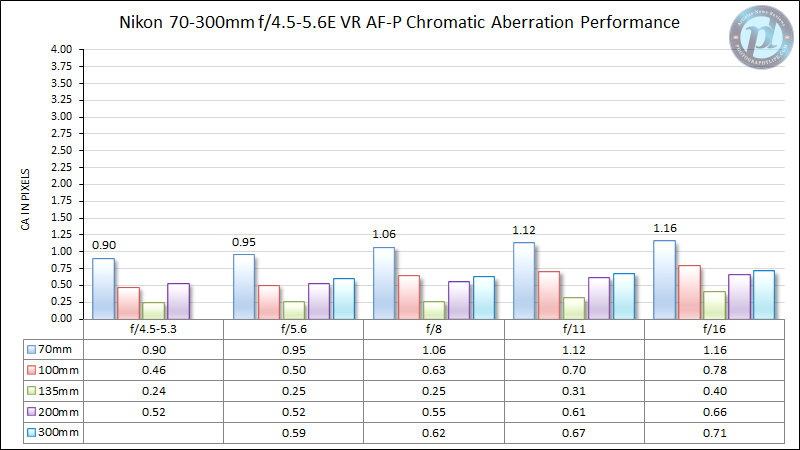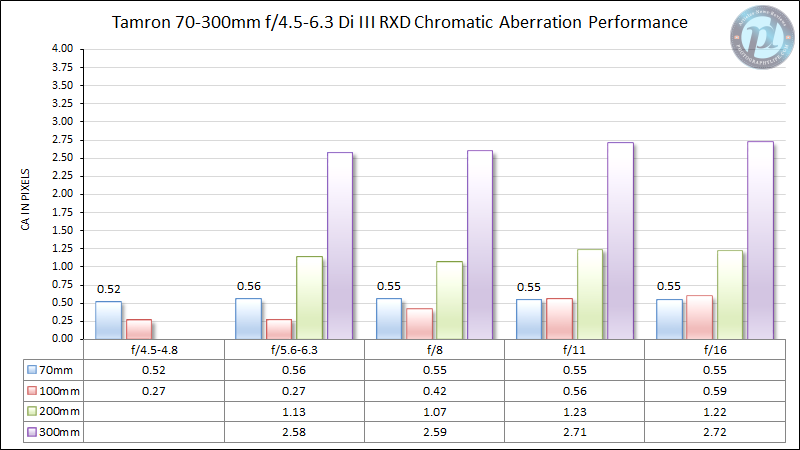 At 70mm, the Tamron lens has less chromatic aberration, although neither lens has enough to be of concern. The story is similar at 100mm, with even less CA on both lenses. At 200mm, the Tamron's CA levels start to increase – it's now higher than the Nikon, and may be just visible in real-world photos. Finally, at 300mm, the Tamron lens skyrockets in CA levels, while the Nikon lens remains very tame.
Overall, I'd rate the chromatic aberration performance as similar from 70mm to 200mm, but the Tamron lens is much worse at 300mm.
Now the moment you've been waiting for – sharpness! Which lens is sharper? Although both lenses have solid performance here, neither rises to the levels that we've seen from top-end telephoto lenses.
I'll start with 70mm: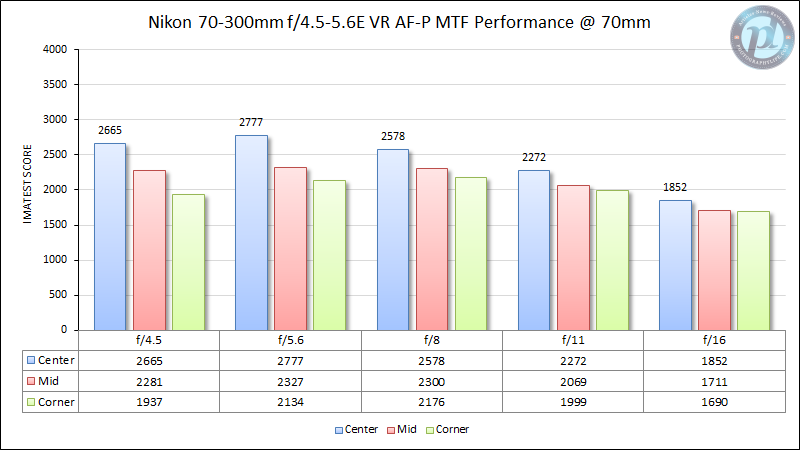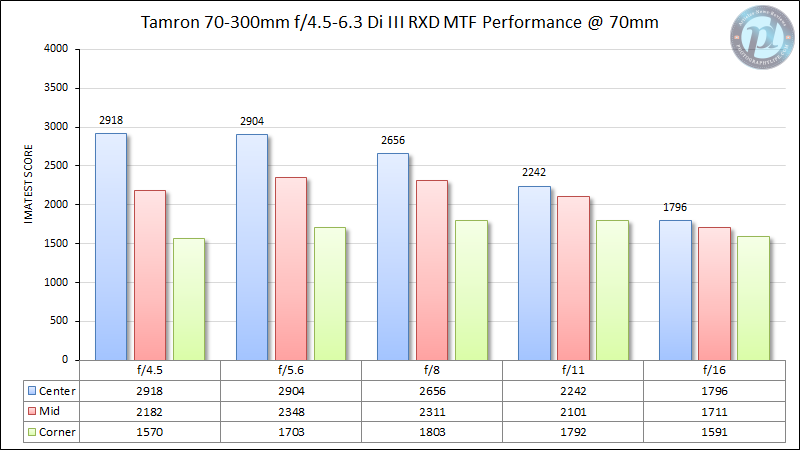 Here, the story is pretty simple. The Nikon lens has better corners, while the Tamron lens is sharper in the center, and both are extremely similar in the midframes. As expected, the differences narrow at f/11 and f/16.
Now for 100mm: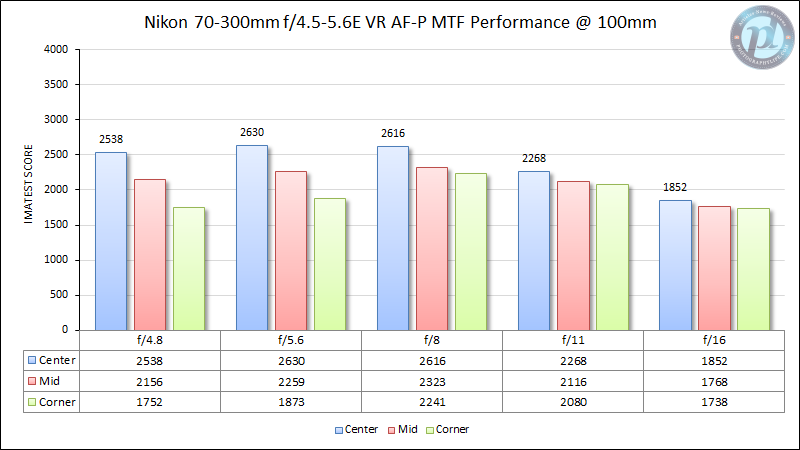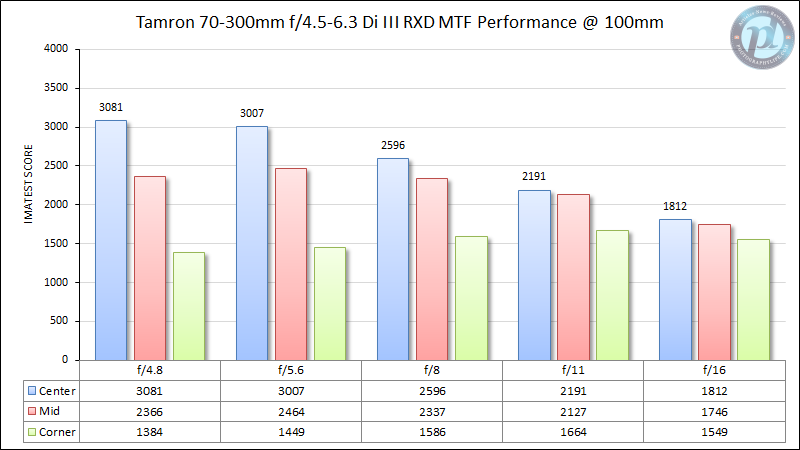 The situation is very similar at 100mm – in fact, more pronounced. The corners now strongly favor the Nikon lens, while the center strongly favors the Tamron lens. Midframe sharpness is a bit higher on the Tamron.
Now 200mm: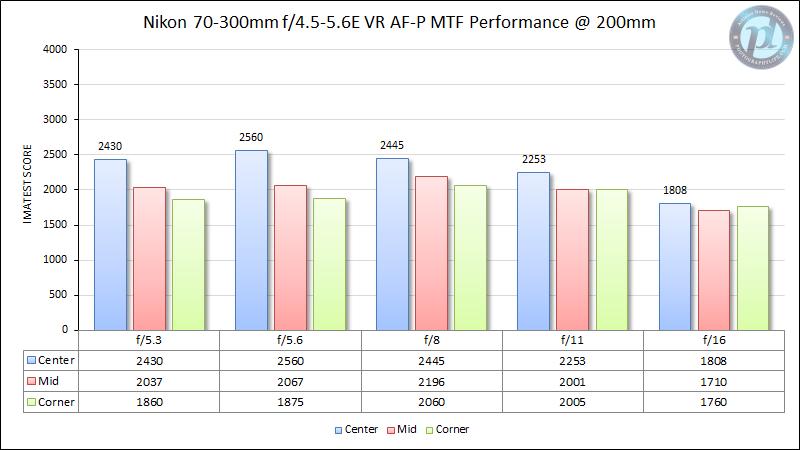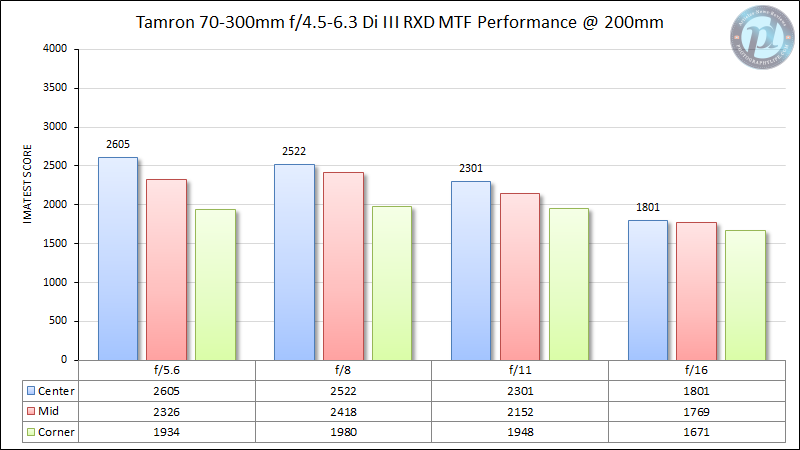 The Nikon AF-P 70-300mm f/4.5-5.6E VR's performance at 200mm is similar to its performance at 100mm. The Tamron, though, has undergone a character shift – losing some central sharpness but gaining some corner sharpness. The end result is that the two lenses have comparable center and corner performance at 200mm. However, midframe sharpness favors the Tamron.
Lastly, here's 300mm: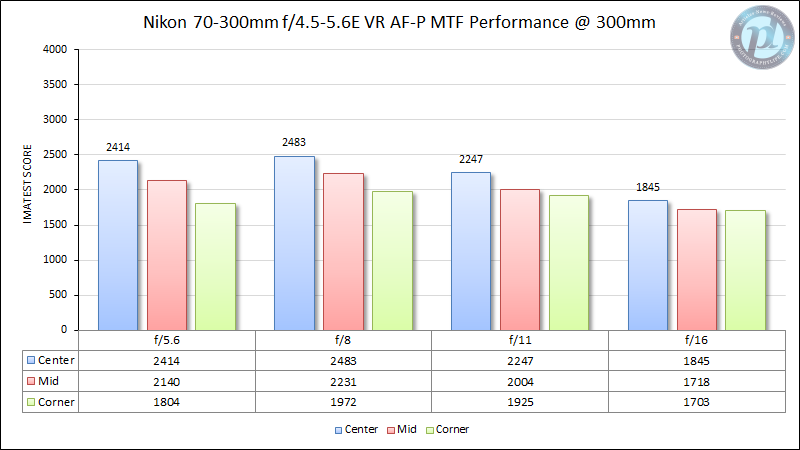 As with 200mm, both lenses are pretty similar to one another at 300mm. The Tamron lens has a slight edge in the center and midframes, while corner sharpness remains neck-and-neck.
Overall, I'd categorize the Nikon lens as more consistent across its focal lengths. The Tamron 70-300mm f/4.5-6.3 has a bit of a split personality. At the wider focal lengths, it is very sharp in the center but worse in the corners; at the longer focal lengths, it has fairly even sharpness across the frame. Both lenses are plenty sharp for most applications, but you should probably take these differences into account based on your personal requirements.
Value
This is a rare case when the Tamron lens is more expensive than the Nikon lens… or at least, that's what it seems at first glance. The MSRP of the Nikon AF-P 70-300mm f/4.5-5.6E is $600, while the MSRP of the Tamron 70-300mm f/4.5-6.3 is $700.
However, that's ignoring the price of the Nikon FTZ adapter that you'll need in order to use the Nikon lens on a Z-series camera. It's also true that the Tamron lens routinely goes on sale for $600. In practice, the two lenses are basically the same in terms of price and value.
You can check the current prices, and support my testing efforts at Photography Life, at the following B&H affiliate links: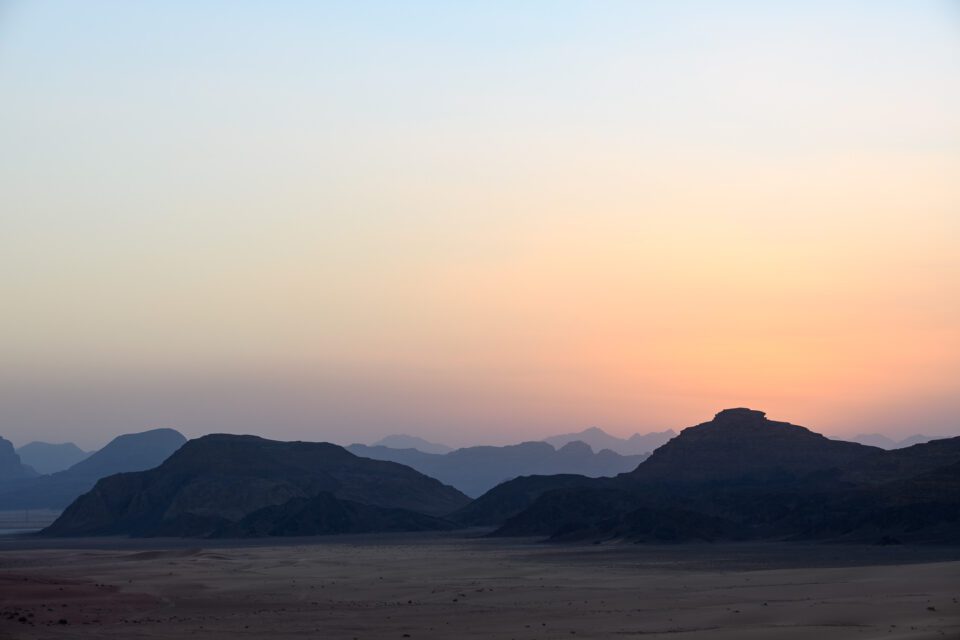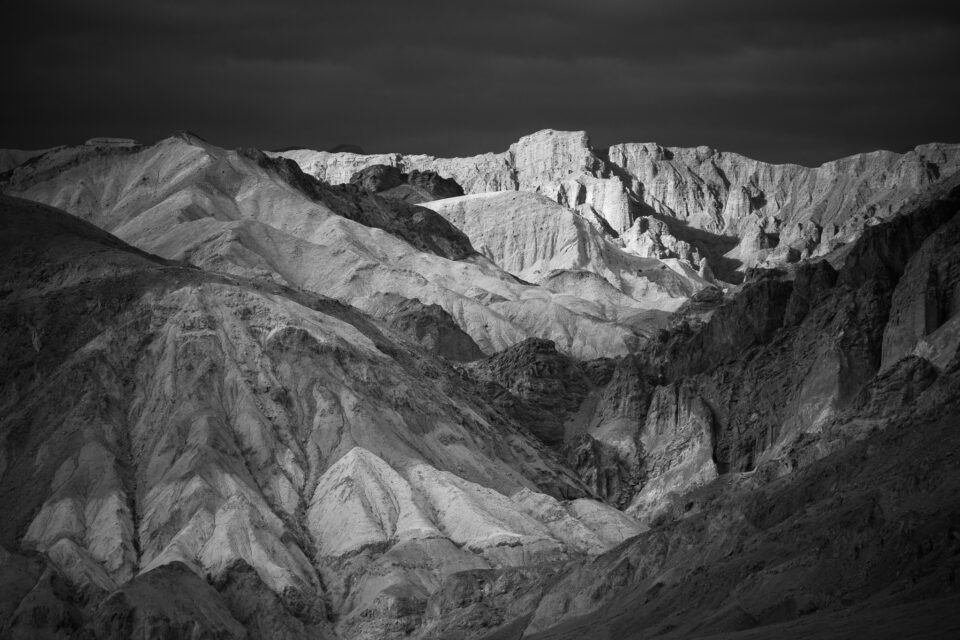 Conclusion
For full-frame Nikon Z shooters, I lean toward recommending the Tamron. It's a bit worse optically, but not by much – and it's significantly smaller and lighter than using the AF-P 70-300mm f/4.5-5.6E with the adapter. However, if you already have the Nikon lens + FTZ adapter, I don't think it's worth switching to the Tamron. You won't gain anything optically, and you'll lose plenty of money when selling your lens.
Another case where the Nikon lens wins is if you intend to use either of these lenses with a Nikon Z DX camera. Nikon hasn't yet added in-body image stabilization to any of their Z DX cameras (hopefully that changes soon), and the Tamron lens doesn't have built-in vibration reduction. So, the Nikon AF-P 70-300mm f/4.5-5.6E would make a lot more sense in that case.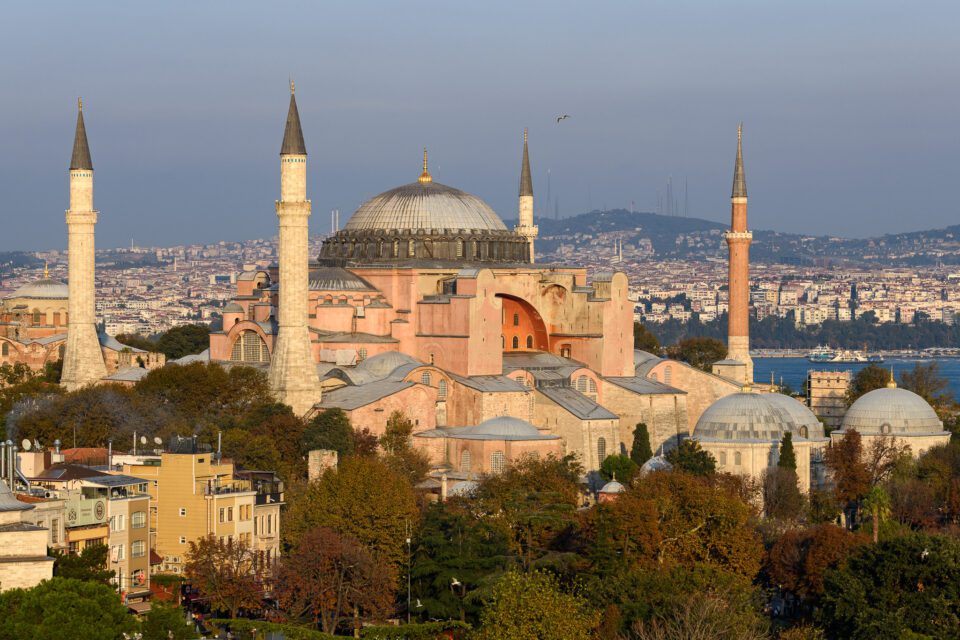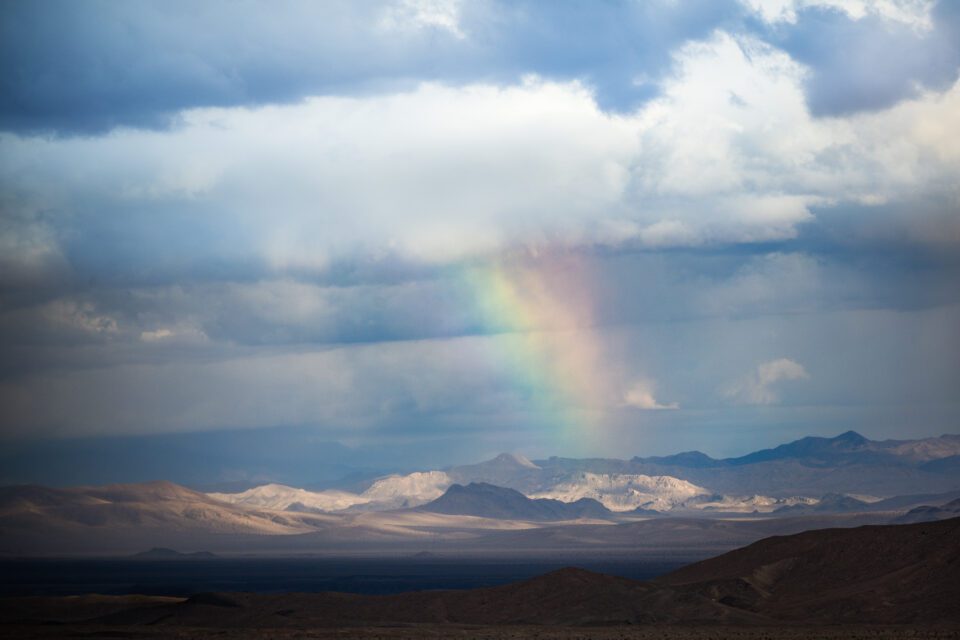 I hope this helps! Feel free to ask me anything about these two lenses in the comment section below, and I'll do my best to answer.