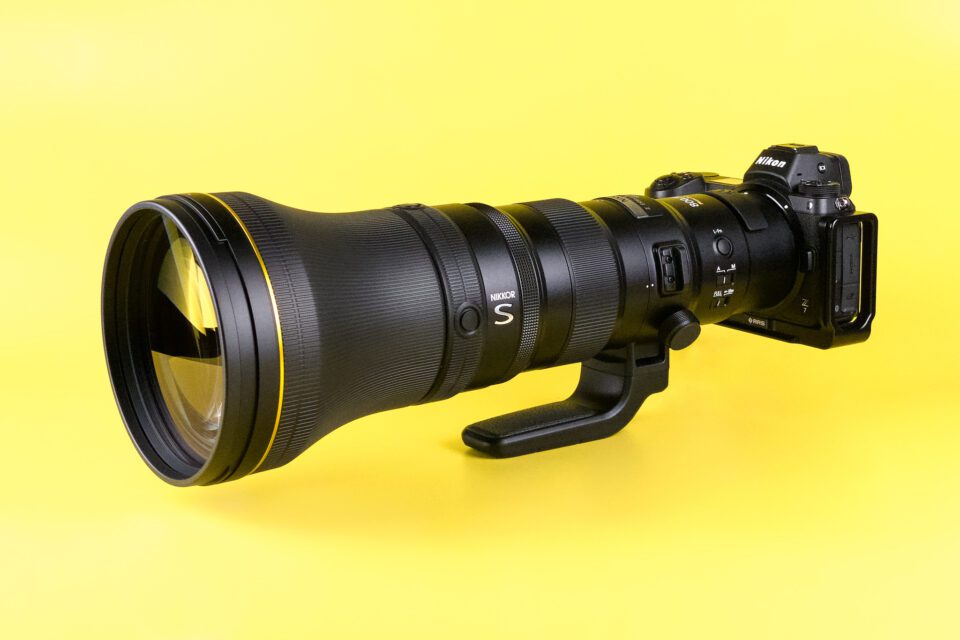 In my review of the Nikon 500mm f/5.6 PF, user Marceli commented that the Imatest scores for the 500mm f/5.6 + Nikon 1.4x TC III were similar to the score for the Nikon 800mm f/6.3 S lens, which we've also reviewed. Given this, does it still make sense to the get the 800mm f/6.3 if you already have the 500mm f/5.6? Rather than leave a quick response for Marceli in the comment section, I wanted to give a complete answer that examined all the considerations at play. That's what I'll be doing today.
To start, here are the two Imatest scores for these two lenses: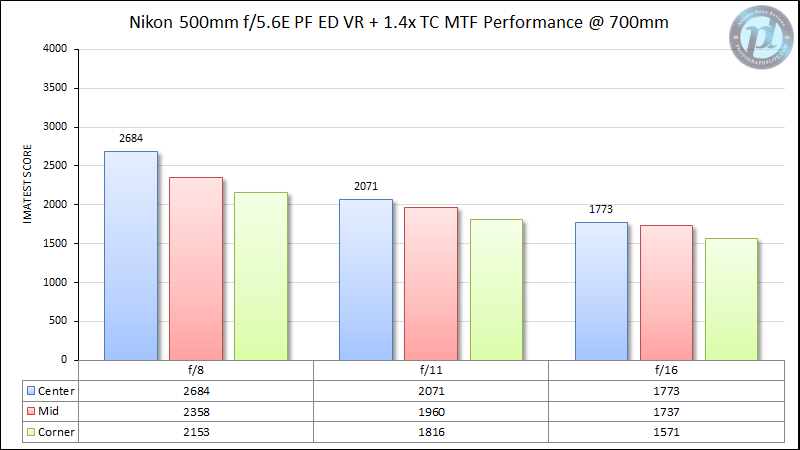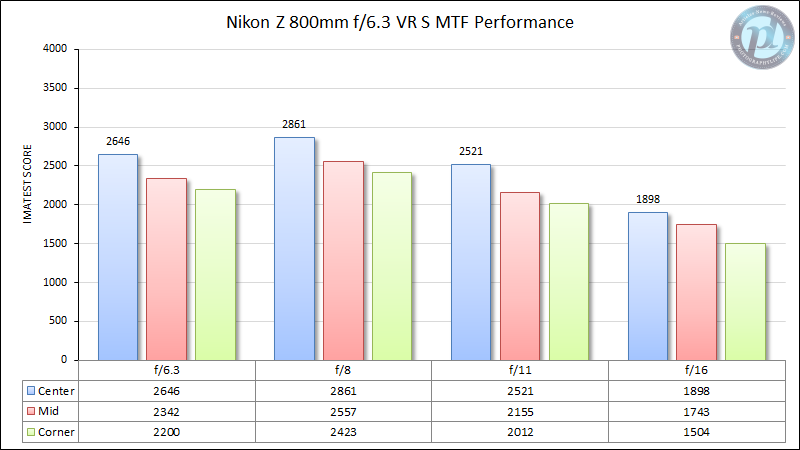 As you can see, in the shared aperture range from f/8 to f/16, the Nikon Z 800mm f/6.3 is sharper throughout the frame, but it's close enough that I see why Marceli asked me the question. And you don't gain sharpness on the 800mm PF by shooting it wide open at f/6.3 – you actually lose a bit.
So, some photographers might wonder whether it's worth it to get the Nikon 800mm f/6.3 when they can use the cheaper 500mm f/5.6 PF with the TC III instead. However, this is one case where even identical lab test results (which these definitely aren't) would be deceiving, and where the Nikon 800mm f/6.3 S is the better choice for several reasons.
The first is that the 500mm f/5.6 + 1.4x TC III only gives you 700mm, not 800mm. That's a 1.15x crop factor, which looks like this: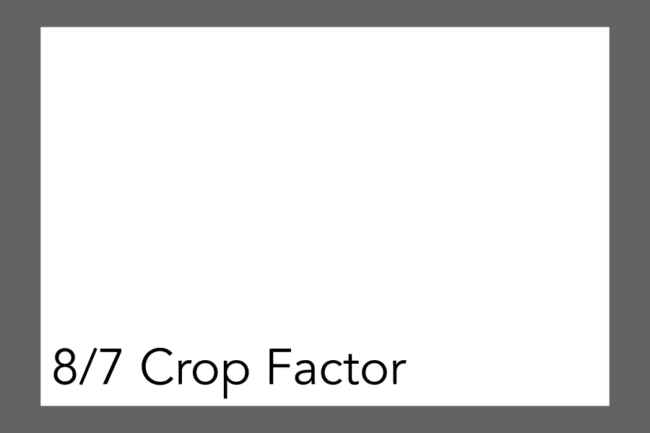 Already, this crop factor favors the Nikon 800mm f/6.3. But that's not all. The 800mm f/6.3 has a maximum aperture of f/6.3, whereas the 500mm f/5.6 + 1.4X TC III is at f/8.
You can have a really sharp lens, but in a dim environment, every extra bit of light-gathering ability helps retain more information from what little photons there are left. The difference from f/6.3 to f/8 is two-thirds of a stop, which is definitely significant. But don't take my word for it. I took the following photos at f/8 and f/6.3 with corresponding differences in ISO:

I turned on default denoising for both. You can see that in the f/8 image, there is already a lot more chroma and luma noise, making the details less apparent. In real-world conditions when you need every bit of detail on those beautiful bird feathers, this difference will be even more significant – especially when you add it to the 800mm vs 700mm difference.
Then there's the consideration of focus speed. The best Nikon mirrorless cameras are pretty good at autofocusing with an f/8 lens, but it's definitely a struggle in low light. Using f/6.3 instead of f/8 can make a massive difference to focus speed – and if your subject is moving quickly, that also means accurate focus.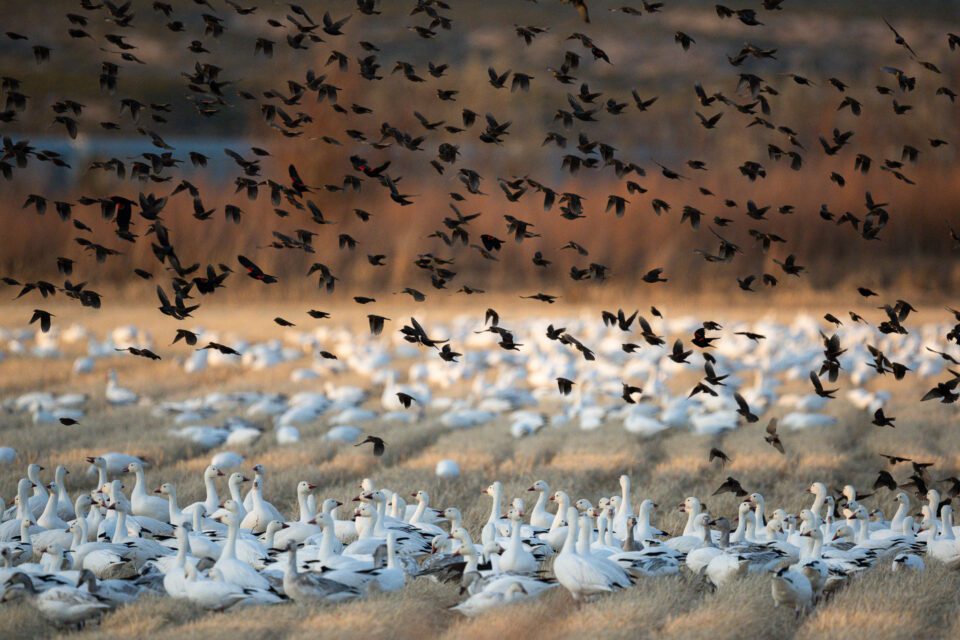 As for other differences, the bare 500mm f/5.6 is pretty good when it comes to chromatic aberrations, but fringing begins to climb with the teleconverter. There's also the fact that on the Nikon Z system, you'll be using a teleconverter plus an FTZ adapter on the 500mm f/5.6. That's three total lens mounts stuck together – not very ergonomic, and potentially more concerning if there are any alignment issues.
All told, the benefits of the 800mm f/6.3 really add up in this comparison: the longer focal length, wider maximum aperture, better focusing, slightly higher Imatest score (at a given aperture), and lower chromatic aberrations. If I needed good image quality and maximum reach, the 800mm f/6.3 is clearly preferable to the 500mm f/5.6 PF + 1.4x TC – both in bright conditions and particularly if you're shooting at anything above base ISO.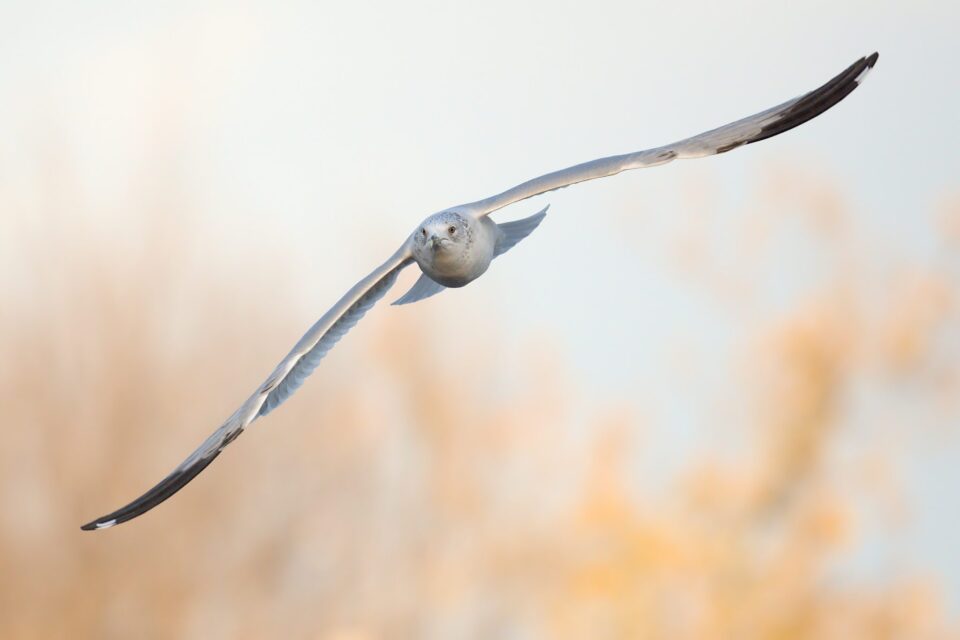 Conclusion
As a long-time fan of the Nikon 500mm f/5.6 PF, I don't want to make this comparison sound like I hate the lens – exactly the opposite! It's probably my all-time favorite lens. When shooting at 500mm, it is just as good as $5000+ exotic supertelephotos in image quality, and it does pair surprisingly well with the 1.4x TC III if you need 700mm in a pinch.
That said, the 500mm + 1.4x combo is not on the same level as the Z 800mm f/6.3 for gathering maximum detail on the most distant subjects. Yes, lab sharpness is reasonably close, but the reality in the field includes other considerations. The 800mm's extra reach, better low-light focusing, and brighter maximum aperture – plus the sharpness advantage in the shared aperture range – all lead me to one conclusion: The Nikon Z 800mm f/6.3 is the better choice every time for shooting at or near 800mm on the Z system.
Of course, when it comes to shooting at 500mm, then it's a different story… which is why, if you are deciding between these two lenses, just get the focal length that you are more likely to shoot with the bare lens!