In this article, I will compare the new Nikon 80-400mm f/4.5-5.6G ED VR and its predecessor, the Nikon 80-400mm f/4.5-5.6D VR. Since the lens has just been announced, I have not had the chance to use it and compare it with the older 80-400mm lens. I am planning to expand this comparison further, once I have both lenses in my hands later this year. For now, I will go over specifications and compare both lenses side by side using information provided by Nikon, as well as MTF charts. First, we'll get started with specifications:

Lens Specifications and Comparison
| Feature | Nikon 80-400mm AF-S | Nikon 80-400mm AF-D |
| --- | --- | --- |
| Mount Type | Nikon F-Bayonet | Nikon F-Bayonet |
| Focal Length Range | 80-400mm | 80-400mm |
| Zoom Ratio | 5x | 5x |
| Maximum Aperture | f/4.5-5.6 | f/4.5-5.6 |
| Minimum Aperture | f/32-40 | f/32 |
| Format | FX/35mm | FX/35mm |
| Maximum Angle of View (DX) | 20° | 20° |
| Minimum Angle of View (DX) | 4° | 4° |
| Maximum Angle of View (FX) | 30°10′ | 30°10′ |
| Minimum Angle of View (FX) | 6°10′ | 6°10′ |
| Maximum Reproduction Ratio | 1/5.7x (1/5.1x in MF) | 1/4.8x |
| Lens Elements | 20 | 17 |
| Lens Groups | 12 | 11 |
| Compatible Format(s) | FX, DX, 35mm Film | FX, DX, 35mm Film |
| VR (Vibration Reduction) | Yes | Yes |
| VR Technology | 2nd Generation | 1st Generation |
| Diaphragm Blades | 9 | 9 |
| Distance Information | Yes | Yes |
| Nano Crystal Coat | Yes | No |
| ED Glass Elements | 4 | 3 |
| Super ED Glass Elements | 1 | N/A |
| Super Integrated Coating | Yes | Yes |
| Autofocus | Yes | Yes |
| AF-S (Silent Wave Motor) | Yes | No |
| Internal Focusing | Yes | No |
| Minimum Focus Distance | 5.74 ft. (1.75m) | 7.5 ft. (2.3m) |
| Focus Mode | Auto, Manual, Auto/Manual | Auto, Manual, Auto/Manual |
| G-type | Yes | No |
| Filter Size | 77mm | 77mm |
| Accepts Filter Type | Screw-on | Screw-on |
| Dimensions | 3.8 x 8.0 in. (Diameter x Length), 95.5 x 203mm (Diameter x Length) | 3.6 x 6.7 in. (Diameter x Length), 91 x 171mm (Diameter x Length) |
| Weight | 56 oz. (1570g) | 47 oz. (1360g) |
| Supplied Accessories | HB-65 Lens Hood, LF-4 Rear Lens Cap, LC-77 Snap-On Front Lens Cap, CL-M2 Ballistic Nylon Lens Case | HB-24 Hood, CL-M1 case, 77mm lens cap, Rear lens cap |
Let's go over the differences between the two now. The very first major difference between the two lenses is obviously the optical lens design. The new 80-400mm lens has a completely new optical formula, with 20 elements in 12 groups, while the older version has 17 elements in 11 groups. So we are not just talking about new tweaks to the lens – this is a whole new design. Here is the comparison of lens construction on both lenses:

While the front part of the lens more or less retains a similar layout, there are some differences in spacing of elements and the inclusion of a thicker Super ED element. The middle and rear section of the lens is where we see the most changes, with more optical elements to minimize different types of optical aberrations. Changes in the rear part of the lens are quite obvious – the last optical element has moved deeper inside in order to accommodate teleconverters. As you may already know, the older 80-400mm did not work with any of the Nikon teleconverters, while the new 80-400mm is designed to work with all of them. Now keep in mind that while you can physically attach any teleconverter to the new 80-400mm AF-S, only the 1.4x TC-14E II will autofocus with this lens, if you are using one of the latest Nikon DSLRs that can support autofocus at f/8 (D7100/D600/D800/D4). With the TC-14E II, the lens becomes a 112-560mm f/6.3-8.0 lens, which makes it the only budget Nikon lens to go beyond 500mm with a teleconverter. While I personally would not want to experiment with anything other than the TC-14E II for any serious work with this lens, the TC-20E III could potentially be suitable for things like moon photography (probably better than trying to stack multiple Kenko filters). Although at 800mm and f/11, you would have to pay some serious attention to camera shake and shutter speed.
Which brings a rather hot topic for the 80-400mm lenses. The old 80-400mm had a notoriously bad tripod foot / collar, similar to the one on the Nikon 300mm f/4. I replaced mine right away with one from Kirk, which works a world better than the detachable Nikon collar. Just looking at the image of the 80-400mm f/4.5-5.6G ED VR, it looks like Nikon again failed at providing a stable tripod collar for this lens. If you are planning to use this lens on a tripod in low light situations, I would replace the foot as soon as Kirk or RRS release their versions.
Next, we have Vibration Reduction. Looks like the 80-400mm was designed a little earlier than the Nikon 70-200mm f/4G that we reviewed earlier, because it comes with the older VR II technology, versus VR III on the 70-200mm f/4G. While it is still better than the original VR on the 80-400mm AF-D, it is unfortunate that Nikon could not get this one updated to the latest version. Still, 4 times shutter speed compensation is pretty effective for a lens this long when hand-holding it.
Another important difference is in the type of lens elements and coating used on the new 80-400mm. First, the number of extra low dispersion elements went up from 3 to 4, which should reduce optical aberrations. Second, this lens is one of the few Nikkor lenses to sport a Super ED element, which has even lower refractive index than ED elements. Hence, the lens should produce very sharp and contrasty images compared to its predecessor. Let's take a look at MTF charts between the old and the new lens and see how the lenses should compare optically (Left: Nikon 80-400mm AF-S, Right: Nikon 80-400mm AF-D):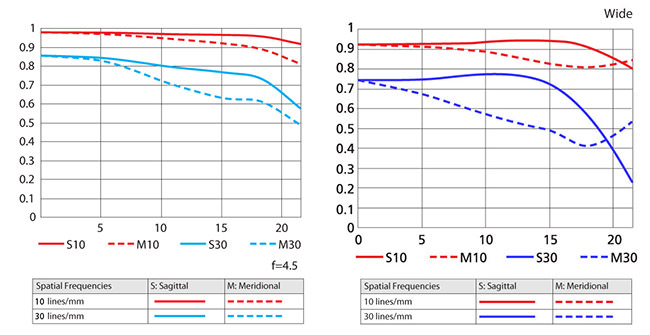 Looking at the short end of the zoom range (80mm), the positive changes in optical design are pretty obvious. The new 80-400mm not only has higher contrast, but it can also resolve details much better. Look at how the scale on the right side first curves and then rapidly falls off, which indicates field curvature and inferior performance in the corners. Field curvature is practically non-existent at wide end on the new 80-400mm, and it should be very sharp even in the corners on full-frame cameras. But most importantly, look at how the dotted lines run right next to the straight lines – this indicates absence of astigmatism! From this MTF chart, it looks like the lens is even better than the 70-200mm f/4G VR on the wide end. Now let's take a look at the telephoto end (400mm):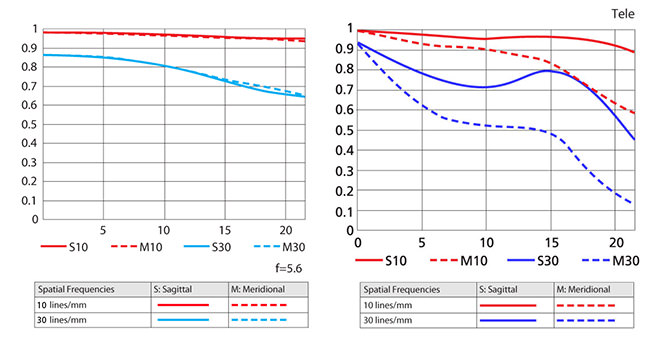 As expected, performance drops a little, but it is still pretty impressive. Again, there is very little astigmatism and the lens has plenty of contrast and sharpness. Looking at the sagittal lines, the drop in sharpness is very minor in the corners, with even better mid-frame performance than at 80mm. This is obviously worse than what the Nikon 70-200mm f/4G can do at 200mm (which is superb), but it is way better than the old version, as evidenced from the MTF chart above. So when I said that the 70-200mm f/2.8G + TC-20E III will resolve less detail wide open in my earlier article, you can now see why (obviously, real tests for the upcoming review will show the actual difference). What I am curious about, is how well the 80-400mm will work with the 1.4x TC and how its AF performance will compare to the Nikon 300mm f/4 AF-S. I will conduct some specific tests to measure AF speed for photographing birds and wildlife, so I should be able to compile a good report on AF performance for my upcoming review.
As for other features, the lens has Nano Crystal Coat, which not only reduces flare, but also enhances colors produced by the lens. Internal design and Silent Wave Motor mean that the lens does not change in size when focusing and the focus motor should provide faster, smoother and noise-free autofocus. This also means that autofocus will work on any modern Nikon DSLR, even entry-level cameras like Nikon D3200 (the previous version only worked with cameras that have built-in focus motor). Minimum focus distance has also been drastically reduced from 2.3 to 1.75 meters, which is good news for close-up work.
All these new features come at an expense of a longer lens and heftier body – the new 80-400mm is wider, 3 centimeters longer and weighing over 200 grams heavier. At 1570 grams, it is slightly heavier than the Nikon 70-200mm f/2.8G VR II (without a teleconverter), but significantly lighter than say the 200-400mm f/4G or the 400mm f/2.8G (which weigh 3,360 and 4,620 grams, respectively).
More to come in the upcoming Nikon 80-400mm f/4.5-5.6G VR review, so stay tuned!