We're about 24 hours away from one of Nikon's largest camera announcements in years: the full-frame mirrorless Z6 and Z7 cameras, plus three Z-mount lenses. As the rumors and teasers continue rolling in, here's a quick recap of Nikon's official trailers for this camera lineup so far, as well as the additional information and specifications we already know.
Trailer 1: Travel of Light
This was the first moment Nikon officially acknowledged the development of a mirrorless camera system, and it was also the first time we got a glimpse of how the camera would appear.
Trailer 2: Mount
Nikon has focused a lot of its attention so far on the large mount of the Z6 and Z7, which appears to have a 49mm throat diameter or larger (current Nikon F-mount is 44mm). It takes some confidence in their system to dedicate the campaign's entire second video to the new mount, but it also makes sense, given that this is going to be the backbone of Nikon's new releases for potentially decades on end.
"This new mount is Nikon's response to the challenges of the future." Impressive.
Trailer 3: Body
We didn't learn much from this trailer that we didn't already know, aside from the fact that the Z6 and Z7 are going to have a traditional PASM mode with three custom modes, as opposed to the button + wheel method used on most of their high-end cameras in the past. That information has since been corroborated in leaked images (see later in the article).
Trailer 4: Lens
It seems that Nikon is going to release three lenses with the Z6 and Z7: A 35mm f/1.8, 50mm f/1.8, and 24-70mm f/4. The 24-70mm features in this trailer, and, interestingly, it doesn't appear to have vibration reduction. Does this indicate that the Z6 and Z7 will have internal stabilization instead? Or, could the mysterious "S" in the lens's name (Z 24-70mm 1:4 S) simply mean stabilized? It remains to be seen.
Trailer 5: Photographers
And now we hear from some photographers who have used the Z6 and Z7 so far. It doesn't tell us much that we didn't already know about the camera, but it does demonstrate where Nikon is going in terms of marketing for the camera. All the quotes from the video are as follows:
"Having a camera I can take anywhere with me is great, because the more pictures you take, the greater it is for a creative."
"It feels just like a DSLR, but physically it's totally different, because it's so lightweight."
"It's so reliable, and I'm always able to capture the most spontaneous moments."
"Shooting becomes very addictive because of the results."
"It's really great. I can still use all my F-mount lenses on this new camera." (That was a new confirmation.)
(Directed toward the model in the video): "I really liked one in here that was super sharp. If we zoom in, you're still super sharp."
And here is the trailer itself:
https://www.youtube.com/watch?v=nIi_p0wLHkM
Trailer 6: "Special Event Livestreaming"
This one just went live a few minutes ago (one hour before the camera is due to launch), although it is nothing but a countdown timer at this point. Check the link here for Nikon's mirrorless announcement very soon!
What Else Do We Know So Far?
Beyond the trailers above, Nikon hasn't made any information about the Z6, Z7, or Z-mount lenses public. Unless specifications leak ahead of time, it will be another day until we figure everything out concretely (11:59 PM EST on Wednesday).
But that hasn't stopped the rumor mills from churning. We've already gotten several images of the new camera, including the one below: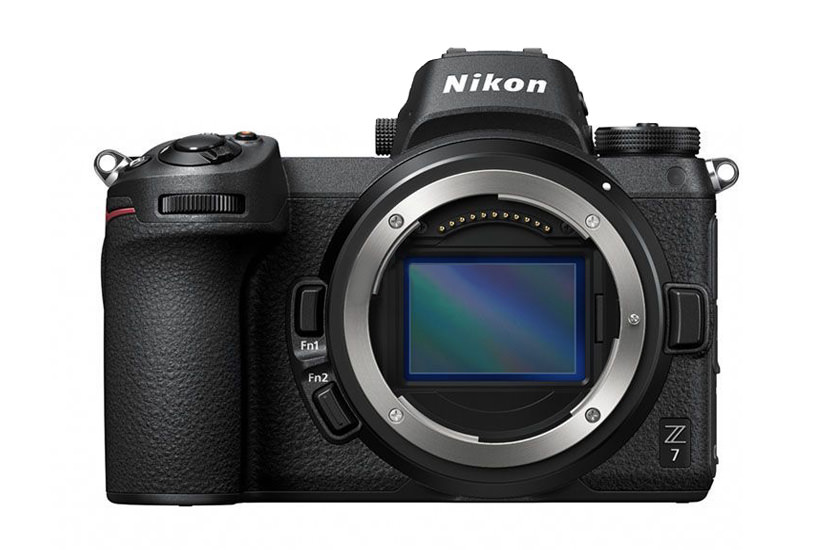 From leaked images, we know that both the Z6 and Z7 share the same camera body. The only differences are internal.
On balance, it looks like Nikon did a huge size reduction with their new mirrorless lineup, especially in the height of the camera. The Z6 and Z7 have a large grip positioned well away from the lens mount, which appears to be better than the Sony mirrorless design (which is smaller and closer to the lens). Here is roughly how the Z7 compares in size to the Sony A7R III and the Nikon D850, though keep in mind that this is based on comparing leaked images rather than specifications:

As you can see, even though the Z7 has a larger lens mount than the Nikon D850, it is a much smaller camera! It sits closer in size to the Sony A7R III, although it's slightly larger, especially at the grip.
In terms of specifications, rumors say the Z6 will have 24 megapixels, while the Z7 will have around 45. The cameras are said to have in-body image stabilization, 9 FPS shooting, dual card slots (XQD and CF), 4K video, and BSI sensors – but, again, all of that is leaked information from Nikon Rumors that may change in the final camera.
Stay tuned on Photography Life as we (like others!) will be posting much more continued coverage of the Z6, Z7, and new lenses over the next few days.