It is always fascinating to contemplate what is beneath the strategy of various companies as they announce new products. Nikon's official confirmation that it is developing some new mirrorless cameras is garnering all kinds of attention. Rather than add to all of the speculation regarding potential camera specs of these new Nikon mirrorless cameras in development, my first thought was to look at camera industry statistics. A basic question popped into my head…"Was growth in the Asian market the tipping point for Nikon with this new mirrorless camera confirmation?"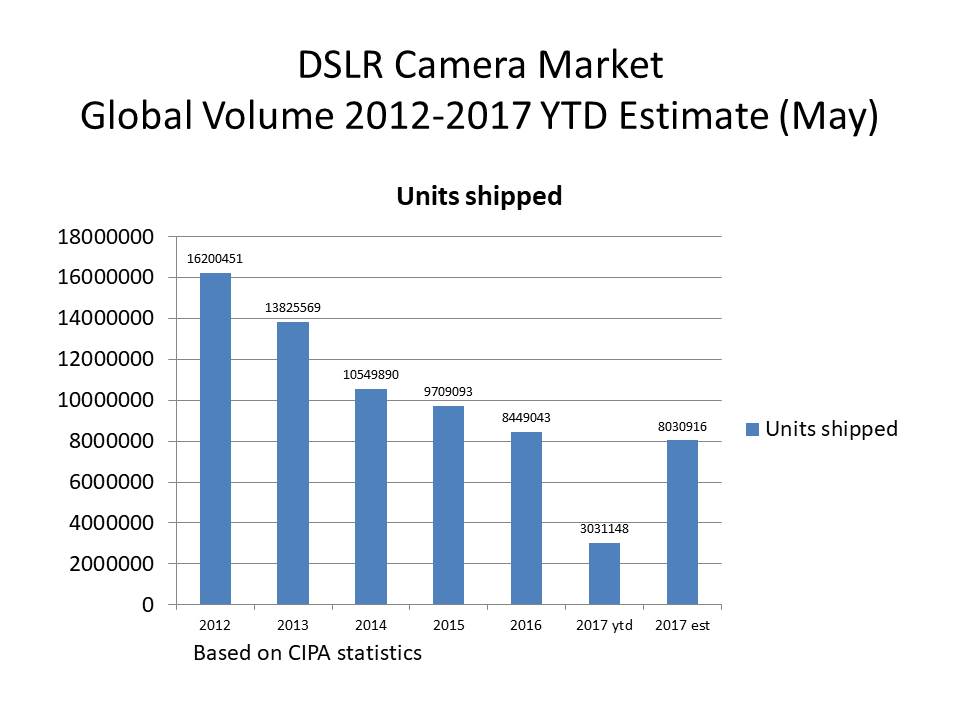 While DSLRs are still the predominate interchangeable lens camera format, demand has been eroding over time. Based on some ongoing analysis that I've been doing, it would appear that the shipment volume of DSLRs may decline again, albeit slightly, in 2017. At this point my best estimate is a market of approximately 8 million units for 2017.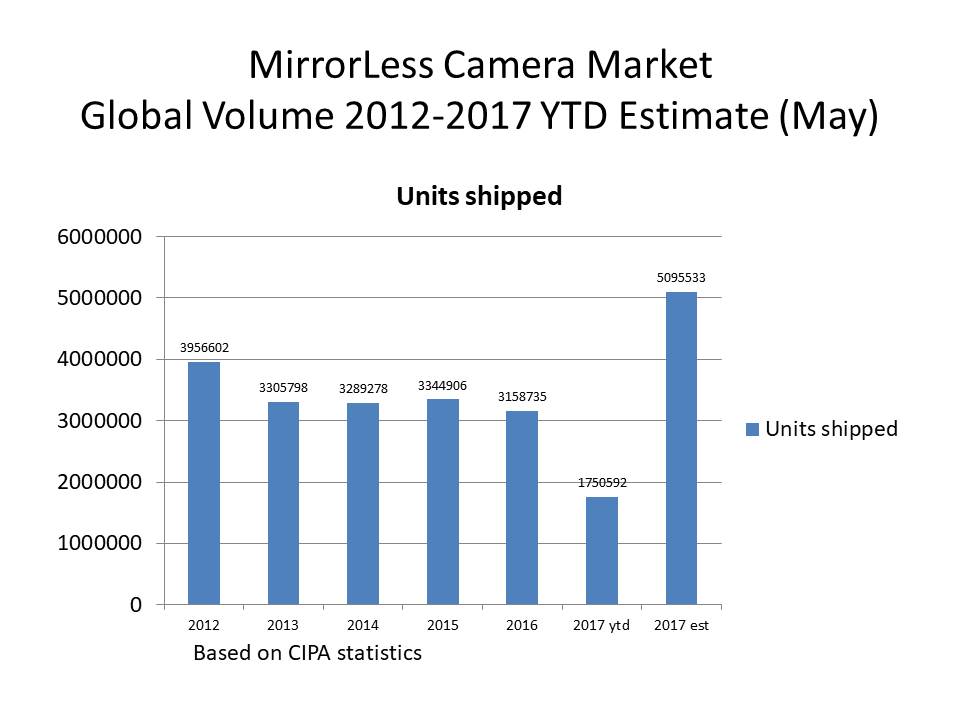 Mirrorless cameras are showing pretty strong growth thus far in 2017, and could end up the year with a sizeable volume increase. It appears quite possible that mirrorless camera sales could surpass 5 million units in 2017. This could certainly be a factor that Nikon has been considering, especially if these planned new mirrorless cameras incorporate a full frame or APS-C sized sensor.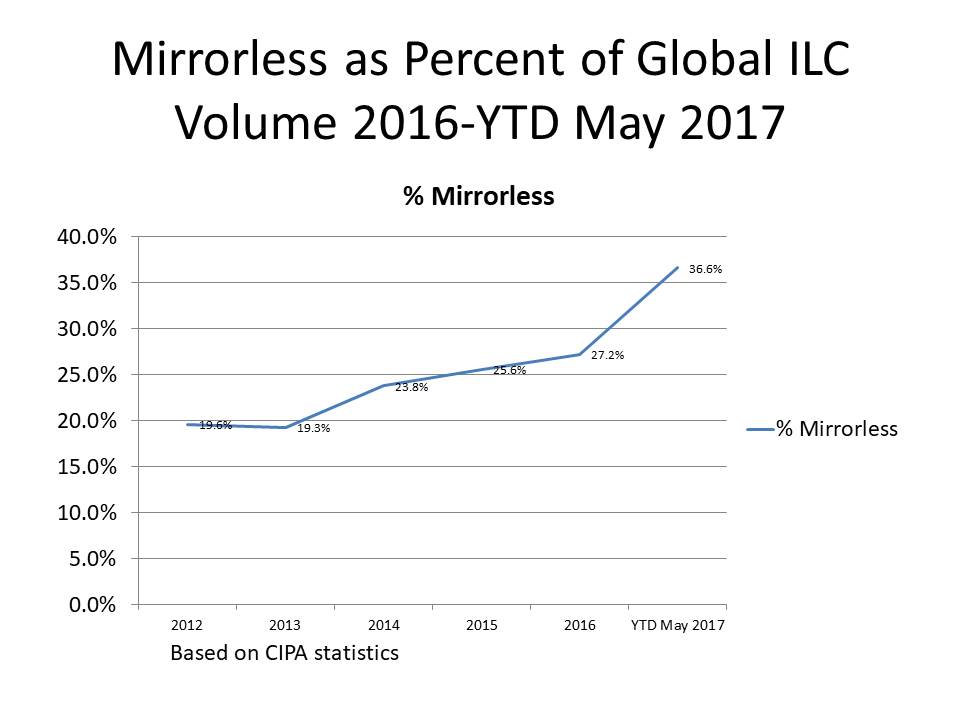 These two factors have resulted in the relative importance of the mirrorless camera market increasing significantly over the past few years, now reaching 36.6% of the interchangeable lens camera market. The sharp increase in the slope of the curve is noteworthy as it may indicate an important shift in consumer preferences.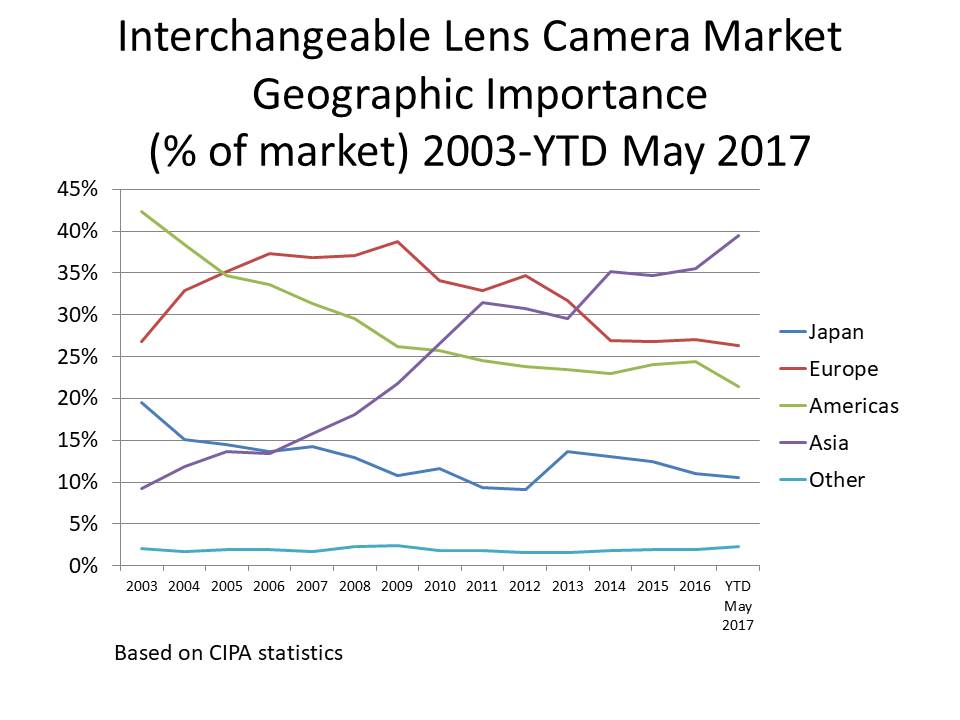 There have also been some dramatic shifts in the relative importance of various regional camera markets during recent years. It is quite possible that the dramatic increase in the importance of the interchangeable lens camera market in Asia may represent a tipping point for Nikon. As you can see in the above chart, almost 40% of the global shipments of interchangeable lens cameras are going to Asia. This compares to less than 10% back in 2003. The relative importance of the interchangeable camera market in the Americas has eroded significantly from about 43% of global shipments in 2003 down to about 22% of shipments thus far in 2017. The importance of the market in Europe has returned to where it was in 2003 – about 26-27%.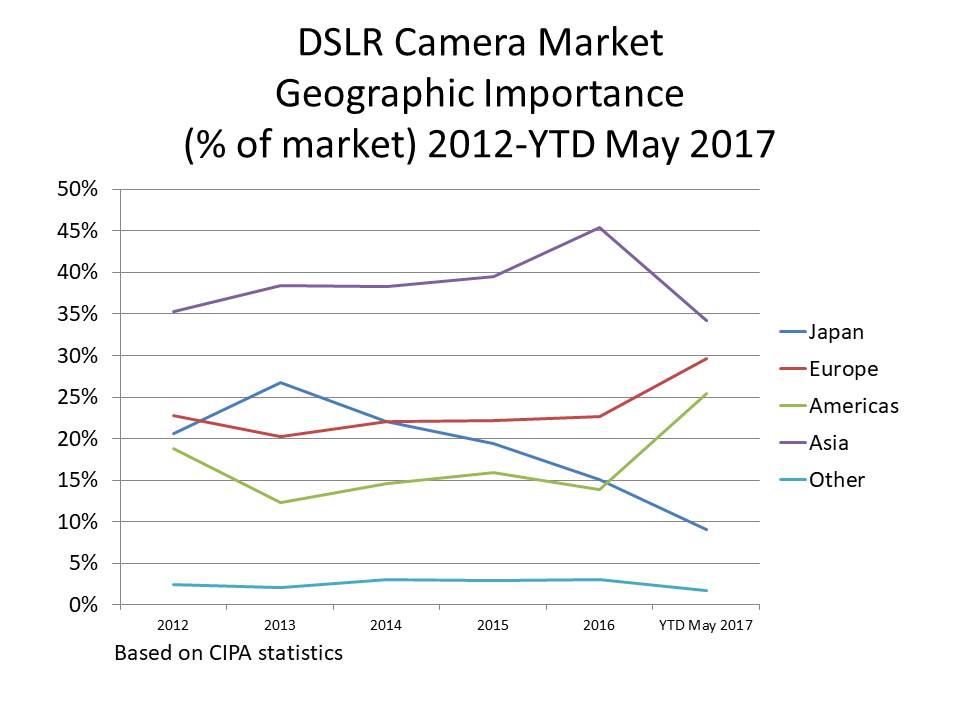 As mentioned earlier, DSLRs still represent a larger portion of the global interchangeable lens camera market than do mirrorless cameras. An important point is that the relative importance of DSLRs is declining in importance in the Asian market as well as in Japan. The market in Asia now represents less than 35% of global shipments, down more than 10% in only two years.
Thus far in 2017 about 45% of interchangeable lens cameras in Asia and Japan have been mirrorless. This compares to 28.6% in Europe and 24.9% in the Americas.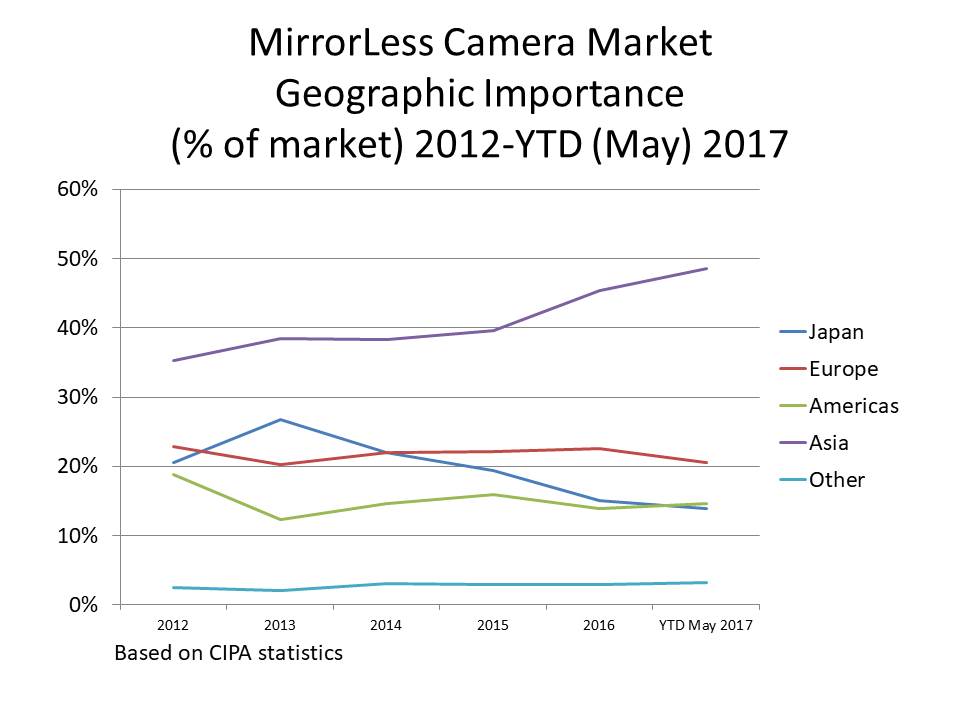 Thus far in 2017, Asia represents almost 50% of the global market for mirrorless cameras. When the fastest growing and largest global market (Asia) is shifting away from DSLRs and towards mirrorless cameras, manufacturers like Nikon need to seriously consider the implications of that with their product planning. If there is a tipping point in Nikon's potential decision to launch a larger sensor mirrorless camera…I see it as the shift in importance of the Asian interchangeable lens camera market, and consumers in Asia moving strongly towards mirrorless cameras.
Article and all graphics Copyright 2017 Thomas Stirr. All rights reserved. No use, adaptation or reproduction of any kind including electronic or digital is allowed without written permission. Photography Life is the only approved user of this article. If you see it reproduced anywhere else it is an unauthorized and illegal use.