Tamron announced yet another new-generation lens for both Nikon F and Canon EF mounts, the Tamron SP 24-70mm f/2.8 Di VC USD G2. The new professional-grade lens sports an impressive optical design, with a total of 17 elements in 12 groups, four of which are aspherical elements, two have extra refractive and three have low dispersion properties. Just like the recent "G2" series lenses from Tamron, the SP 24-70mm f/2.8 Di VC USD G2 comes with eBAND and BBAR coatings to reduce ghosting and flare, and fluorine coating has been applied to the front element to protect the lens against dust, dirt and smearing. Sporting an advanced image stabilization system, the lens is capable of reducing camera shake by up to 5 stops. Lastly, the lens is weather sealed and is compatible with optional TAP-in Console for fine-tuning the focusing properties of the lens and updating lens firmware. All this technology available at a very appealing price point of $1,199, making the Tamron SP 24-70mm f/2.8 Di VC USD G2 even cheaper than the recently introduced Sigma 24-70mm f/2.8 DG OS HSM Art. This is a very exciting release and I am looking forward to testing and reviewing the lens later this year, as soon as it becomes available.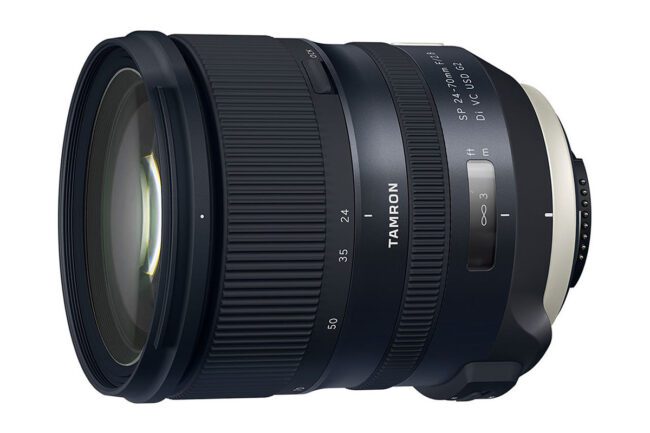 While the lens is pretty heavy at nearly 900 grams and pretty large in size with an 82mm front filter thread, let's not forget that this is a professional-grade lens aimed to compete directly with the Nikon 24-70mm f/2.8E VR and Canon 24-70mm f/2.8L II USM lenses. Tamron truly put everything it got into this lens and it really shows – optically, the lens looks superb when looking at the MTF data. At 24mm, the lens shows superb contrast and sharpness in the center of the frame, with gradual weaker performance towards the edges of the frame. It suffers from very little astigmatism at the widest aperture and I expect its performance to look excellent when stopped down to f/4 and smaller: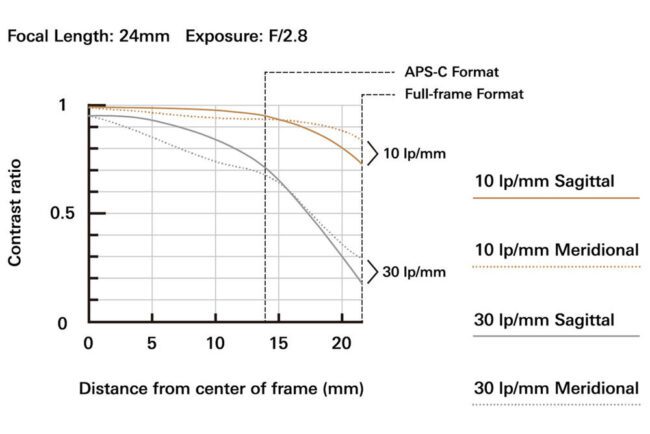 As you zoom in towards 70mm, the sharpness of the lens drops slightly in the center of the frame, but the edges look far better when compared to 24mm: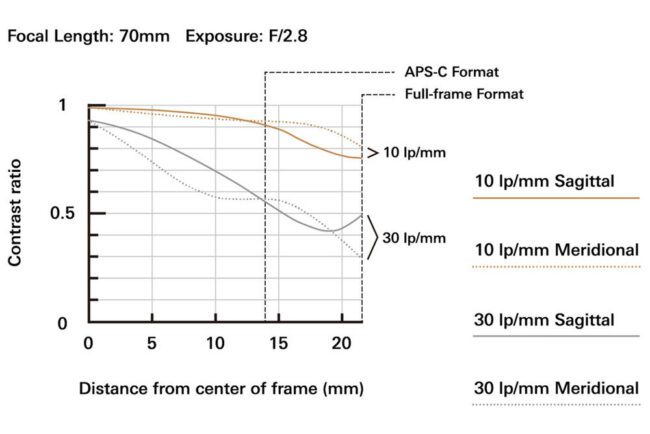 There is a noticeable curve towards the edges of the frame, indicating some field curvature at the longest end. I personally don't see a problem with this, since field curvature can be drastically reduced when stopped down. And considering that this lens is mostly targeted towards landscape and architecture photographers, that should not be a problem.
Looking at the MTF curves of the Sigma 24-70mm f/2.8 Art, the performance of the Tamron SP 24-70mm f/2.8 G2 looks a little more consistent, although both have their strengths and weaknesses. As for Nikon's 24-70mm f/2.8E VR, it definitely looks inferior compared to both the Sigma and the Tamron 24-70mm f/2.8 lenses based purely on the MTF charts. However, let's not forget that these are emulated numbers based on the wide open performance. None of the MTF charts provide any information for the stopped down performance at apertures like f/5.6, where the performance truly matters. For this reason, it is impossible to say which lens is going to truly deliver, not until we get our hands on all three and do detailed evaluations in a lab environment with multiple samples. And that's what I am personally looking forward to – as soon as all three become available, I am planning to test the lenses and provide early test data for the upcoming reviews.
It is very exciting to see third party manufacturers like Tamron releasing excellent lenses at competitive prices. Along with the recently announced Tamron SP 70-200mm f/2.8 Di VC USD G2 and the Tamron 15-30mm f/2.8, we now have Tamron's "trinity" of lenses that can compete with Nikon's kit at a much more affordable price point…
To see more details about the lens, check out the Tamron SP 24-70mm f/2.8 Di VC USD G2 page of our lens database.