Tamron has just announced the development of their fascinating 35-150mm f/2-2.8 zoom for the Nikon Z system! Although the lens has been available for Sony since October 2021, it joins the Tamron 70-300mm f/4.5-6.3 as the second official Tamron lens with a Nikon Z mount. Here's what we know.
Specifications and Availability
Today's announcement is a development announcement only. There's no word yet about the official announcement date, but Tamron has said the lens will be available "in the Fall 2023."
Likewise, we don't know the official price, or formal specs, of the lens just yet. For reference, the Sony E version of the lens costs $1900. However, it's possible that the Nikon version will cost more than that – that was true of Tamron's 70-300mm f/4.5-6.3, with the Sony E version costing $550 and the Nikon Z version costing $700.
Even though we don't know the official specifications, I expect that almost all of them will be the same as the Sony E version. So, here are those specs for reference:
Full Name: Tamron 35-150mm f/2-2.8 Di III VXD
Focal Length: 35-150mm (4.3x zoom)
Maximum Aperture: f/2-2.8
Minimum Aperture: f/16-22
Lens Elements: 21
Lens Element Groups: 15
Filter Thread Size: 82mm
Angle of View (FX): 63°25′ to 15°26′
Maximum Magnification: 0.18x (1:5.6)
Minimum Focusing Distance: 0.33 meters (1.1 feet)
Vibration Reduction: No
Aperture Blades: 9, rounded
Fluorine Coating: Yes
ED Glass Elements: 4
Aspherical Elements: 3
Focus Motor: VXD (Voice-coil extreme-torque drive linear focus motor)
Internal Focusing: Yes
Internal Zooming: No
Focus Limiting Switch: No
Custom Function Switch: Yes
Function Buttons: Yes (3, duplicate function)
Zoom Lock Switch: Yes
USB Port: Yes
Dimensions (Length x Diameter): 158 x 89 mm (6.2 x 3.5 inches)
Weight: 1165 g (2.57 lbs)
MSRP: $1899 (Check current price)
The only specification changes we are likely to see for the Nikon Z system are weight, size, and price, which will all change to (hopefully) very small degrees.
Analysis
It was only last week that I wrote an article called What Lenses Should Nikon Make Next, Once the Roadmap Ends? – and I happened to mention this Tamron lens. "Since Tamron is playing footsie with the Z system already, maybe we'll see a Nikon-brand version of this lens appear at some point. (Or, Tamron could simply add a Z mount and keep their branding, which would be fine too.)"
Looks like footsie progressed to a second date rather quickly.
Nikon has, to put it mildly, never made a lens like this. Nor has almost anyone. A 35-150mm f/2-2.8 zoom is a crazy focal length and aperture combination only made possible by modern lens designs – especially considering that it weighs 1165 grams / 2.57 pounds, which, though heavy, is a lot less than most 70-200mm f/2.8 zooms. (By comparison, the Nikon Z 24-70mm f/2.8 S weighs 805 grams, and the Nikon Z 70-200mm f/2.8 S weighs 1440 grams).
This lens is trying to be a lot of things at once, but mostly, the appeal is for event photographers. As long as you don't mind losing 24mm on the wide end and 200mm on the long end, this lens is a replacement – and then some – for a dual-wielding photographer with a 24-70mm f/2.8 on one camera and a 70-200mm f/2.8 on another.
It's also the first f/2 zoom lens for the Nikon Z system, albeit one that gradually grows to f/2.8 and fully switches at about 80mm. It would still be nice to see something akin to Canon's 28-70mm f/2L for the Nikon Z system, even though it would be so specialized.
The Sony version of this lens is well-reviewed, but we haven't tested it yet at Photography Life – all I can say is that if there are no unwanted surprises with the Nikon Z version of this lens, it will be a seriously compelling choice for some photographers. It can effectively replace two f/2.8 zooms in one lens, while covering the most-used focal lengths for many event, portrait, and studio photographers. I can't wait to test it when it ships later this year!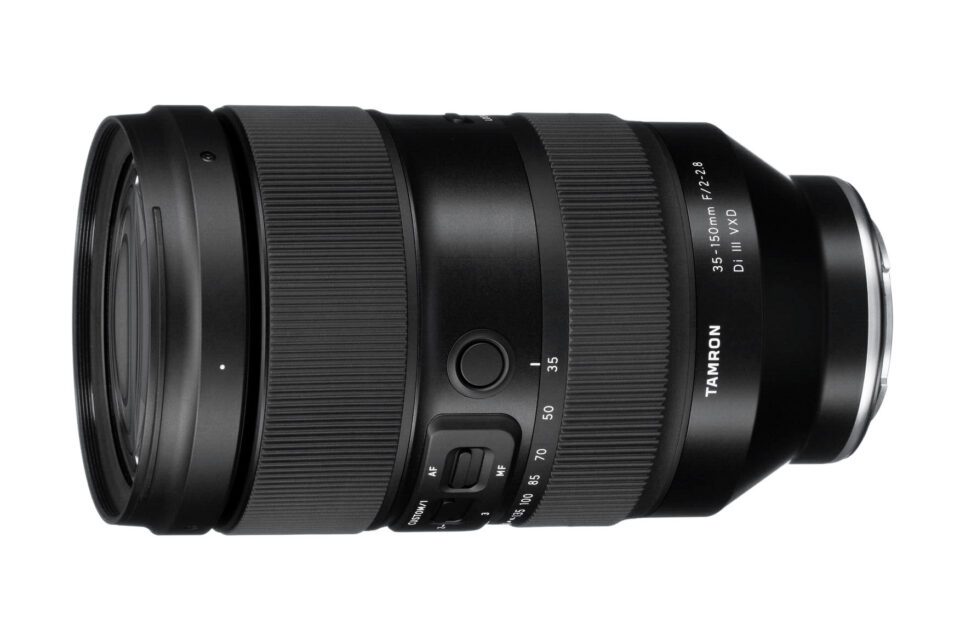 Press Release
Tamron announces the development of 35-150mm F/2-2.8 Di III VXD (Model A058) for "Nikon Z mount system." World's first* mirrorless zoom lens with maximum wide-open aperture of F2

July 25, 2023, Saitama, Japan – Tamron Co., Ltd. (President & CEO: Shiro Ajisaka), a leading manufacturer of optics for diverse applications, announces the development of the 35-150mm F/2-2.8 Di III VXD (Model A058), a fast-aperture telephoto zoom lens for Nikon Z mount cameras.

Product Overview

The 35-150mm F2-2.8 covers wide-angle through telephoto and is ideal for both travel and portrait photography. It is the first* zoom lens for Nikon Z mount cameras to have a maximum wide-open aperture of F2. With this focal range, you can enjoy shooting magnificent views and large buildings at 35mm and dynamic close-up shots at 150mm. With high-level performance under a wide variety of shooting conditions, this fast lens is ideal for trips aimed at creating photographic works. In addition, by incorporating the VXD (Voice-coil eXtreme-torque Drive) linear motor focus mechanism, the lens features a very high-speed and high-precision autofocus for a fast-aperture lens. It also incorporates a new design in the pursuit of enhanced operability and ergonomic convenience.
Incorporating the most frequently used focal lengths from wide-angle and standard to medium telephoto and telephoto all within this single lens enables seamless shooting without the need to swap lenses, which is beneficial especially when shooting portraits where a sense of rhythm is particularly important. This helps the user capture outstanding shots without missing the fleeting expressions of the model.

Product Features

The world's first F2-2.8 fast-aperture zoom lens
Versatile zoom range provides seamless shooting from wide-angle 35mm to telephoto 150mm
Outstanding optical performance throughout the zoom range
Fast, quiet VXD linear motor mechanism for high-speed and high-precision autofocus
Expanded versatility with excellent close-range shooting performance
TAMRON Lens UtilityTM expands the possibilities of still photography and video shooting
Moisture-Resistant Construction, Fluorine Coating, and Hood Locking Mechanism for greater convenience

Specifications, appearance, functionality, etc. are subject to change without prior notice.
This product is developed, manufactured and sold under the license agreement with Nikon Corporation.