Tamron's has announced the development of a full-frame 17-50mm f/4 lens for Sony E mount. In the past, combining ultra-wide and normal focal lengths in a single full-frame lens has been quite a challenge. While Sony's recent 20-70mm started to head in this direction, Tamron is taking things even further on the wide end. Here's what we know from the development announcement.
Known Specifications and Availability
Full Name: Tamron 17-50mm F/4 Di III VXD
Focal Length: 17-50mm
Maximum Aperture: f/4
Filter Size: 67mm
Minimum Focusing Distance: 0.19 meters (7.5in) at the wide end, 0.3 meters (11.8in) at the tele end
Focus Motor: VXD (Voice-coil extreme-torque drive linear focus motor)
While the lens is expected to be available in Fall of 2023, this development announcement is light on details. What is known, however, makes this lens look like a very interesting option for walk-around photography and videography. The real selling point is that it can potentially replace an ultra-wide and a normal lens in your bag at the same time. Most other ultra-wide zooms max out anywhere from 24mm to 35mm, so reaching 50mm instead is an impressive achievement.
As a plus for video usage, the lens has internal focus and zoom mechanisms, meaning that its balance on gimbals won't be thrown off. This is also useful in inclement weather, as it can cut down on dust or water issues, compared to external zoom designs. Weather sealing and a fluorine coating should also improve the lens's durability.
Exact size specifications haven't been provided yet, but by comparing the 67mm front filter ring with the provided picture, it's clear that this lens is going to be relatively compact.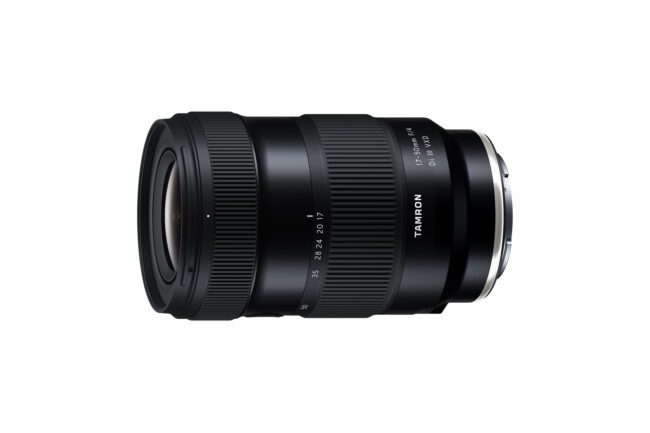 Analysis
This looks like a very versatile lens, and is certainly one I'd be interested in. I think the biggest competition is the Sony 16-35mm f/4. While the Sony does have a few video-centric features, like the Power Zoom capability, the new Tamron should prove to be a bit more useful for general photography. It retains a traditional zoom mechanism and adds "normal" focal length coverage by reaching 50mm.
It also competes with the Sony 20-70mm, another innovative lens that adds quite a bit of wide angle compared to the traditional 24-70mm zoom. Ultimately, I still could see all three of these lenses providing competition to one another. Each is at f/4, and at least the two Sony lenses have quite strong optical performance. Assuming that the Tamron is also a good performer, it will come down to price and your preferred focal lengths.
For now, the Tamron 17-50mm f/4 is only expected to be released for Sony E, but with Tamron recently adding Nikon Z compatibility to some of their Sony lenses, we could very well see a Nikon version of the lens one day. That would be welcome considering that Nikon doesn't have an ultra-wide-to-normal zoom right now, with only the Z 14-30mm f/4 S coming close.
Either way, we're looking forward to testing this lens at Photography Life! It's great to see companies like Tamron experimenting with the classic midrange zoom, and if it performs well, the Tamron 17-50mm f/4 could easily earn a place in my bag.
Press Release
Tamron announces the development of the 17-50mm F/4 Di III VXD (Model A068), a wide-angle zoom lens for Sony E-mount full-frame mirrorless cameras. The lens is expected to be available this Fall.

This groundbreaking lens zooms from 17mm ultra wide-angle to 50mm standard, the world's first with such a dynamic zoom range for full-frame mirrorless cameras. TAMRON's new 17-50mm F4 for Sony mirrorless cameras is a wide-angle zoom with a constant F4 aperture covering ultra wide-angle to standard focal lengths, a zoom range ideal for both still photography and video recording. This lens achieves excellent optical performance across the entire zoom range, with crispness from edge-to-edge. The lens also incorporates VXD (Voice-coil eXtreme-torque Drive) linear motor focus mechanism with superior quietness and agile performance and achieves high-speed and high-precision autofocus. Additionally, the physical length of the lens does not change while zooming. It's the perfect lens for taking still photos and is also ideal for video shooting, in part since it's easy to balance even when fitted to a gimbal stabilizer or other equipment. The excellent close-range shooting performance provides an MOD (Minimum Object Distance) of 0.19m (7.5in) at the wide end and 0.3m (11.8in) at the tele end. This lets users get closer to the subject to capture one-of-a-kind photos in a broad range of situations. The ideal "walk around" lens, the new 17-50mm F4 zoom offers great portability and convenience and makes it possible to shoot a variety of content, both still images and video, from sweeping landscapes to snapshots, all without switching lenses.

PRODUCT HIGHLIGHTS

Zoom lens that covers ultra wide-angle to standard focal length at constant F4 aperture
High optical performance and image quality throughout the entire zoom range
Compact for easy handling with internal zoom for superlative balance
Fast and accurate AF for still and video shooting
Outstanding close-range shooting performance expands versatility
Additional features for greater convenience
Proprietary software tool TAMRON Lens UtilityTM expands the possibilities of still imaging and video capture
User-friendly features (Moisture-Resistant Construction and Fluorine Coating)
67mm filter size, same as most other TAMRON lenses for mirrorless cameras